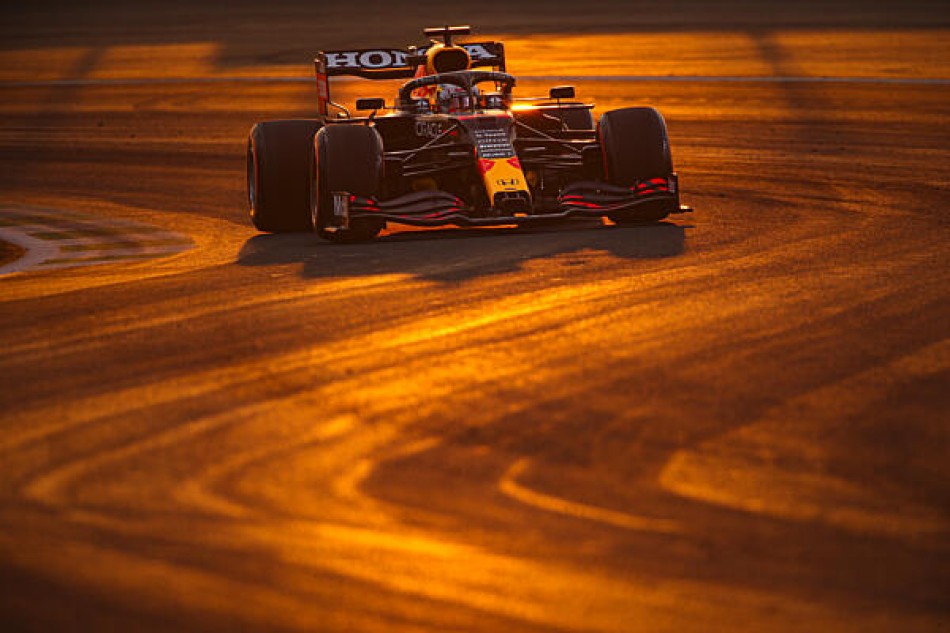 Red Bull Racing's Max Verstappen went quickest in the final free practice for the FIA Formula 1 Saudi Arabian Grand Prix,beating title rival Lewis Hamilton by two tenths of a second, with Sergio Pérez third in the second Red Bull.
Hamilton and Mercedes team-mate Valtteri Bottas were among the first out on tyrack at the start of the hour-long session with both on hard compound Pirelli tyres. Bottas soon took P1 with a lap of 1:30.394 but was soon demoted by Hamilton who posted a lap of 1:29.605 before working his way down to 1:28.314.
Verstappen chose soft tyres for his early runs and his second flying lap was good enough for P2 three tenths behind title rival Hamilton. The Dutchman stayed out on the same set of soft tyres for nine laps and chipped away at his lap time until he eventually got down to 1m28.105 as all runners switched to softs for the final 15 minutes.
AlphaTauri's Yuki Tsunoda took third with 10 minutes to go but was ultimately demoted by Perez who found a late improvement with the lap of 1:28.629. Tsunoda finished fourth ahead of AlphaTauri team-mate Pierre Gasly. Bottas ended the session in sixth place some ninth tenths of a second off Verstappen's time.
Charles Leclerc recovered from yesterday's heavy crash second practice to finish seventh and he was followed by team-mate Carlos Sainz. Esteban Ocon took ninth ahead of Norris and Alpine teammate Fernando Alonso.
There were two nervous moments in the session, both when Hamilton stayed on the racing line on a cool-down lap. Gasly was foerced to brake heavily in Turn 1 to avoid running into the back of the Mercedes and later in the lap Haas' Nikita Mazepin had to take avoiding action to miss the slow Mercedes.
2021 FIA Formula 1 Saudi Arabian Grand Prix – Free Practice 3
1 Max Verstappen Red Bull/Honda 1:28.100 20 252.286
2 Lewis Hamilton Mercedes 1:28.314 0.214 23 251.674
3 Sergio Pérez Red Bull/Honda 1:28.629 0.529 21 250.780
4 Yuki Tsunoda AlphaTauri/Honda 1:28.641 0.541 20 250.746
5 Pierre Gasly AlphaTauri/Honda 1:28.715 0.615 22 250.537
6 Valtteri Bottas Mercedes 1:29.019 0.919 19 249.681
7 Charles Leclerc Ferrari 1:29.101 1.001 22 249.451
8 Carlos Sainz Ferrari 1:29.149 1.049 19 249.317
9 Esteban Ocon Alpine/Renault 1:29.177 1.077 19 249.239
10 Lando Norris McLaren/Mercedes 1:29.300 1.200 18 248.895
11 Fernando Alonso Alpine/Renault 1:29.418 1.318 21 248.567
12 Antonio Giovinazzi Alfa Romeo/Ferrari 1:29.590 1.490 20 248.090
13 Kimi Räikkönen Alfa Romeo/Ferrari 1:29.689 1.589 24 247.816
14 Daniel Ricciardo McLaren/Mercedes 1:29.717 1.617 19 247.739
15 Lance Stroll Aston Martin/Mercedes 1:30.030 1.930 14 246.877
16 George Russell Williams/Mercedes 1:30.034 1.934 17 246.866
17 Sebastian Vettel Aston Martin/Mercedes 1:30.296 2.196 15 246.150
18 Nicholas Latifi Williams/Mercedes 1:30.366 2.266 17 245.959
19 Mick Schumacher Haas/Ferrari 1:30.933 2.833 20 244.426
20 Nikita Mazepin Haas/Ferrari 1:30.979 2.879 23 244.302