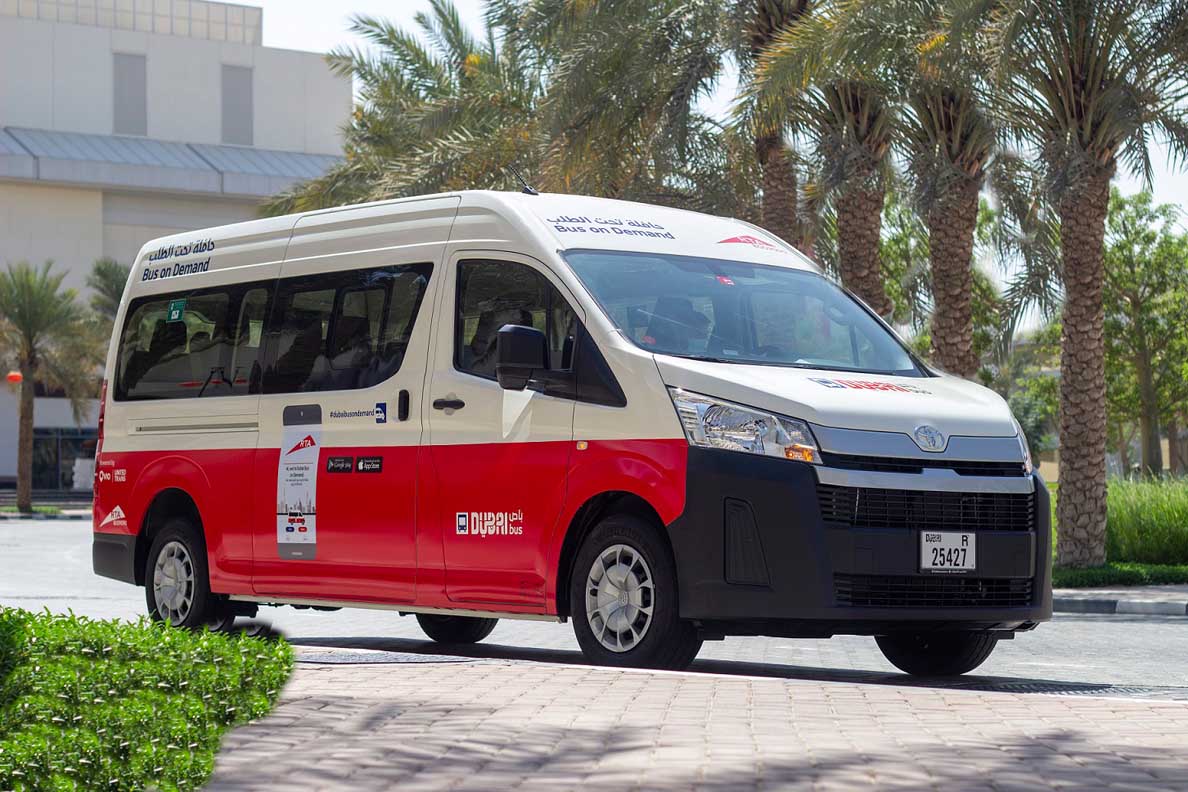 Al-Futtaim Hertz UAE, part of Al-Futtaim Automotive, has announced that it has provided United Trans, a fully owned subsidiary of the Al Serkal group, with Toyota Hiace vehicles for Dubai Bus on Demand service, the world's most powerful on-demand transit solution in the city. The service is operating in selected zones in Dubai.
Al-Futtaim Automotive entered into this agreement in line with its efforts to maintain its heritage of transporting people and goods with the highest safety and security standards and peace of mind.
As part of the deal, Al-Futtaim Automotive worked with Hertz to supply United Trans  with a fleet of 13 of its recently launched new generation Toyota Hiace buses that are being used by the Dubai Bus on Demand service to transport customers efficiently.
The collaboration is operated and managed by United Trans, one of the leading transportation providers, which also aims to transform the regional private sector in areas such as transportation, security, energy and agriculture.
United Trans strives to create local partnerships with international companies to achieve long-term presence and growth, thereby maximising regional private sector involvement in a sustainable manner dedicated to serving the regional transport industry.
Commenting on the collaboration, Raed Abu Hijleh, Managing Director, United Trans, said: "We are excited by this collaboration with Al-Futtaim Automotive. The Toyota Hiace fleet has been designed to include optimum safety and security features which is our prime requirement when selecting vehicles for transportation services in the UAE.  We are confident that by adding this fleet to our roster of vehicles we are able to cater to our customers in a more seamless comfortable, safe and secure manner."
In addition to being a capable, durable and reliable transporter, the 2020 Toyota Hiace model expanded its core capabilities to also provide greater comfort and safety – key attributes that today's motorists demand – whatever the challenge on the road.
It comes with advanced safety features, powerful engines, exceptional ride comfort and a semi-bonnet design that enhances reliability, toughness, safety and functional beauty. It was manufactured with a choice of two body types including normal that has a standard roof and, long which includes a high roof design, thereby catering to different needs of customers including both cargo and commuters.
Marius Anton, National Operations Manager at Hertz UAE, said: "We are immensely proud to be a part of this collaboration which is a valuable contribution to the growth of both us and our partners.
We are committed to further enhancing our relationship with local companies and authorities to support the mission of providing unified logistics and transportation services in the UAE.
We will continue to extend our fullest support for such initiatives in the future and are also looking forward to partnering with other government agencies. Our aim is to help deliver safe, effective and sustainable solutions, leveraging our strong automotive expertise and history that has helped us to become a best-in-class automotive solutions partner."
Hertz UAE and Al-Futtaim Toyota are both part of Al-Futtaim Automotive Group, one of five divisions within the Al-Futtaim Group which provides quality products and services that enrich people's lives and aspirations each and every day.