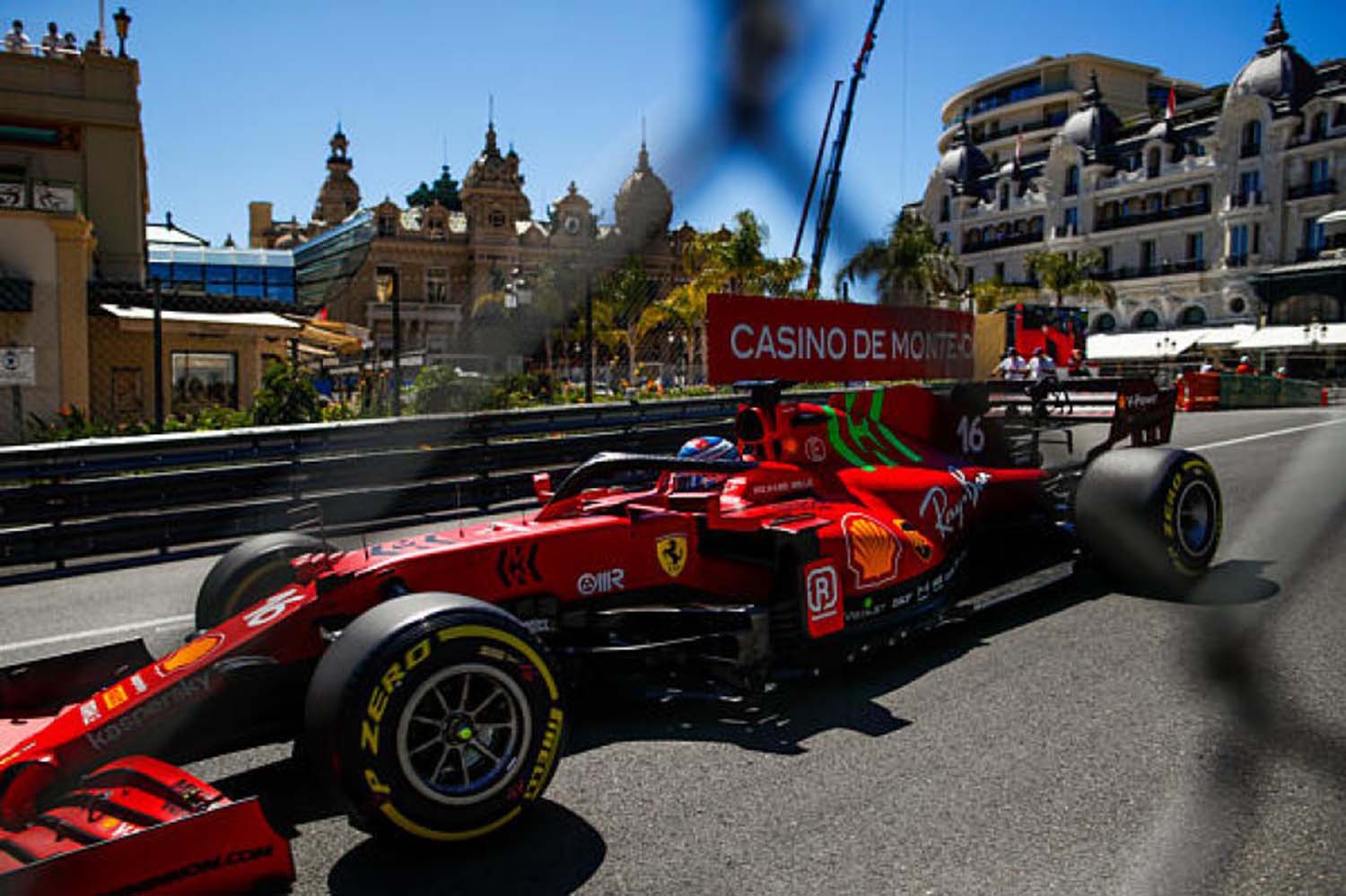 Ferrari's Charles Leclerc set the pace on home soil in the second practice session for Sunday's 2021 FIA Formula 1 Monaco Grand Prix, with the Monegasque driver a tenth of a second ahead of team-mate Carlos Sainz and almost four tenths faster than third-place Mercedes driver Lewis Hamilton.
Leclerc had missed most of the morning session with a gearbox problem and seeking to make up for lost time the local hero was one of the first on track in the afternoon session and in the opening phase of the session he was frequently at the top of the timesheet as he quickly built up pace.
He was ousted, though, by Red Bull's Max Verstappen who took top spot with lap of 1:13.961. The Dutchman then lowered his own benchmark to 1:13.499. Hamilton then set an identical laptime to take P2 by virtue of having set the time later after Verstappen.
Verstappen then went quicker again reaching 1:13.241, despite being hampered by traffic in the sector.
Hamilton then dipped into 1m12s bracket and a second flying lap saw him improve to 1:12.569.
The Mercedes drivers then moved to soft tyres and Valtteri Bottas jumped to the top of the order with a lap of 1:12.107. Hamilton looked on course to eclipse that but he lost time when he took too much kerb at the Nouvelle Chicane. The mistake meant he took P2 behind Bottas, 0.173s adrift.
Sainz then posted what looked to be the fastest time of FP2 with a lap of 1:11.796, especially when Hamilton, who had continued his run, set what would end up being only the session's third fastest time.
However, just inside the final 20 minutes, Leclerc set the session's fastest time with a lap 1:11.684,  0.112 clear of Sainz and 0.390s in front of Hamilton.
Verstappen had to settle for fourth ahead of Bottas after the Dutch driver encountered traffic at the end of his first flying lap.
The session was red-flagged a few minutes from time when Haas's Mick Schumacher crashed Haas at Massenet. He was able to keep going but eventually had to pull over and stop at an escape road beyond the chicane.
2021 FIA Formula 1 Monaco Grand Prix – Free Practice 2
1 Charles Leclerc Ferrari 1:11.684 30 167.585
2 Carlos Sainz Ferrari 1:11.796 0.112 32 167.324
3 Lewis Hamilton Mercedes 1:12.074 0.390 28 166.678
4 Max Verstappen Red Bull/Honda 1:12.081 0.397 27 166.662
5 Valtteri Bottas Mercedes 1:12.107 0.423 32 166.602
6 Lando Norris McLaren/Mercedes 1:12.379 0.695 24 165.976
7 Pierre Gasly AlphaTauri/Honda 1:12.498 0.814 28 165.703
8 Sergio Pérez Red Bull/Honda 1:12.708 1.024 24 165.225
9 Antonio Giovinazzi Alfa Romeo/Ferrari 1:12.746 1.062 28 165.138
10 Sebastian Vettel Aston Martin/Mercedes 1:12.982 1.298 26 164.604
11 Kimi Räikkönen Alfa Romeo/Ferrari 1:13.065 1.381 31 164.417
12 Fernando Alonso Alpine/Renault 1:13.175 1.491 27 164.170
13 Lance Stroll Aston Martin/Mercedes 1:13.195 1.511 26 164.125
14 Esteban Ocon Alpine/Renault 1:13.199 1.515 28 164.116
15 Daniel Ricciardo McLaren/Mercedes 1:13.257 1.573 26 163.987
16 George Russell Williams/Mercedes 1:13.509 1.825 32 163.424
17 Nicholas Latifi Williams/Mercedes 1:13.593 1.909 31 163.238
18 Nikita Mazepin Haas/Ferrari 1:14.407 2.723 26 161.452
19 Mick Schumacher Haas/Ferrari 1:14.416 2.732 25 161.433
20 Yuki Tsunoda AlphaTauri/Honda 1:14.829 3.145 11 160.542