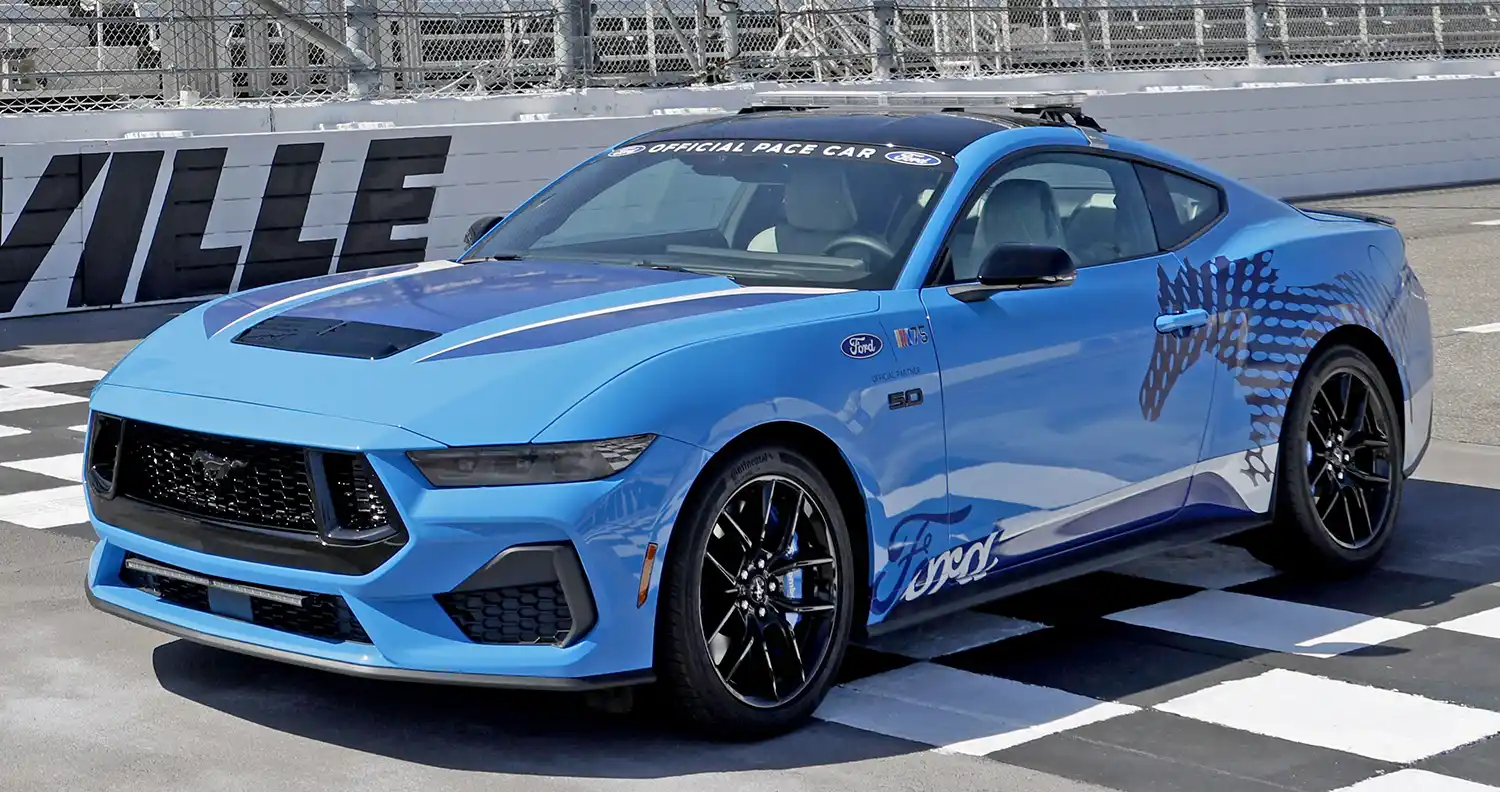 The all-new 2024 Mustang GT is set to make its NASCAR pace car debut this weekend when all three of NASCAR's top touring series compete at Martinsville Speedway in Martinsville, VA.
This will mark the first of seven NASCAR races that the seventh-generation Mustang GT is scheduled to pace in 2023.
The other NASCAR races include: Talladega (April 21-23), Dover (April 29-30), Darlington (May 12-14), Nashville (June 23-25), Chicago (June 30-July 2) and the annual Labor Day Weekend at Darlington (Sept. 1-3).
"We've had great success racing Mustang globally, including winning last year's NASCAR championship," said Mark Rushbrook, global director, Ford Performance Motorsports. "Racing leads to better-informed development of products, and seeing the all-new Mustang GT setting the pace at NASCAR make this connection even stronger with our customers and fans."
The Grabber Blue Mustang GT pace car is stock other than pace car visibility items that include the light bar and custom Ford Performance and Mustang exterior graphics.
Most Powerful Mustang GT 5.0-liter V8 
At the core of making the all-new Mustang the most exhilarating and visceral Mustang yet is a new fourth-generation Coyote V8 engine. The available active-valve performance exhaust system enables the Mustang GT coupe and convertible to deliver 486 horsepower and 418 ft.-lb. of torque**. Beyond the boost in power, the system's free-flowing design delivers a custom-V8 sound with the ability to close the valves to restrict the amount of noise made by the car.
Those opting for the standard Mustang GT still enjoy 480 horsepower* — the most standard power in a naturally aspirated V8-powered Mustang ever. In addition, the engine delivers 415 ft.-lb. of torque for the most standard torque ever.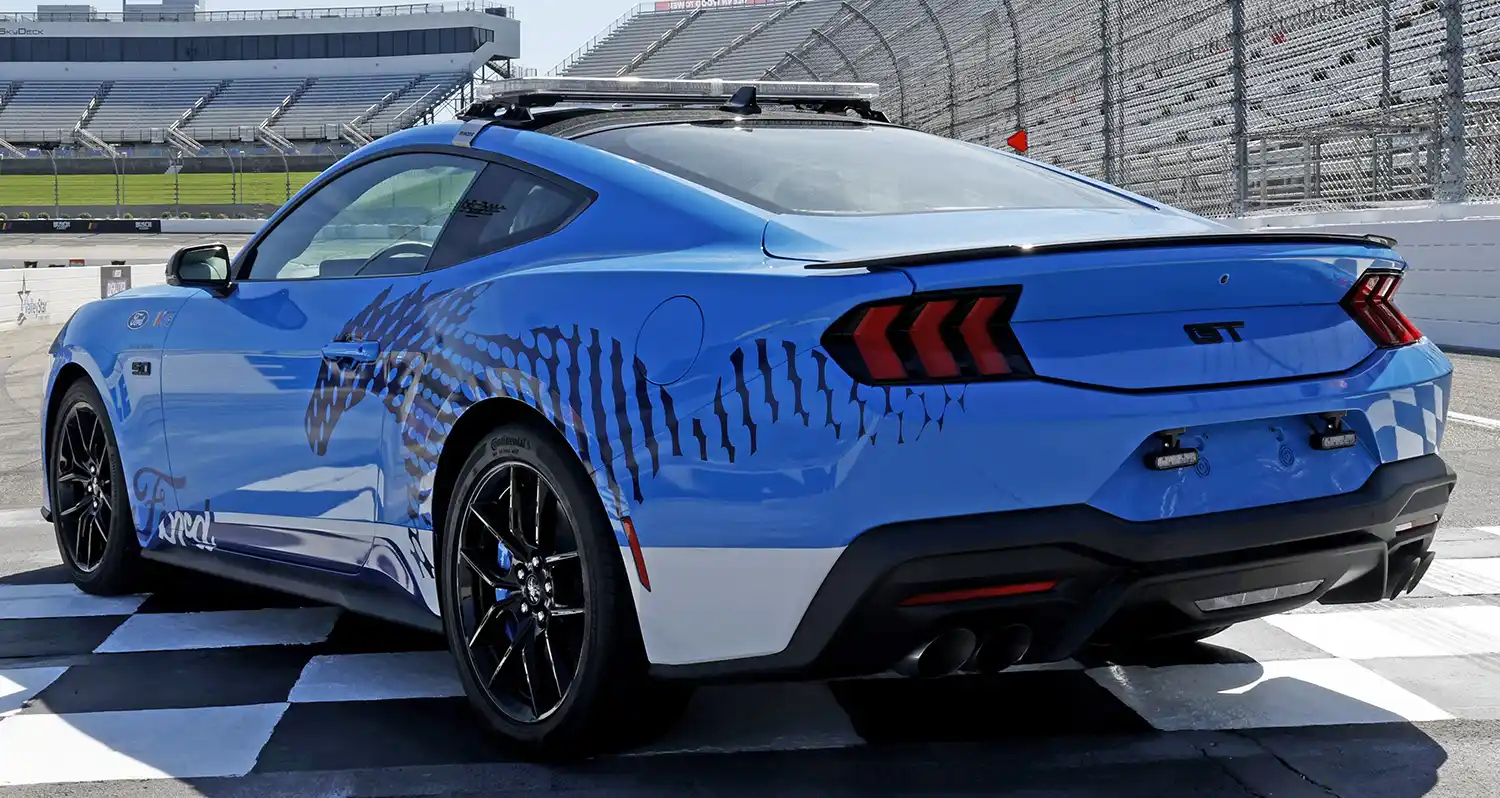 The fourth-generation Coyote V8 features a segment-first, dual intake and dual throttle body induction system that's matched with structural improvements and upgraded oil pan. This helps minimize induction loss by enabling higher air flow rates.
For Mustang GT and Mustang Dark Horse, horsepower and torque ratings are the same for automatic and manual transmissions.
Behind the 2024 Mustang's chiseled exterior lies the most technologically advanced, driver-centric cockpit of any Mustang to date.
Design That Matches Power
Its low, horizontal brow across the front emphasizes overall frontal width, while the upper grille design shape is influenced by the original Mustang's 1960s design. The Tri-Bar LED headlamps continue the Mustang's classic lighting signature. Its sleek roofline, broad sprinting stance and shortened rear overhang are also true to the authentic proportions of the first generation, while the widened rear haunches point to the power over the wheels in true Mustang style.
The roofline is optimized for driver entry and exit without removing their helmet on the track, and an extended rear deck houses a new crisp signature tri-bar lighting and redesigned diffuser for improved aerodynamic balance in the rear.
Inside, there's a fighter jet-inspired digital cockpit, and under its hood are a choice of two advanced engines – 2.3-liter EcoBoost or 5.0-liter V8.
Mustang and NASCAR
When it comes to racing Mustang in NASCAR, Brad Keselowski leads all active Ford drivers with two NASCAR Cup Series wins at Martinsville while defending champion Joey Logano has one victory and five poles.
Overall, Ford has registered 30 all-time victories at the half-mile paperclip-shaped oval, which began hosting NASCAR races in 1949.
*Horsepower and torque ratings based on premium fuel per SAE J1349® standard. Your results may vary. Horsepower and torque are independent attributes and may not be achieved simultaneously.
**486 horsepower can be achieved on Mustang® GT models equipped with Active Valve dual exhaust.