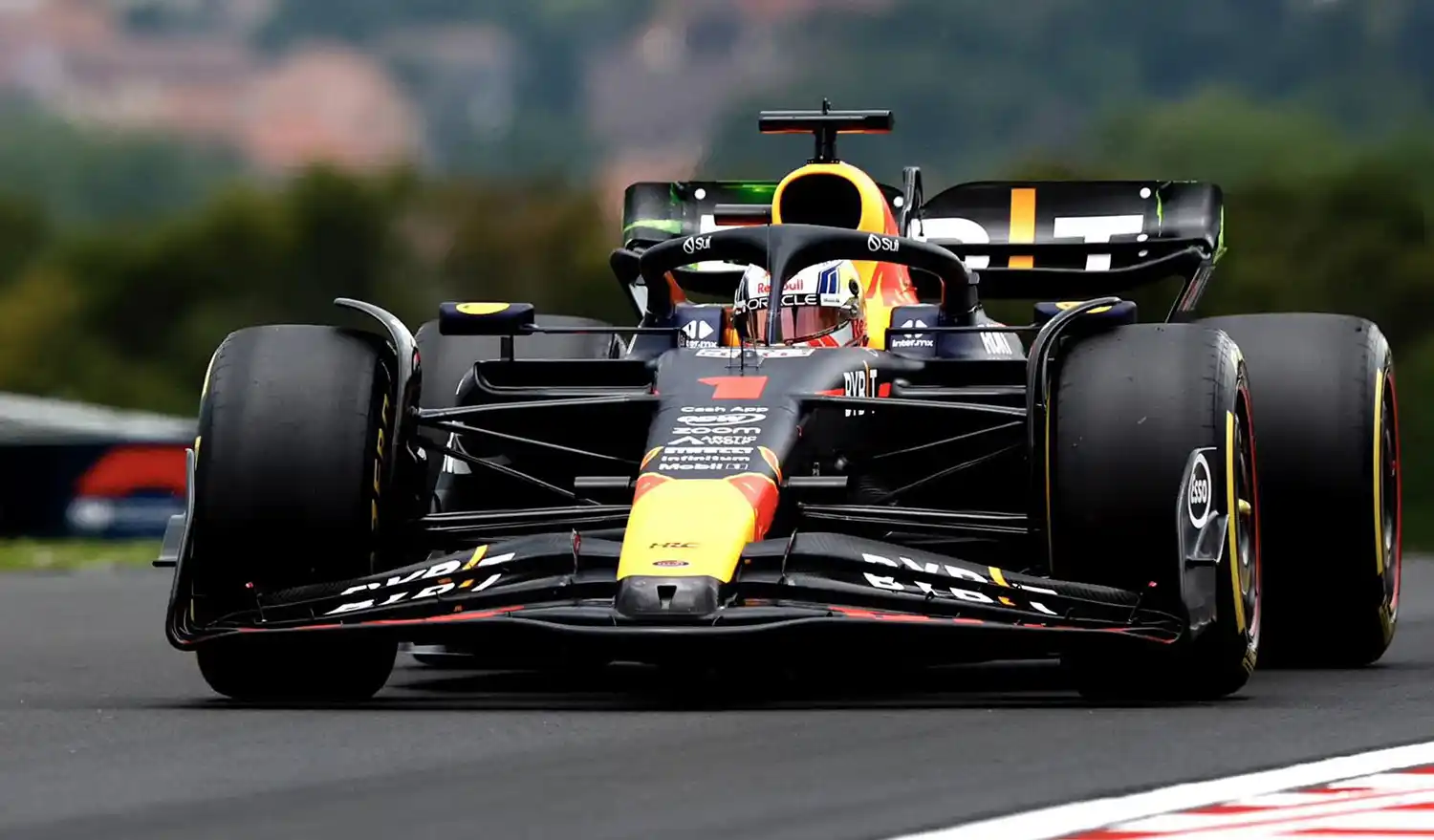 Max Verstappen made Formula 1 history as he scored a record 12th win in a row for Red Bull, with the Dutch driver taking his ninth win of 2023 ahead at the Hungarian of McLaren's Lando Norris, while the final podium place went to Sergio Pérez who surged through the third place from P9 on the grid.
Starting from the front row, Verstappen beat pole position driver Lewis Hamilton to the punch into Turn 1 at the start and after taking the lead the Dutch strode away from the pack to hand Red Bull a victory that moves the team past the 11 wins in a row scored by McLaren in 1988.
"What an unbelievable rocket ship that was today," said Verstappen on his slow down lap. "That was so enjoyable to drive. Twelve wins in a row, unbelievable. I think everyone can be really proud of that achievement."
When the lights went out, Hamilton got away well from pole position, but even though Verstappen was slower away on the dusty side of the track he outdragged the Mercedes on the approach to Turn 1 and took the lead as the pair went through the first corner.
Behind the front row starters, third-place starter Lando Norris was held up as Hamilton took a wider line into Turn 1 and that allowed the McLaren driver's team-mate Oscar Piastri to dive down the inside of Hamilton to steal P2. Norris also then got by the Mercedes driver to demote the pole sitter to P4.
Further back, Pérez, on Hard tyres, got a good start from P9 and when Alfa Romeo's Zhou Guanyu bogged down on the grid, the Mexican along with a gaggle of rivals swept past. Trying to recover Zhou then became embroiled in a close battle with lower-placed rivals and as the midfield funnelled into Turn 1 there was contact. The incident ruled both Alpine cars out of the race as Esteban Ocon was clipped by an AlphaTauri and bounced into team-mate Pierre Gasly.
At the front, Verstappen was quickly into the groove and he quickly built a gap to Piastri with Norris in third ahead of Hamilton and the Ferrari cars of Charles Leclerc and Carlos Sainz. Pérez, meanwhile, was already closing in on Fernando Alonso and at the start of lap eight, aided by DRS, the Mexican powered past the Aston Martin to take P7 place just over 1.5s behind Sainz.
Sainz had made up places thanks to a start on Soft tyres, but by lap 16 his tyres were beginning to fade and he headed into the pit lane for a set of Hard tyres, promoting Pérez to sixth place.
Hamilton made his first stop, for Hard tyres, on lap 17 and a lap later Norris made his first stop. The McLaren driver was followed by Ferrari's Charles Leclerc, but the team struggled with the rear left and after a 9.4s halt Leclerc rejoined in P10. Piastri made his stop on the following lap, but having benefited from an undercut, Norris passed his team-mate as the Australian exited the pit lane. Next into the pit lane was Alonso and when the Spanish driver took on a new set of Hard tyres, Pérez rose to second place, 22.3s behind Verstappen, with both needing to pit.
Verstappen headed in on lap 24, and after taking on Hard tyres in a 2.3s stop, the Dutchman resumed in the lead, 2.6s ahead of Pérez with Norris now third ahead of Piastri.
Pérez's opening stint on Hard tyres came to an end at the end of lap 24 and the Mexican moved to Medium compound Pirellis in a 2.8s stop before rejoining in P7, again behind Sainz. Pérez was flying, however, and on lap 27 he muscled past the Spanish driver through Turn 1 and then, on the following lap the Red Bull driver powered past Mercedes George Russell, who was still on opening Hard tyres, to take fifth place, five seconds behind Hamilton.
At the front, at half distance, Verstappen was in total control, with the Dutchman a comfortable 12 seconds ahead of Norris, with Piastri seven seconds further back in third. Hamilton was fourth but just two seconds clear of Pérez who was closing in rapidly.
But with Hamilton defending well, the Team reacted by bringing Pérez in for a second stop, behind Piastri. The Australian had a slow stop but the Bulls got Pérez onto a set of Medium tyres in a stunning 1.9s. Piastri rejoined in P5 with Pérez just a second behind. Norris then pitted at the end of lap 44 and he emerged in P3 behind Hamilton who needed another stop.
With DRS on his side, Pérez closed up to Piastri and on lap 47 he went round the outside of the McLaren through Turn 1 to take fourth place. And that became a podium place when Hamilton pitted for a second time on lap 50, with the Mercedes driver rejoining in fifth.
Verstappen made his final stop of the race at the end of lap 51 and after fitting a used set of Medium tyres, the championship leader emerged in the lead and just shy of 12 seconds in front of Norris, who was 8.6s ahead of Pérez.
Over the final 15 laps, Verstappen stretched the gap to Norris to an emphatic 33 seconds as he powered to his seventh win in a row.
Behind the podium finishers, Hamilton finished fourth ahead of Piastri, while Mercedes' George Russell inherited sixth place after Leclerc served a five-second penalty at the flag for speeding in the pit lane during his second pit stop. Sainz was eighth for Ferrari and the final points positions were taken by Aston Martin's Fernando Alonso and Lance Stroll.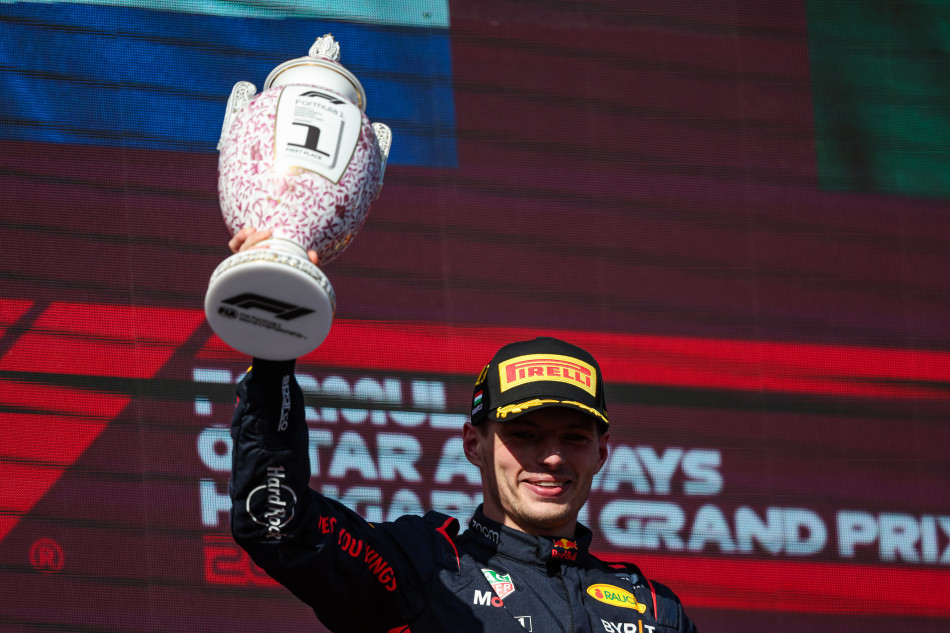 2023 FIA Formula 1 Hungarian Grand Prix – Race 
1 Max Verstappen Red Bull Racing 70 1:38'08.634
2 Lando Norris McLaren 70 1:38'42.365 33.731
3 Sergio Pérez Red Bull Racing 70 1:38'46.237 37.603
4 Lewis Hamilton Mercedes 70 1:38'47.768 39.134
5 Oscar Piastri McLaren 70 1:39'11.206 1'02.572
6 George Russell Mercedes 70 1:39'14.459 1'05.825
7 Charles Leclerc Ferrari 70 1:39'18.951 1'10.317
8 Carlos Sainz Ferrari 70 1:39'19.707 1'11.073
9 Fernando Alonso Aston Martin 70 1:39'24.343 1'15.709
10 Lance Stroll Aston Martin 69 1:38'23.249 1 lap /14.615
11 Alexander Albon Williams 69 1:38'37.721 1 lap /29.087
12 Valtteri Bottas Alfa Romeo 69 1:38'38.713 1 lap /30.079
13 Daniel Ricciardo AlphaTauri 69 1:38'44.891 1 lap /36.257
14 Nico Hülkenberg Haas 69 1:38'59.932 1 lap /51.298
15 Yuki Tsunoda AlphaTauri 69 1:39'00.177 1 lap /51.543
16 Zhou Guanyu Alfa Romeo 69 1:39'09.125 1 lap /1'00.491
17 Kevin Magnussen Haas 69 1:39'30.985 1 lap /1'22.351
18 Logan Sargeant Williams 67 1:36'29.224 Not running
Esteban Ocon Alpine 2 3'28.146 Accident damage
Pierre Gasly Alpine 1 2'04.981 Accident damage