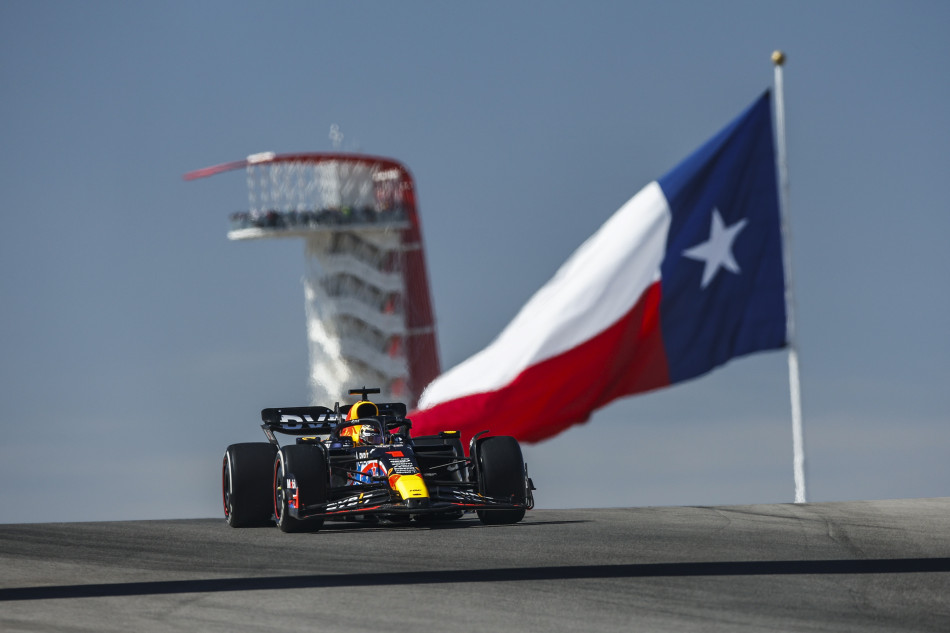 Red Bull Racing's Max Verstappen went quickest in the sole practice session for the 2023 FIA Formula 1 United States Grand Prix, with the three-time champion beating Ferrari's Charles Leclerc by a little over 1500ths of a second. Third place in the session was taken by Mercedes' Lewis Hamilton.
The timesheet was defined by a sequence of Soft tyre qualifying simulations at the end of the session. That was sparked by Williams' Alex Albon, who jumped to the top of the order on Softs, but Verstappen then appeared and set a time of 1:35.912 which remained the benchmark until the end of the session.
Leclerc got closest to the Red Bull driver's time finishing 0.156s off Verstappen and then
Hamilton popped into third place, a tenth adrift of Leclerc, running an upgraded Mercedes featuring a revised floor. Sergio Pérez finished fourth 0.3s off his table-topping team-mate and the top five was rounded out by Kevin Magnussen who benefited from a suite of upgrades on his Haas VF-23.
The early part of the session saw many running on Hard tyres, with Verstappen leading the way on the most durable compound on offer this weekend. Hamilton then moved ahead with a lap of 1:37.394s set on Hards and he held top spot until McLaren's Lando Norris forged ahead with a lap of 1m37.256s on Medium tyres as the session headed towards the final 15 minutes.
The British driver was soon eclipsed, however, as the Soft tyres times began to roll in. Neither Norris nor team-mate Oscar Piastri ran Softs during the session and the pair slid to 15th and 19th respectively at the end.
Behind fifth-placed Magnussen, Mercedes' George Russell was sixth for Mercedes on 1:36.474, while Albon's run on Softs netted him seventh ahead of Ferrari's Carlos Sainz who finished 0.621s off Verstappen.
Nico Hülkenberg was ninth in the other Haas car and the final top 10 place was taken by Alpine's Pierre Gasly.
There were difficulties at Aston Martin, however, with Lance Stroll suffering brake problems on the left front wheel on his car with the result that the Canadian posted only five laps during the single practice available before qualifying.
2023 FIA Formula 1 United States Grand Prix – Free Practice 
1 Max Verstappen Red Bull Racing 1:35.912 23 206.927
2 Charles Leclerc Ferrari 1:36.068 0.156 25 206.591
3 Lewis Hamilton Mercedes 1:36.193 0.281 23 206.322
4 Sergio Pérez Red Bull Racing 1:36.212 0.300 23 206.281
5 Kevin Magnussen Haas 1:36.472 0.560 21 205.726
6 George Russell Mercedes 1:36.474 0.562 25 205.721
7 Alexander Albon Williams 1:36.492 0.580 21 205.683
8 Carlos Sainz Ferrari 1:36.533 0.621 24 205.596
9 Nico Hülkenberg Haas 1:36.702 0.790 21 205.236
10 Pierre Gasly Alpine 1:36.705 0.793 22 205.230
11 Logan Sargeant Williams 1:36.987 1.075 26 204.633
12 Esteban Ocon Alpine 1:37.066 1.154 22 204.467
13 Yuki Tsunoda AlphaTauri 1:37.104 1.192 25 204.387
14 Daniel Ricciardo AlphaTauri 1:37.152 1.240 24 204.286
15 Lando Norris McLaren 1:37.256 1.344 21 204.067
16 Zhou Guanyu Alfa Romeo1:37.418 1.506 25 203.728
17 Valtteri Bottas Alfa Romeo 1:37.517 1.605 24 203.521
18 Fernando Alonso Aston Martin1:37.840 1.928 19 202.849
19 Oscar Piastri McLaren 1:38.420 2.508 22 201.654
20 Lance Stroll Aston Martin 1:39.940 4.028 5 198.587