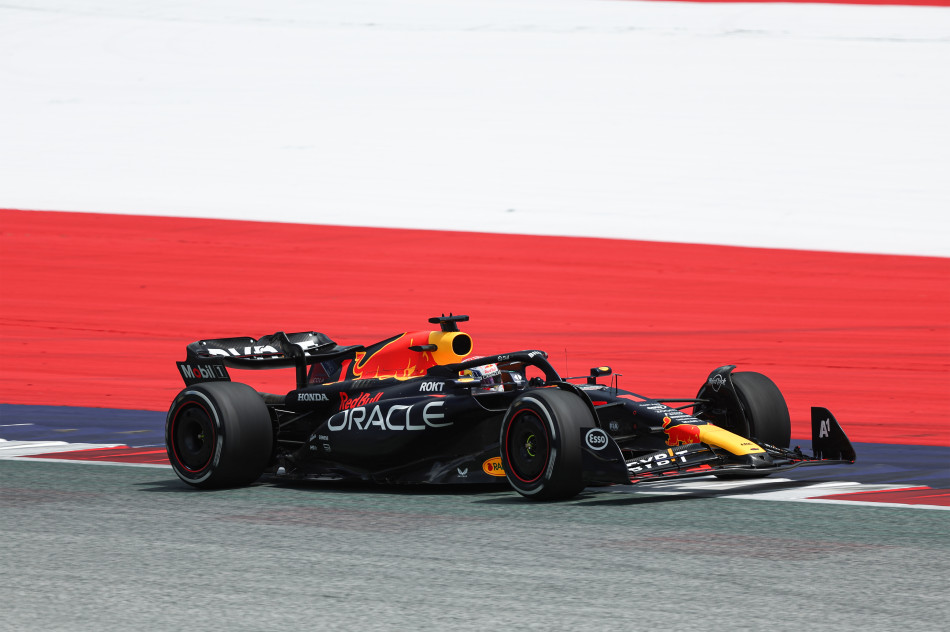 Max Verstappen set the pace in the sole practice session for this weekend's Austrian Grand Prix with the championship leader setting a time of 1:05.742 on medium tyres to beat the soft-shod Ferrari pairing of Carlos Sainz and Charles Leclerc by more than two tenths of a second at the start of the second Sprint weekend of the 2023 season.
At the start of the session Verstappen was on track early and with his first flying lap, on Hard tyres, the Dutchman set the early pace with a lap of 1:08.094. The champion was followed out by team-mate Sergio Pérez, also on Hard tyres, and the Mexican's first flyer put him in P1, 0.499s ahead of Max on a lap of 1:07.595. The Red Bull pair then traded top spot, with Verstappen finding almost a second over his opening flyer to retake P1, before Pérez improved to 1:07.111 to edge his team-mate by 0.034s. Verstappen had pace in hand, however, and just before the 10-minute mark he posted a lap of 1:06.961 to move 0.150s ahead of his team-mate, with Mercedes' Lewis Hamilton a further 0.243s behind in third.
Aston Martin's Fernando Alonso then took P1 on Medium tyres, but with 15 minutes gone, before Verstappen took P1 once again, this time with a lap of 1:06.598.
The Red Bull drivers headed back to the garage and that left the way clear for Hamilton to jump to P1 with a lap of 1:06.416 with Verstappen in P2 ahead of Alonso and Pérez. Fifth place, meanwhile, was occupied by Alex Albon, with the Williams driver putting in an eye-catching early stint on Soft tyres to stop the clock at 1:06.794.
After a mid-session spell of longer runs and few improvements, the bulk of the field made switch to Soft tyres in the final 10 minutes. Among the frontrunners the exceptions were the Red Bull drivers who went out on Medium compound Pirelli tyres.
Verstappen jumped back to the top of the timesheet with a lap of 1:06.084, 0.125s clear of soft-shod Ferrari driver Charles Leclerc. Pérez's first flyer on the yellow-banded tyre put him in P3 with a lap of 1:06.262. Ferrari's Carlos Sainz then went quickest on Softs with a 1:05.983.
After his first flying lap on Mediums, Verstappen put in three slow laps before a final flyer that put him on top for the final time. His lap of 1:05.742 was good enough to put him over two tenths ahead of Sainz and Leclerc. Hamilton was fourth on softs with Pérez in P5 with a final Medium-tyre of 1:06.262.
Lance Stroll took sixth place for Aston Martin with a lap of 1:06.340 with Haas' Kevin Magnussen seventh ahead of Alonso, while Mercedes' George Russell was ninth and the top 10 was rounded out by Alfa Romeo's Zhou Guanyu.
2023 FIA Formula 1 Austrian Grand Prix – Free Practice 
1 Max Verstappen Red Bull Racing 1:05.742 30 236.451
2 Carlos Sainz Ferrari 1:05.983 0.241 32 235.587
3 Charles Leclerc Ferrari 1:06.012 0.270 33 235.484
4 Lewis Hamilton Mercedes 1:06.251 0.509 34 234.634
5 Sergio Pérez Red Bull Racing 1:06.262 0.520 32 234.595
6 Lance Stroll Aston Martin 1:06.340 0.598 29 234.320
7 Kevin Magnussen Haas 1:06.497 0.755 27 233.766
8 Fernando Alonso Aston Martin 1:06.656 0.914 31 233.209
9 George Russell Mercedes 1:06.696 0.954 28 233.069
10 Zhou Guanyu Alfa Romeo 1:06.780 1.038 33 232.776
11 Alexander Albon Williams 1:06.794 1.052 23 232.727
12 Oscar Piastri McLaren 1:06.809 1.067 36 232.675
13 Nico Hülkenberg Haas 1:06.846 1.104 30 232.546
14 Valtteri Bottas Alfa Romeo 1:06.847 1.105 33 232.542
15 Yuki Tsunoda AlphaTauri 1:06.985 1.243 34 232.063
16 Nyck de Vries AlphaTauri 1:07.017 1.275 36 231.953
17 Logan Sargeant Williams 1:07.018 1.276 25 231.949
18 Esteban Ocon Alpine 1:07.202 1.460 30 231.314
19 Pierre Gasly Alpine 1:07.287 1.545 28 231.022
20 Lando Norris McLaren 1:07.368 1.626 20 230.744