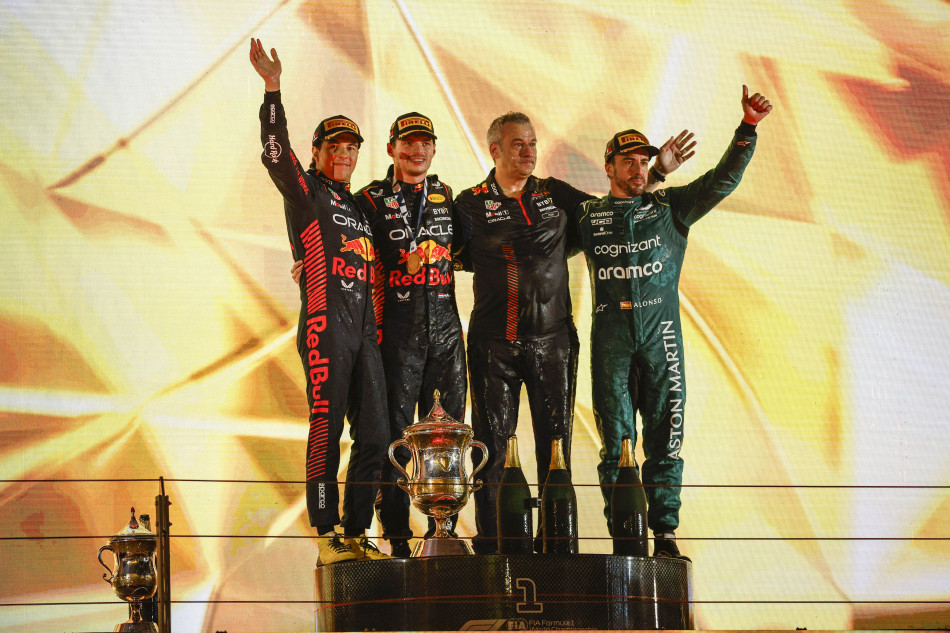 Max Verstappen dominated the opening round of the 2023 FIA Formula One World Championship, cruising to victory in the Bahrain Grand Prix as Red Bull team-mate Sergio Pérez sealed a 1-2 finish for Red Bull and Fernando Alonso claimed his first podium as an Aston Martin driver. There was disappointment for Ferrari, though, as Charles Leclerc retired from the race with an engine issue.
At the start of the race, Verstappen got away well and took the lead. Alongside him on the front row, team-mate Pérez bogged down and the Mexican driver was swamped from row two by Ferrari's Leclerc and Carlos Sainz. Leclerc got past into Turn 1 but Pérez resisted the assault of Sainz and settled into third place ahead of the Spanish driver and the fifth-placed Mercedes of Lewis Hamilton.
Behind the top five, Mercedes' George Russell was sixth but the Aston Martin pair of Alonso and Lance Stroll clashed in Turn 4. Alonso managed to hold on to seventh but Stroll dropped back to ninth behind Alfa Romeo's Valtteri Bottas after getting a late-braking move wrong.
At the front, Verstappen quickly began to pull away from the field and by the start of lap 10 the world champion was a full seven seconds clear of Leclerc.
Leclerc was the first of the leaders to pit, with the Ferrari driver taking on hard compound tyres on lap 14. Sainz followed his team-mate immediately and they rejoined the race in P5 and P6 respectively.
Versatppen was called in a lap later and when he stopped for a set of soft tyres he ceded the lead to Pérez. The Mexican then made his first stop of the race on lap 17. Like his team-mate, the Mexican bolted on another set of soft tyres and as Verstappen retook the lead, Pérez slotted into third place behind Leclerc.
Pérez then began to hunt down the Ferrari ahead, and on lap 25 he closed within DRS range. He quickly went on the attack and powered past the Monegasque driver under braking into Turn 1 to take P2.
At the front, Verstappen was in cruise control and after moving to hard tyres in the final round of pit stops he emerged over 11 seconds ahead of his team-mate, who after his final stop, had pulled out his own 11-second gap to Leclerc.
The major battle was now between Alonso and Hamilton and on lap 39 the Spaniard made a superb move past the seven-time champion into Turn 10 to steal fifth place. The Aston Martin driver then began to chase down Sainz.
What looked like a stable podium order then changed on lap 40 when Leclerc suffered an engine issue. The Ferrari driver pulled over at the side of the track and was forced to retire, meaning that, under the Virtual Safety Car, Sainz inherited third place, just 2.5s clear of Alonso. On lap 43 that gap shrunk to under a second and three laps later, after a bruising sequence of corners, he powered past his compatriot in Turn 11.
At the front, the Red Bull pair were in complete control, exemplified by Pérez's race engineer Hugh Bird telling his driver "there's no pressure from behind, just stroke it home".
And after 57 laps the defending champions did just that. Verstappen took the flag comfortably ahead of his team-mate to seal the first Bahrain GP win of his career and 12 seconds later Pérez sealed Red Bull first one-two finish at the Bahrain International circuit and his 27th career podium finish. Verstappen's dominance was driven home by the 38.6-second advantage he had over third-placed Alonso who gave Aston Martin its first podium place since the 2021 Azerbaijan Grand Prix when Sebastian Vettel finished second.
Behind the top three, Sainz held onto fourth place ahead of Hamilton, while Stroll climbed back to a creditable sixth place to complete a good day for his team. Russell finished seventh in the second Mercedes ahead of Bottas, while Alpine's Pierre Gasly put in a super drive from the back of the grid to take two points for ninth place. The final point on offer went to Williams' Alex Albon.
2023 FIA Formula 1 Bahrain Grand Prix – Race 
1 Max Verstappen Red Bull Racing 57 1:33'56.736
2 Sergio Pérez Red Bull Racing 57 1:34'08.723 11.987
3 Fernando Alonso Aston Martin 57 1:34'35.373 38.637
4 Carlos Sainz Ferrari 57 1:34'44.788 48.052
5 Lewis Hamilton Mercedes 57 1:34'47.713 50.977
6 Lance Stroll Aston Martin 57 1:34'51.238 54.502
7 George Russell Mercedes 57 1:34'52.609 55.873
8 Valtteri Bottas Alfa Romeo 57 1:35'09.383 1'12.647
9 Pierre Gasly Alpine 57 1:35'10.489 1'13.753
10 Alexander Albon Williams 57 1:35'26.510 1'29.774
11 Yuki Tsunoda AlphaTauri 57 1:35'27.606 1'30.870
12 Logan Sargeant Williams 56 1:33'57.872 1 lap /1.136
13 Kevin Magnussen Haas 56 1:34'13.493 1 lap /16.757
14 Nyck de Vries AlphaTauri 56 1:34'19.259 1 lap /22.523
15 Nico Hülkenberg Haas 56 1:34'35.647 1 lap /38.911
16 Zhou Guanyu Alfa Romeo 56 1:34'36.385 1 lap /39.649
17 Lando Norris McLaren 55 1:34'03.372 2 laps /6.636
Esteban Ocon Alpine 41 1:10'19.566 Retirement
Charles Leclerc Ferrari 39 1:04'46.118 Power Unit
Oscar Piastri McLaren/Mercedes 13 22'22.585 Retirement