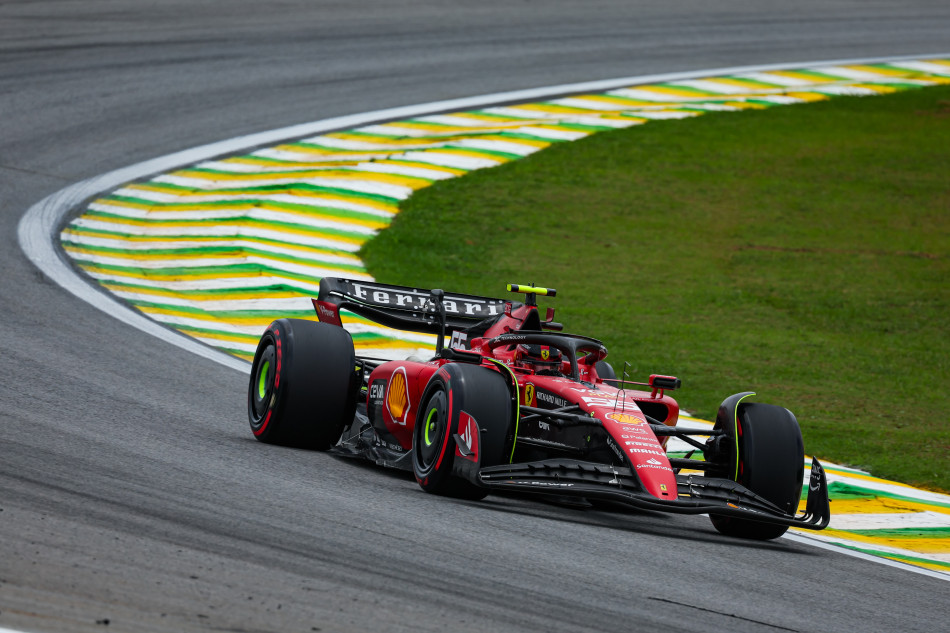 Carlos Sainz topped the timesheet in the sole practice session for the FIA 2023 São Paulo Grand Prix, with Charles Leclerc a tenth behind his Ferrari team-mate to give the Maranello squad a 1-2, as Red Bull's 2023 champion Max Verstappen finished down the order in 16th place after only running the hardest tyres on offer.
At the start of the one-hour session, Verstappen quickly went to the top of the order with a lap of 1:13.950 set on Hard tyres with team-mate Sergio Pérez in P2. Verstappen then worked down to 1:13.138, four tenths ahead of the Mexican, with Mercedes' Lewis Hamilton third ahead of Haas' Nico Hülkenberg and the second Mercedes of 2022 São Paulo Sprint and Grand Prix winner George Russell.
Soon after the first third of the session, AlphaTauri's Yuki Tsunoda moved to the top of the timesheet on Medium tyres with a lap of 1:28.802. Verstappen returned to P1 just before the halfway point but he was soon demoted by Russell who led the way on 1:11.865. Aston Martin's Fernando Alonso then jumped ahead of Verstappen with a good lap in Hard tyres.
Drivers then began to move to Soft compound tyres and Hülkenberg made another appearance in the top there, slotting into second place, just under a tenth off Russell.
Russell's grip on the top spot was finally loosened by Sainz who bolted on Soft tyres and set a lap of 1:11.732s to take P1. Leclerc then climbed to second place, 0.108s behind his team-mate.
Russell managed to hang on to third at the flag, ahead of Hülkenberg, with Williams' Alex Albon taking fourth place ahead of Aston Martin's Lance Stroll. Pierre Gasly finished seventh for Alpine, ahead of Alfa Romeo's Zhou Guanyu. Logan Sargeant was ninth, while Magnussen rounded out the top 10. Alonso ended up in 11th ahead of Hamilton and Tsunoda, while Daniel Ricciardo took 14th ahead of Esteban Ocon in second Alpine. Verstappen, meanwhile, took the flag in a lowly 16th place, a full second off the Ferrari drivers after only running on hard tyres during the session. Pérez finished in 18th, behind Alfa Romeo's Valtteri Bottas.
2023 FIA 2023 São Paulo Grand Prix – Free Practice 
1 Carlos Sainz Ferrari 1:11.732 30 216.254
2 Charles Leclerc Ferrari 1:11.840 0.108 32 215.929
3 George Russell Mercedes 1:11.865 0.133 31 215.854
4 Nico Hülkenberg Haas 1:11.928 0.196 19 215.665
5 Alexander Albon Williams 1:12.044 0.312 28 215.318
6 Lance Stroll Aston Martin 1:12.136 0.404 26 215.043
7 Pierre Gasly Alpine 1:12.184 0.452 31 214.900
8 Zhou Guanyu Alfa Romeo 1:12.481 0.749 27 214.020
9 Logan Sargeant Williams 1:12.579 0.847 30 213.731
10 Kevin Magnussen Haas 1:12.592 0.860 24 213.692
11 Fernando Alonso Aston Martin 1:12.615 0.883 28 213.625
12 Lewis Hamilton Mercedes 1:12.638 0.906 30 213.557
13 Yuki Tsunoda AlphaTauri 1:12.714 0.982 29 213.334
14 Daniel Ricciardo AlphaTauri 1:12.778 1.046 27 213.146
15 Esteban Ocon Alpine 1:12.779 1.047 30 213.143
16 Max Verstappen Red Bull Racing 1:12.793 1.061 30 213.102
17 Valtteri Bottas Alfa Romeo 1:13.012 1.280 31 212.463
18 Sergio Pérez Red Bull Racing 1:13.056 1.324 31 212.335
19 Lando Norris McLaren 1:13.629 1.897 25 210.683
20 Oscar Piastri McLaren 1:13.838 2.106 28 210.086