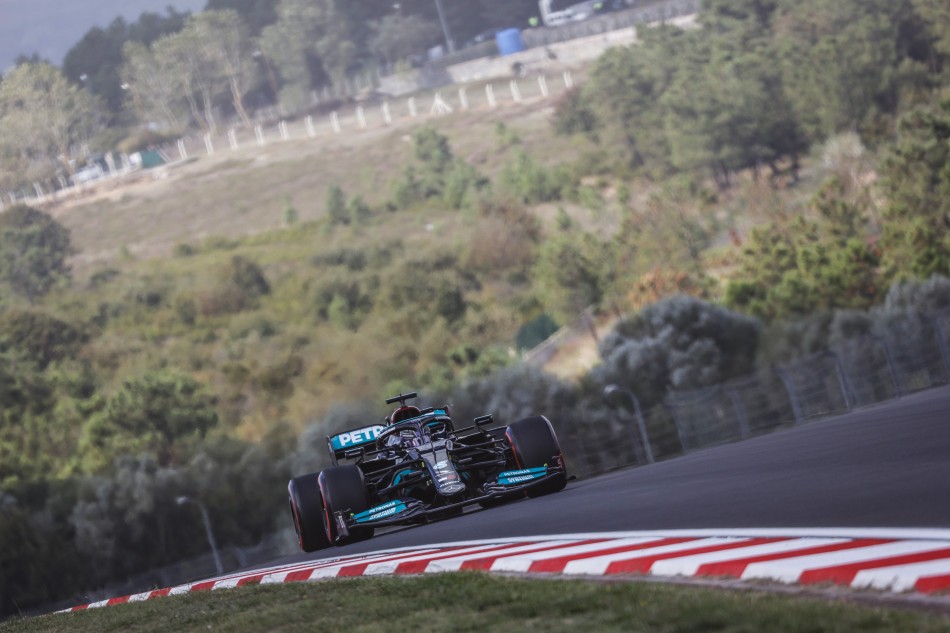 Mercedes' Lewis Hamilton beat title rival Max Verstappen to the top of the timesheet in the opening practice session for this weekend's Turkish Grand Prix, outpacing the Red Bull driver by over four tenths of a second. Charles Leclerc was third for Ferrari.
Following an extreme lack of grip last year on a brand new surface, this year's first session took place on a track that has been water blasted to reveal more of the underlying material and drivers reported significant improvement in the levels of adhesion available around the 5.3km circuit.
So much so that Hamilton was able to set a new track record with a lap of 1:24.178, just under six tenths faster than Juan Pablo Montoya's previous benchmark dating from all the way back in 2005.
The positives of Hamilton's were softened, however, by the revelation at the start of the session that Mercedes have made an engine change to his car and he will take a 10-place grid penalty for Sunday's race.
Hamilton led the early running in FP1 with a lap of 1:24.511 but when he moved to soft tyres soon after the midpoint of the session he quickly found his way to the new record time to eclipse Verstappen by 0.425 seconds.
Verstappen's deficit to the champion was largely due to handling difficulties with his RB16B, with the Dutch driver saying that he was struggling with front-end grip throughout.
Leclerc ended the session just five-hundredths of a second behind the Red Bull, while Mercedes' Valtteri Bottas took fourth place, six-tenths of a second off teammate Hamilton, while Carlos Sainz took the second Ferrari to fifth place. Sainz will also take an engine-related penalty on Sunday when he takes the upgraded PU introduced on Leclerc's car in Russia.
Sixth place in the session went to Alpine's Esteban Ocon, with McLaren's Lando Norris seventh ahead of AlphaTauri's Pierre Gasly. Fernando Alonso finished ninth in the second Alpine and the final top 10 place was taken by Red Bull's Sergio Pérez.
2021 FIA Formula 1 Turkish Grand Prix – Free Practice 1
1 Lewis Hamilton Mercedes 1:24.178 26 228.287
2 Max Verstappen Red Bull/Honda 1:24.603 0.425 24 227.140
3 Charles Leclerc Ferrari 1:24.654 0.476 27 227.004
4 Valtteri Bottas Mercedes 1:24.842 0.664 28 226.501
5 Carlos Sainz Ferrari 1:24.860 0.682 25 226.452
6 Esteban Ocon Alpine/Renault 1:24.909 0.731 30 226.322
7 Lando Norris McLaren/Mercedes 1:25.347 1.169 26 225.160
8 Pierre Gasly AlphaTauri/Honda 1:25.382 1.204 30 225.068
9 Fernando Alonso Alpine/Renault 1:25.383 1.205 26 225.065
10 Sergio Pérez Red Bull/Honda 1:25.459 1.281 24 224.865
11 George Russell Williams/Mercedes 1:25.685 1.507 25 224.272
12 Daniel Ricciardo McLaren/Mercedes 1:25.750 1.572 26 224.102
13 Sebastian Vettel Aston Martin/Mercedes 1:25.810 1.632 26 223.945
14 Antonio Giovinazzi Alfa Romeo/Ferrari 1:25.813 1.635 24 223.938
15 Nicholas Latifi Williams/Mercedes 1:25.863 1.685 28 223.807
16 Kimi Räikkönen Alfa Romeo/Ferrari 1:25.933 1.755 24 223.625
17 Lance Stroll Aston Martin/Mercedes 1:26.361 2.183 29 222.517
18 Yuki Tsunoda AlphaTauri/Honda 1:26.424 2.246 28 222.354
19 Mick Schumacher Haas/Ferrari 1:26.636 2.458 25 221.810
20 Nikita Mazepin Haas/Ferrari 1:27.019 2.841 28 220.834