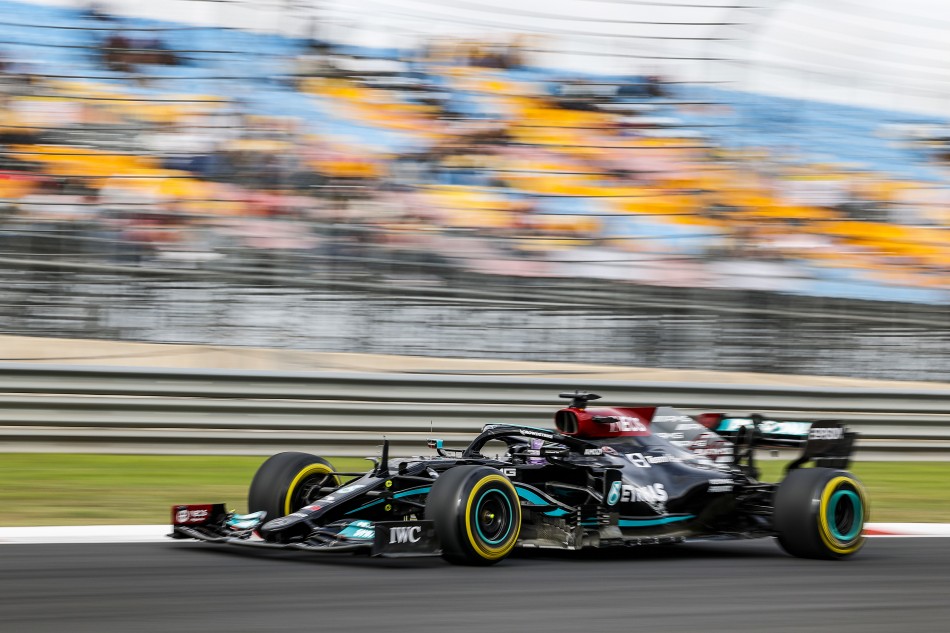 Lewis Hamilton went quickest for the second practice session in a row in Istanbul, beating Ferrari's Charles Leclerc by just under two tenths of a second as Max Verstappen finished in fifth place over half a second off the pace.
Leclerc led the way on medium tyres at the beginning of the session but he was soon deposed by team-mate Carlos Sainz who set a benchmark of 1:25.819 using softs tyres. Red Bull's Sergio Pérez then moved ahead on mediums with a lap of 1:25.278 before Mercedes's Valtteri Bottas claimed top spot with a medium-tyre lap of 1m25.199. Leclerc moved to back to the top but Pérez brought the first phase of the session to a close with a new best time of 1:24.102.
There was a brief as cars returned to the pit lane to make the swich to soft tyres for qualifying runs.
Hamilton was the first of the frontrunners to make his move and he quickest with a time of 1:23.804. Leclerc then slotted into second place, finishing just 0.166s slower than the seven-time champion. Bottas then took third, while Perez finished fourth, half a second adrift.
Verstappen, though, continued to struggle with the understeer that had hampered his morning session and snaps of oversteer in mid-corner and on exit.
His first lap on softs left him almost nine tenths of a second off Hamilton's pace and though his next flying closed the gap to 0.635s he will have plenty of work to do overnight to find a competitive balance for his car.
Lando Norris took sixth for McLaren, with Fernando Alonso seventh for Alpine. The Spaniard finished marginally ahead of team-mate Esteban Ocon while AlhphaTauri's Pierre Gasly took P9 ahead of Alfa Romeo's Antonio Giovinazzi.
At the end of the session Ocon went to the grid for a practice start but after stopping he was unable to select a gear and his car has to be recovered by marshals.
2021 FIA Formula 1 Turkish Grand Prix – Free Practice 2
1 Lewis Hamilton Mercedes 1:23.804 30 229.306
2 Charles Leclerc Ferrari 1:23.970 0.166 29 228.853
3 Valtteri Bottas Mercedes 1:24.214 0.410 31 228.190
4 Sergio Pérez Red Bull/Honda 1:24.373 0.569 28 227.760
5 Max Verstappen Red Bull/Honda 1:24.439 0.635 27 227.582
6 Lando Norris McLaren/Mercedes 1:24.525 0.721 24 227.350
7 Fernando Alonso Alpine/Renault 1:24.660 0.856 21 226.987
8 Esteban Ocon Alpine/Renault 1:24.672 0.868 26 226.955
9 Pierre Gasly AlphaTauri/Honda 1:24.756 0.952 32 226.730
10 Antonio Giovinazzi Alfa Romeo/Ferrari 1:24.796 0.992 29 226.623
11 Yuki Tsunoda AlphaTauri/Honda 1:24.882 1.078 30 226.394
12 Carlos Sainz Ferrari 1:24.903 1.099 34 226.338
13 Lance Stroll Aston Martin/Mercedes 1:25.020 1.216 31 226.026
14 Daniel Ricciardo McLaren/Mercedes 1:25.060 1.256 23 225.920
15 Kimi Räikkönen Alfa Romeo/Ferrari 1:25.143 1.339 27 225.700
16 Sebastian Vettel Aston Martin/Mercedes 1:25.229 1.425 30 225.472
17 Nicholas Latifi Williams/Mercedes 1:25.307 1.503 30 225.266
18 George Russell Williams/Mercedes 1:25.358 1.554 29 225.131
19 Mick Schumacher Haas/Ferrari 1:25.480 1.676 26 224.810
20 Nikita Mazepin Haas/Ferrari 1:25.698 1.894 25 224.238