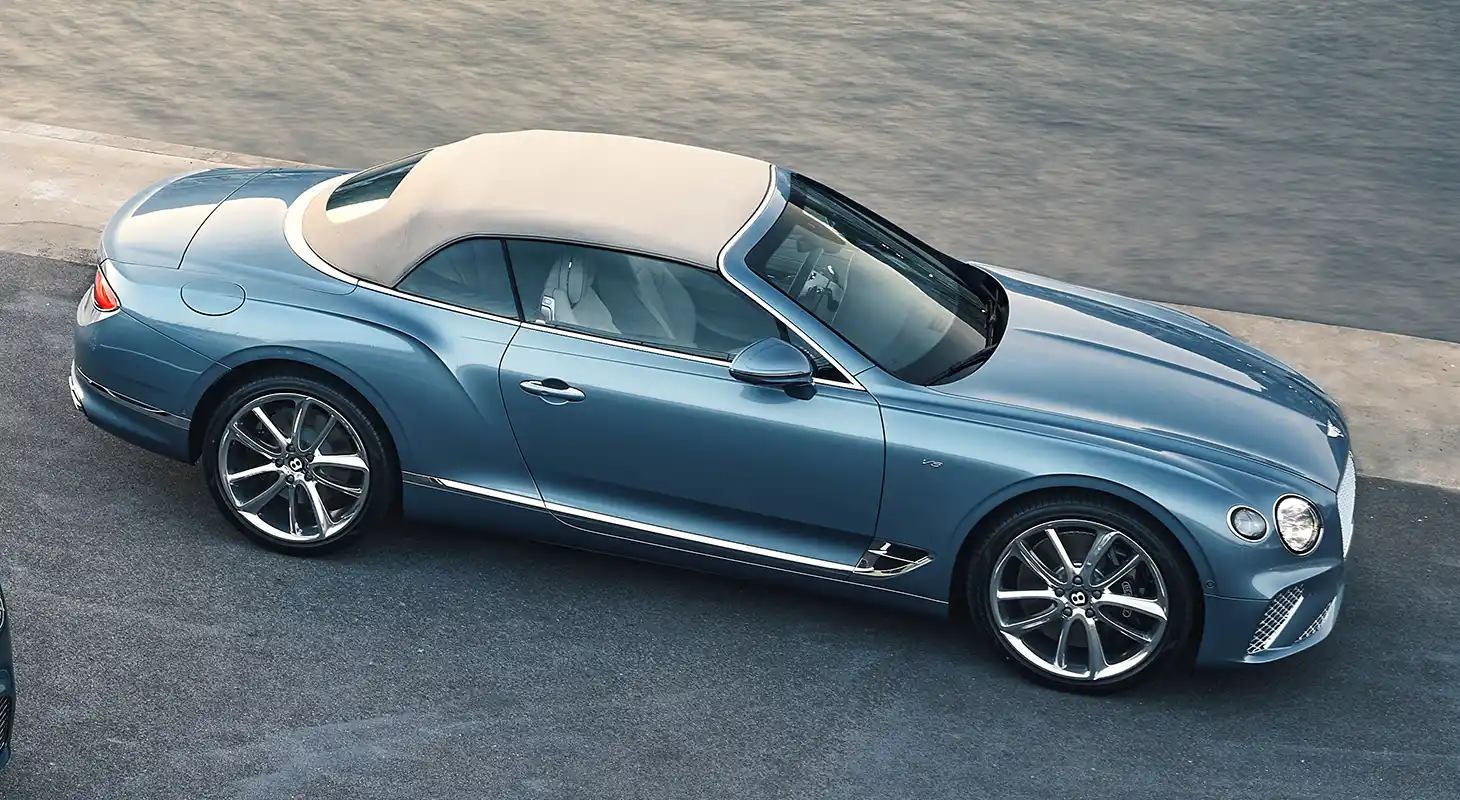 Bentley Motors has launched an exquisite Mulliner Riviera Collection to celebrate the elegant world of the yachting industry. Based on the driver-focussed Continental GT Convertible, the ultimate expression of open-air grand touring, the Mulliner Riviera Collection is only available through Bentley Monaco, the elite hub of luxurious Mediterranean sailing.
The handcrafted detailing of the Mulliner Riviera Collection reflects the exclusive character of the French Riviera, home to the prestigious Monaco Yacht Show every summer. This includes a choice of three unique exterior palettes for Monegasque customers – Aegean Blue, Aquamarine and Caribbean Blue – created to mirror the colours of the Mediterranean Sea. The same paintwork also extends to a Carbon Fibre Bodykit and Boot Lid Spoiler.
Inside a Continental GT Convertible cabin that offers unparalleled levels of luxury and cutting-edge technology, Mulliner Riviera Collection models display sailing-inspired features, such as marine knot logos on the headrests, Linen hide and Alcantara trim, and personalised Riviera Collection treadplate plaques. Hide Riviera key cases, embroidered Riviera trim emblems and a bespoke interior Colour Split add to the nautical theme.
Balazs Rooz, Regional Director Bentley Europe, commented:
"The Mulliner Riviera Collection shows how Bentley has responded to the high customer demand for personalisation and bespoke exclusivity. Bentley Monaco's understanding of the yachting world, a key focus of the principality, together with the know-how of our Mulliner designers, have created truly exceptional and unique cars. This will complement the breath-taking Mediterranean coastline and surroundings where this one-off Continental GT Convertible will likely be driven and enjoyed."
Mulliner Riviera Collection highlights how anything is possible for Bentley's most discerning customers. The world's oldest coachbuilder is based at the home of Bentley, in Crewe, England, and now offers craftsmanship on three levels. Curated by Mulliner are cars and features available in the online Bentley Configurator. Mulliner Bespoke are cars and features only available through the retailer, such as the Mulliner Riviera Collection, while Mulliner Coachbuilt are truly unique, one-off cars hand-built by the Mulliner team such as the recently unveiled Mulliner Batur.
The roots of Mulliner date back to the 1500s, when the company created luxurious, horse-drawn carriages in England. In 1923, Mulliner craftsmen worked on a Bentley chassis for the first time, hand-building the bodywork for the 3 Litre model exhibited at the Olympia Show in London.
In 1952, Mulliner coachbuilt the body for one of the most iconic Bentley's ever. The R-Type Continental was the inspiration for today's Continental GT. It was followed five years later by the Continental Flying Spur, a special, four-door saloon built on the Bentley Continental chassis. By 1959, Mulliner had officially become a part of Bentley Motors, setting up its workshops in Crewe.