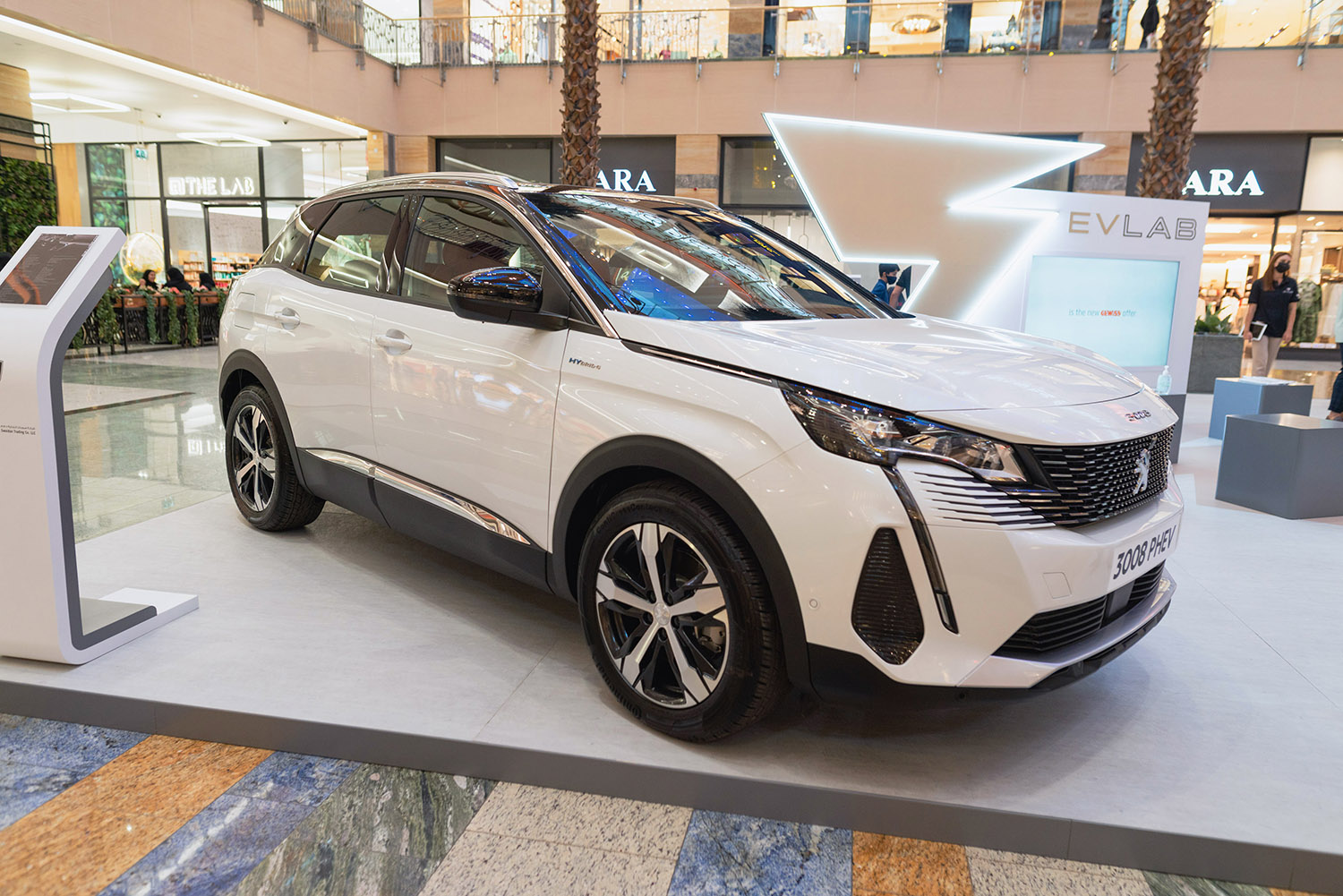 As the focus on clean transport and electric vehicles gains momentum in the UAE ahead of Expo 2020, EV Lab, the first-of-its-kind omnichannel, multi-brand electric vehicle platform, is providing the community an unprecedented opportunity to explore the world of electric vehicles until August 24, 2021, at Central Galleria in City Centre Mirdif.
With the goal of popularising electric vehicles and bringing them closer to the people, EV Lab's second pop-store, organised in partnership with Majid Al Futtaim as part of Dubai Summer Surprises, has four exciting models for visitors to gain insights from as they visit malls for retail or leisure.
A highlight of the pop-up store at Mirdif City Centre is the introduction of the first plug-in hybrid Peugeot 3008 Hybdrid4 to the UAE alongside the Tesla Model 3, Audi RS e-tron™ GT and the upcoming Bolt EUV, a veritable showcase of the finest electric cars today.
EV Lab has partnered with Swaidan Trading, a part of Al Naboodah Group, Audi Middle East, General Motors Middle East and Gewiss for the showcase. Customers can walk into the pop-up store, study the various models on display, make informed choices about electric vehicle ownership, and make a decisive switch to e-mobility that is aligned with the UAE's green vision and climate action ambitions.
Visitors to the mall can explore the vehicles as well as indulge in an array of activities such as a VR game featuring the Rimac Nevera, the fastest electric vehicle on the road, with one player who clocks the fastest lap time set to win an e-scooter. Free EV Lab t-shirts will be distributed to those who feature the pop-up store on their Instagram story in addition to one Tesla Model 3 being rented for one week for free to one lucky winner of EV Lab's Instagram competition.
Kevin Chalhoub, Founder & CEO at EV Lab, said: "The introduction of the pop-up store concept, a first for electric vehicles in the region, received overwhelming response from the community, with over 30,000 visitors attending our concept launch at Mall of the Emirates. In addition to the Tesla Model 3, Audi RS e-tron™ GT and the Bolt EUV, we are proud to showcase the Peugeot 3008 Hybrid4, which allows for electric only range of up to 45km extended by a gasoline engine for stress free driving providing almost 800km of total driving range.
"We believe that a change can be brought about on the need to embrace e-mobility when people are more familiar with electric vehicles. Instead of waiting for them to visit showrooms, we are bringing EVs closer to the community to help them make informed choices and to strengthen awareness on the need to follow clean transport solutions. With the UAE's focus on cutting emissions and taking positive climate change action as well as to achieve net zero carbon emissions by 2050, every motorist can contribute to these goals by using emission-free electric vehicles."
Greg Cottrell, General Manager – Automotive Division, Swaidan Trading Co. LLC, added: "It's our pleasure to collaborate with EV Labs to showcase Peugeot's restyled 3008 Plug-in Hybrid 4×4 model SUV. This platform gives discerning shoppers the opportunity to experience first-hand the latest design innovations directly from Europe, complemented by leading technologies and family-friendly practicality. The 3008 Hybrid4 model from Peugeot is sure to delight families who appreciate the interior comforts of an SUV and experience the best of both worlds – Electric and ICE engines, but do not want to compromise on economy or aesthetics."
Electric vehicle owners in the UAE stand to enjoy several privileges. The Roads and Transport Authority has announced that EVs in Dubai will get access to free parking in designated slots and a free Salik tag. Furthermore, the UAE has heavily invested in EV infrastructure, setting up of more than 750 charging stations across the country.
With its slogan 'Feel Electric,' EV Lab is focused on driving the transition to sustainable mobility through leveraging the benefits that electric vehicles provide to air quality, the overall environment, as well as towards diversified economic growth. EV Lab partners with key automotive players to offer a selection of the best EV products available in the market.