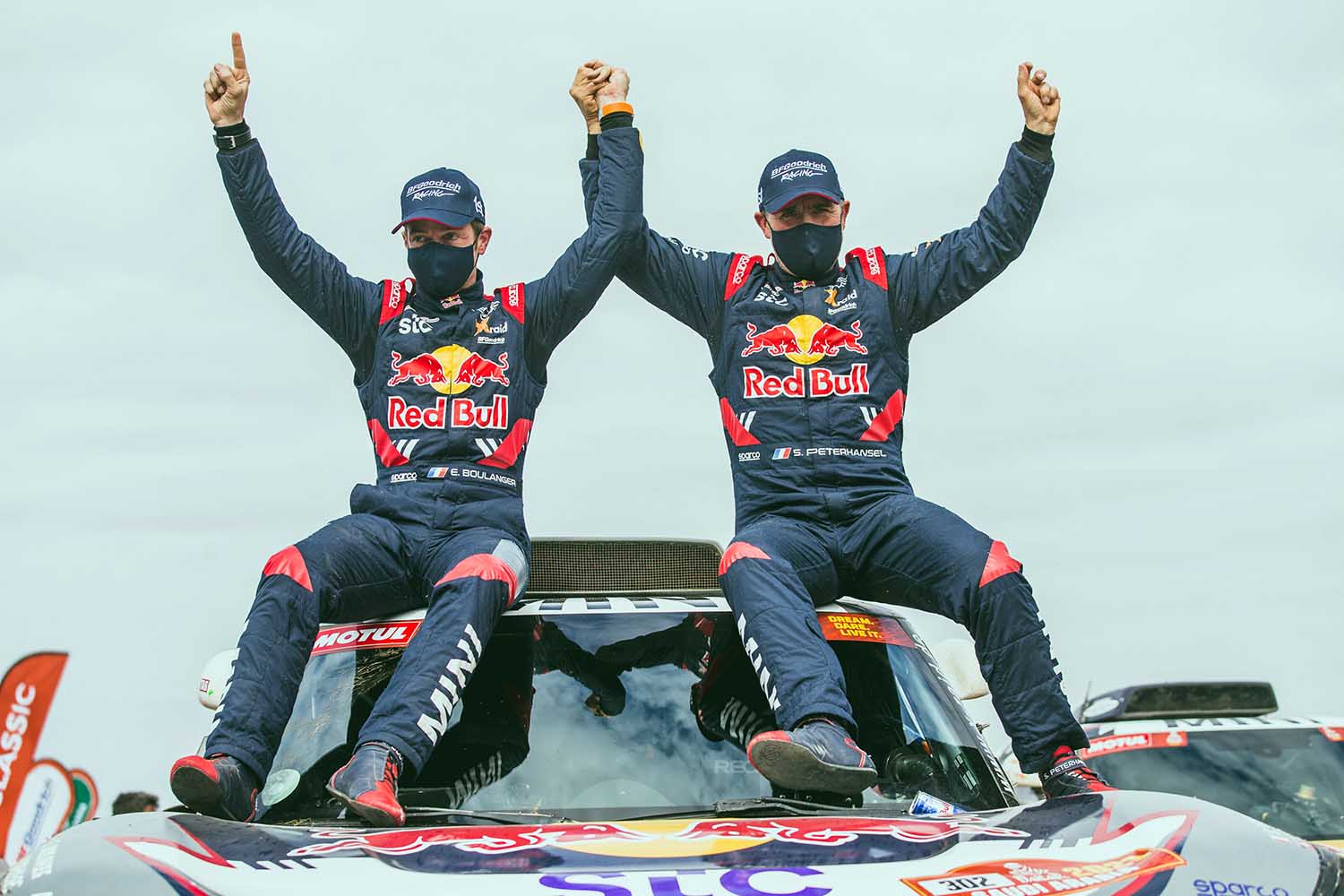 French legend Stéphane Peterhansel kept main rival Nasser Al-Attiyah in sight on Stage 12 in Saudi Arabia to wrap up a record 14th Dakar Rally victory on Friday – 30 years after his first one – as Russian Dmitry Sotnikov earned his maiden truck crown and Chilean Chaleco Lopez a second title.
Peterhansel first contested the world's most fearsome off-road race in 1988 on a Yamaha motorbike and won six titles on two wheels before switching to cars to reel off another seven desert victories in Africa and South America.
This time around for Saudi Arabia's second edition, the 55-year-old had to keep three-time champion Al-Attiyah at bay with the Qatari only able to take seconds out of his 15m05s overnight lead by the Jeddah finish line.
It is Peterhansel's third car victory in a Mini with Al-Attiyah second and last year's winner Carlos Sainz of Spain winning the final stage to round out a star-studded podium with Poland's Jakub Przygoński fourth, South African Giniel De Villiers eighth and Frenchman Cyril Despres 10th after the 8,000-kilometre odyssey.
Peterhansel also now stands alone as the biggest winner in a single category with eight car wins after Monsieur Dakar had previously shared that record with Vladimir Chagin, winner of seven truck titles.
He revealed: "It was a really tough one this year and there is always more pressure when you are the leader for so long. We had everything to lose but we did a really precise race, almost perfect. It's working really well inside the cockpit, it's a good feeling to have Edouard (Boulanger) sat next to me. This was his first Dakar in a top car and he did a really excellent job."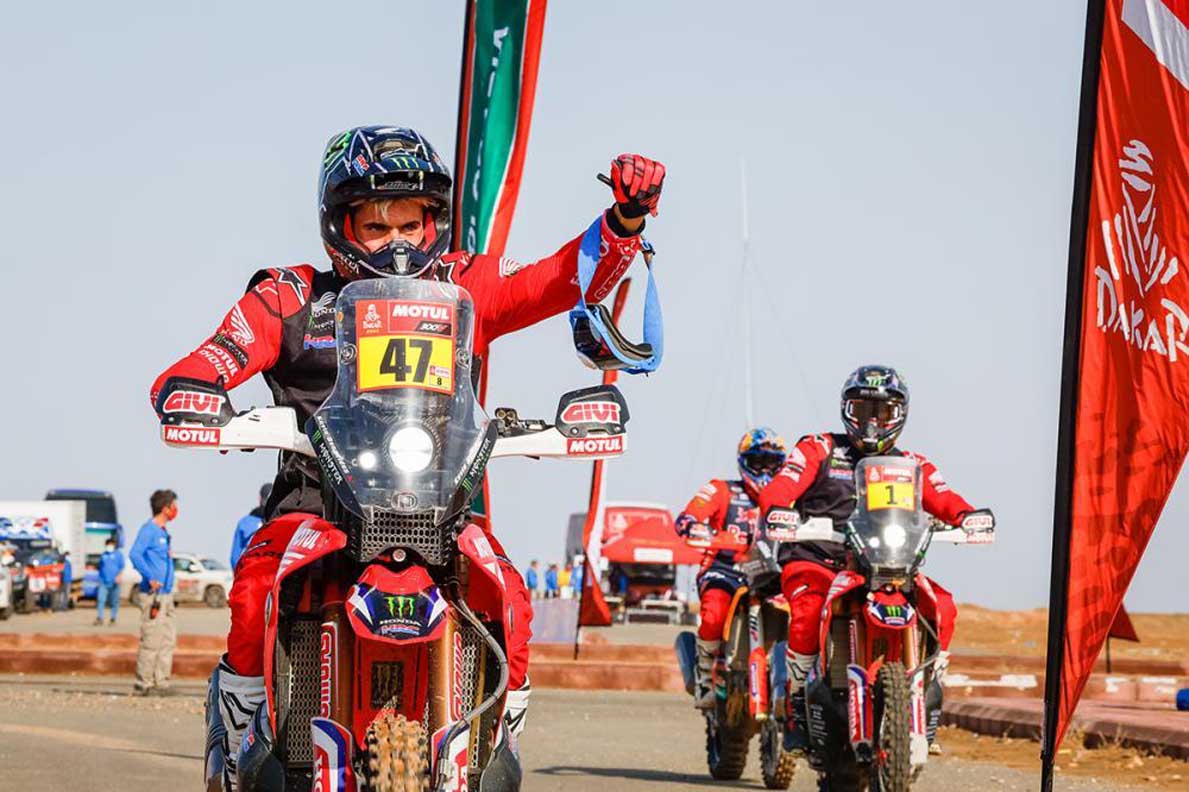 In the truck category, Sotnikov finally got over the hump to record his maiden title following two second places in 2017 and 2019 with a supreme performance that included five stage victories.
It was yet another title for Team Kamaz Master with his compatriots Anton Shibalov and Ayrat Mardeev completing the podium as the 35-year-old added to his Silk Way Rally titles from 2013 and 2017.
Sotnikov, 35, explained: "I can't believe yet that we have won. We have been moving towards this victory for several years, gradually approaching it. Now I am very happy, I am proud of all the guys."
Over in the Lightweight Vehicles category, Lopez did not have it all his own way as the likes of American teenage rookie Seth Quintero pushed him hard however he eventually won to add to his 2019 SSV triumph.
After excelling in motocross when he was younger, 45-year-old Lopez started out his Dakar career as a motorbike rider with third-place finishes in 2010 and 2013 before achieving double title success.
Finally in the bikes, Briton Sam Sunderland ended third for the Red Bull KTM Factory Racing team after Argentine Kevin Benavides held his nerve to claim a maiden victory with American Ricky Brabec second overall after winning Stage 12 and Australian rookie Daniel Sanders an impressive fourth by the end.
Sunderland, 31, said: "I tried my best and it wasn't possible. The guys in front did a great job, congratulations to them. This is the most difficult Dakar I ever did. Really long stages, dunes, stones, riverbeds, mountains… everything you can imagine."
Sanders, 26, added: "It was a pretty perfect Dakar for me. It started off with a good prologue and then every day after that I went out to try and gain as much experience as possible."
Spaniard Laia Sanz has kept up her remarkable record of finishing every Dakar and was the best placed female biker again for the 11th consecutive time.
Final overall standings after Stage 12
Car
1. Stéphane Peterhansel (FRA) X-Raid Mini 44h28m11s
2. Nasser Al-Attiyah (QAT) Toyota Gazoo +00h13m51s
3. Carlos Sainz (ESP) X-Raid Mini +01h00m57s
Bike
1. Kevin Benavides (ARG) Honda 47h18m14s
2. Ricky Brabec (USA) Honda +00h04m56s
3. Sam Sunderland (GBR) Red Bull KTM +00h15m57s
Truck
1. Dmitry Sotnikov (RUS) Kamaz Master 48h23m21s
2. Anton Shibalov (RUS) Kamaz Master +00h39m38s
3. Ayrat Mardeev (RUS) Kamaz Master +01h14m35s
Lightweight vehicle
1. F Lopez (CHL) Can-Am 53h41m02s
2. Austin Jones (USA) Can-Am +00h17m23s
3. Aron Domzala (POL) Can-Am +00h51m53s