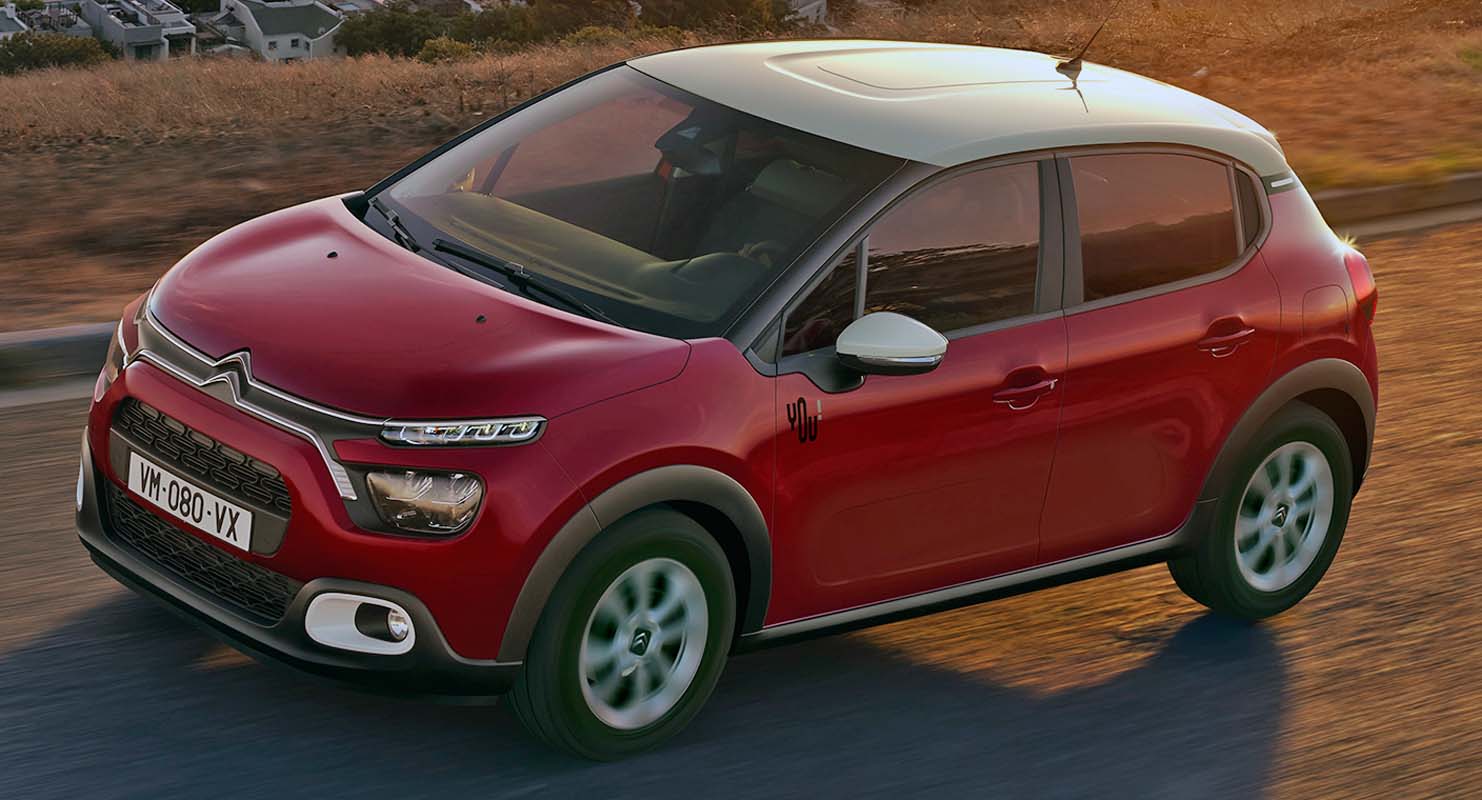 CITROËN C3 YOU! – THE PERFECT FORMULA COMBINING UTILITY WITH PLEASURE
A real commercial success, Citroën is continuing its offensive on C3 in 2021 by unveiling today its new special edition C3 YOU!.
C3 YOU! will win you over with its uniqueness, practicality and serenity behind the wheel. Based on the Feel level of C3, it retains all the attributes and qualities of the versatile city car.
The special edition is aimed at a very broad customer target in the versatile city car segment, from young drivers looking for their first car, to experienced drivers looking for a vehicle that reflects their personality while being user-friendly and functional, meeting everything you could need from a city car in terms of comfort, safety and functionality.
From the outside, C3 YOU! presents a sober and singular attitude. Distinguished by it characterful new front end, the Feel level includes LED daytime running lights, matt black fender flares and rocker panel, and ARROW 15" wheel trims to give it even more personality and expression. The special edition takes care of its look:
It benefits from fog lights with white trim, associated with white animations matching the caps of the electric and heated side mirrors and the rear quarter panel decoration. These white animation can also be found on the optional Opal White two-tone roof.
To ensure that C3 YOU! stands out from the more than one million C3s already produced, Citroën signs its special edition with a special "YOU!" logo below the mirrors.
Customers will also be able to satisfy their tastes and fully assert their personality among the six body colours available (Elixir Red, Perla Nera Black, Sand, Steel Grey, Platinum Grey and Polar White).
Inside, the special edition retains its welcoming and sleek ambience, with its Brilliant Black dashboard panel and Mica Grey fabric trim.
Space on board: in terms of practicality, C3 YOU! expresses well-being on board thanks to its generous and welcoming spaces. It can count on its segment benchmark interior space, its numerous and clever storage spaces and its generous boot space.
All the essential equipment for well-being on-board: in terms of serenity, C3 YOU! offers all the useful and essential equipment you could need for a simpler and safer on-board experience, without any compromise. It makes everyday life easier and driving experience smoother, particularly with hill-start assist, power steering, Bluetooth hands-free kit and USB port, electric front window, cruise control and speed limiter, as well as the possibility of adjusting the height/depth of the driver's seat and the steering wheel. C3 YOU! is also equipped with the MP3 4-speaker digital audio system, as well as air-conditioning for an even more pleasant life on board.
C3 YOU! has an efficient high-performance latest-generation petrol engine, approved under the Euro 6d emission standard:
Petrol manual transmission: PureTech 83 S&S BVM, priced at €14,490.
Available to order in France today, the special C3 YOU! will arrive in Citroën points of sale in September 2021.