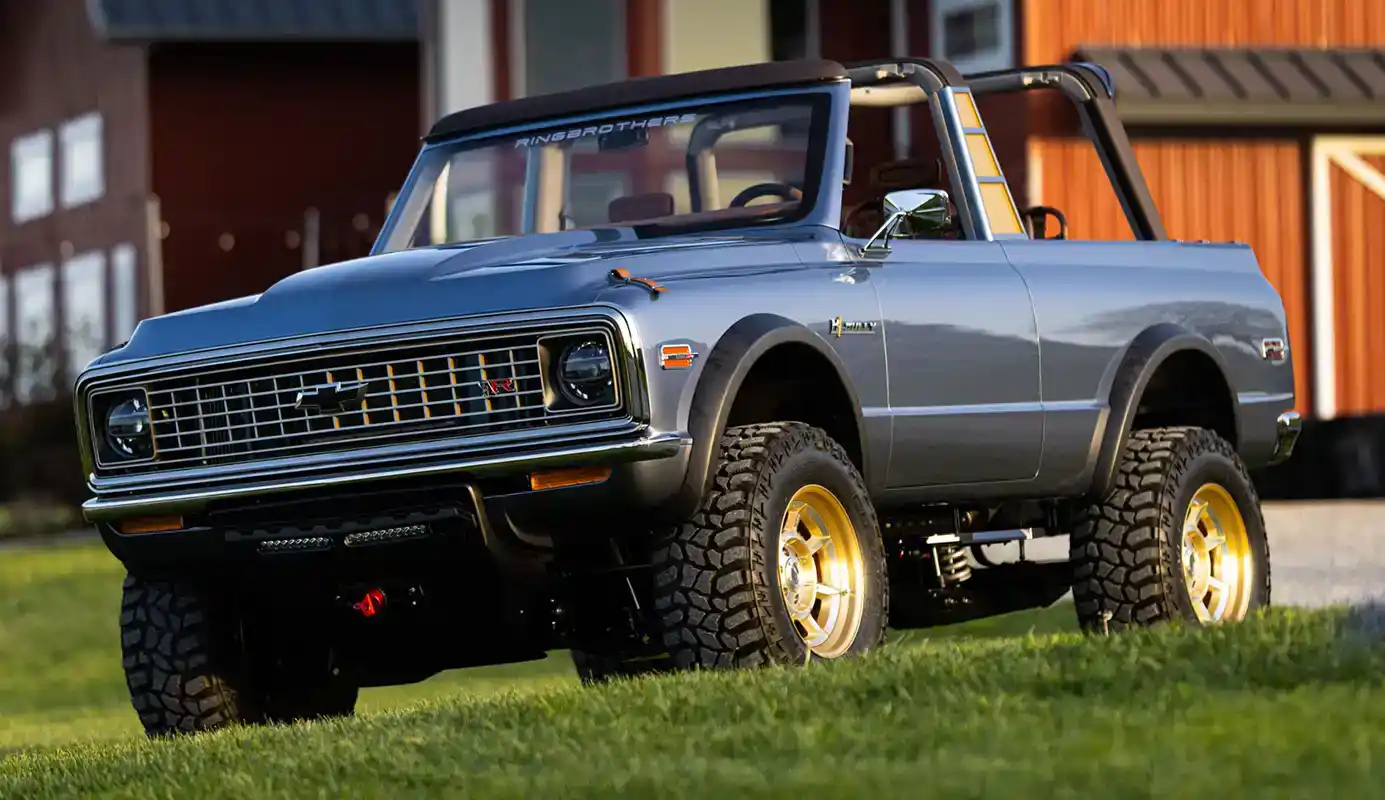 Ringbrothers, the world-renowned custom car builder and parts manufacturer, has unveiled its latest creation – a custom-built 1972 Chevrolet K5 Blazer known as "BULLY." The four-wheel-drive Blazer makes 1,200 horsepower thanks to its Wegner Motorsports-built 6.8-liter LS3 V8 topped with a 2.9-liter Whipple supercharger. Other highlights of the labor-intensive and innovative build include a new chassis, four-link suspension, bespoke interior, heavy-duty drivetrain and many unique parts.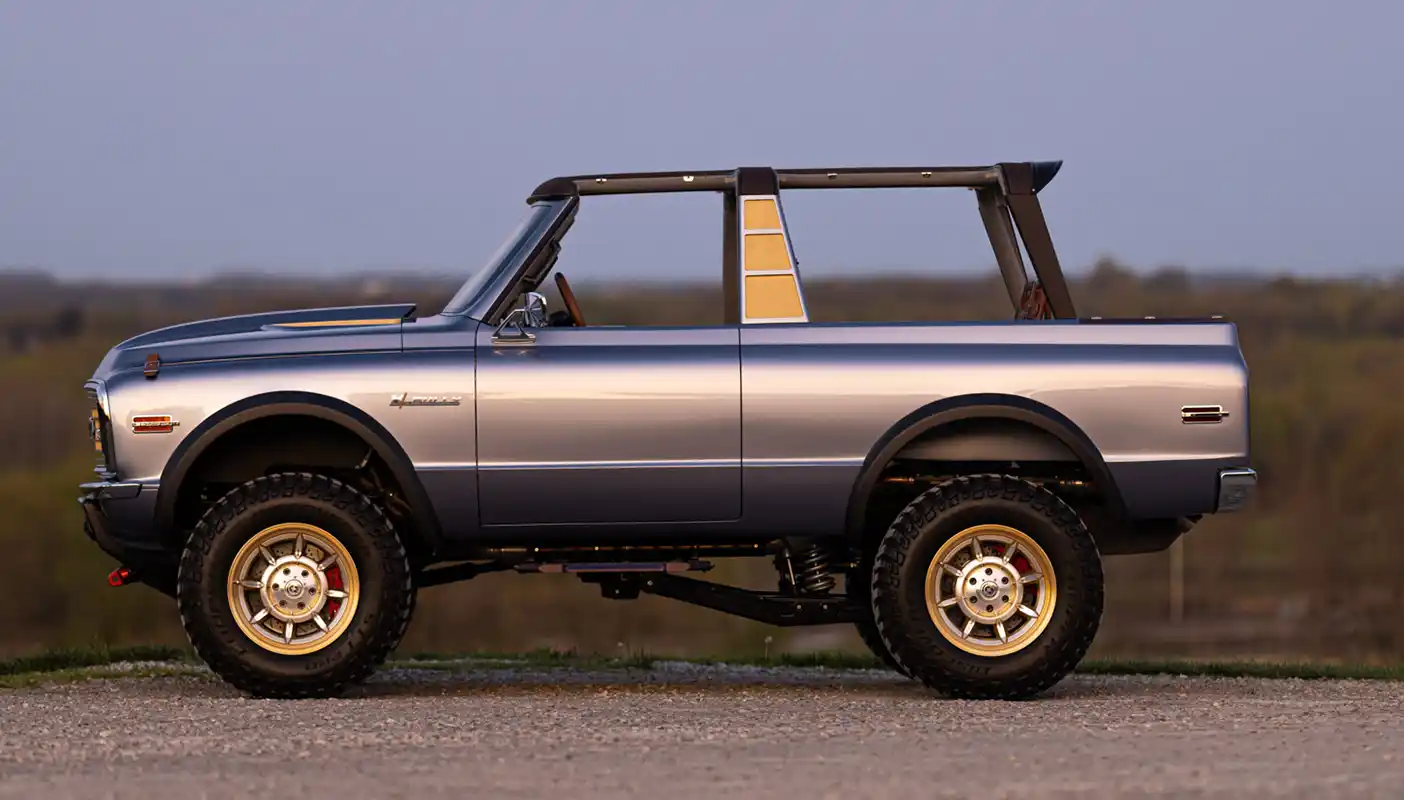 Ringbrothers invested over 8,500 hours in bringing this vision to life, and the Blazer features a multitude of one-off 3D-printed and machined parts. Covering the body is a custom BASF Glasurit Waterborne mix called Bashful Blue. Its exterior features ample carbon fiber via the custom fender flares and hood, with machined billet supercharger covers. The reworked body and flares make room for massive 325/65R18 Cooper Discoverer STT PRO tires wrapped around 18×12-inch HRE wheels.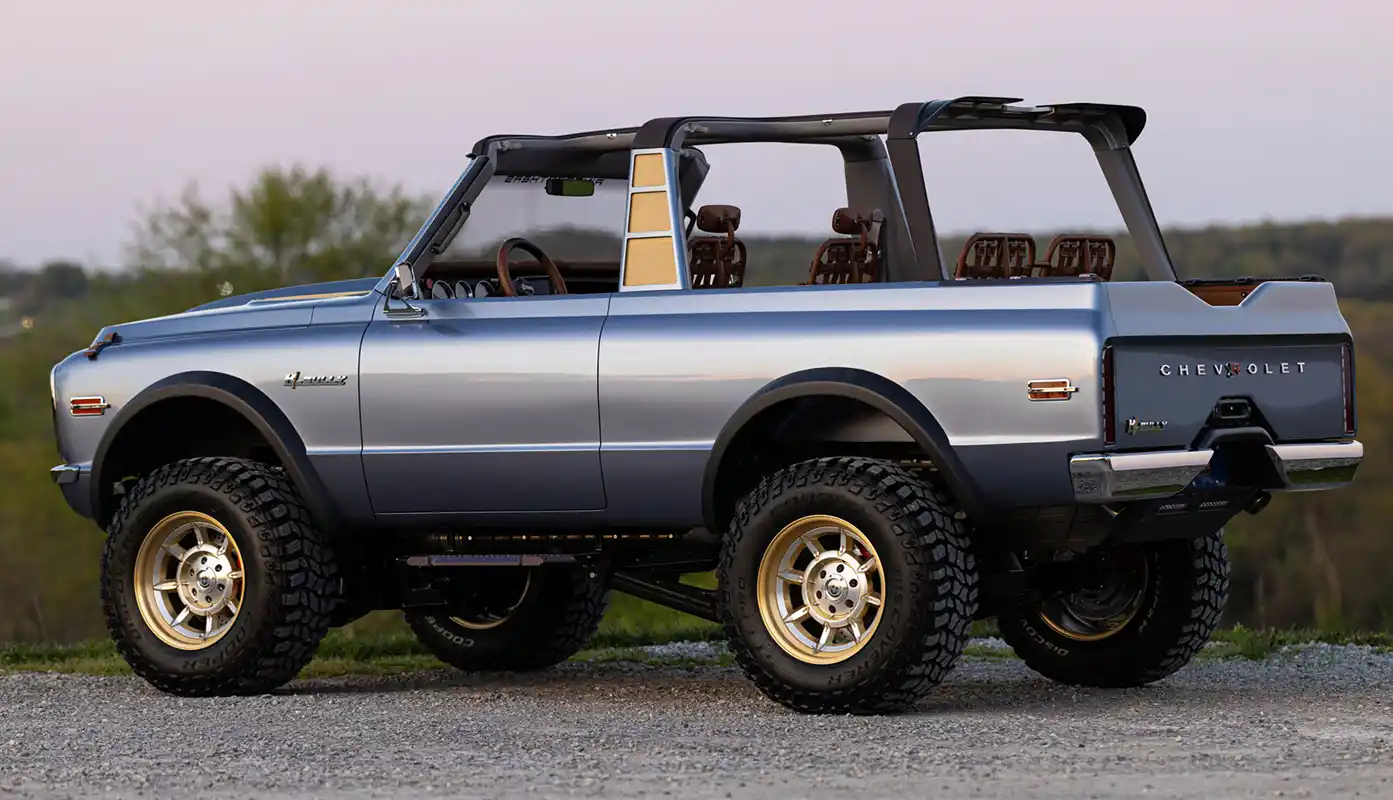 "The aptly named 'BULLY' is a thorough reimagining of Chevrolet's premier off-roader, and every aspect of this build was designed to push the envelope," said Ringbrothers co-owner Mike Ring. "We wanted to exceed current limits of what to expect in an iconic four-wheel drive while maintaining the extreme attention to detail we're known for."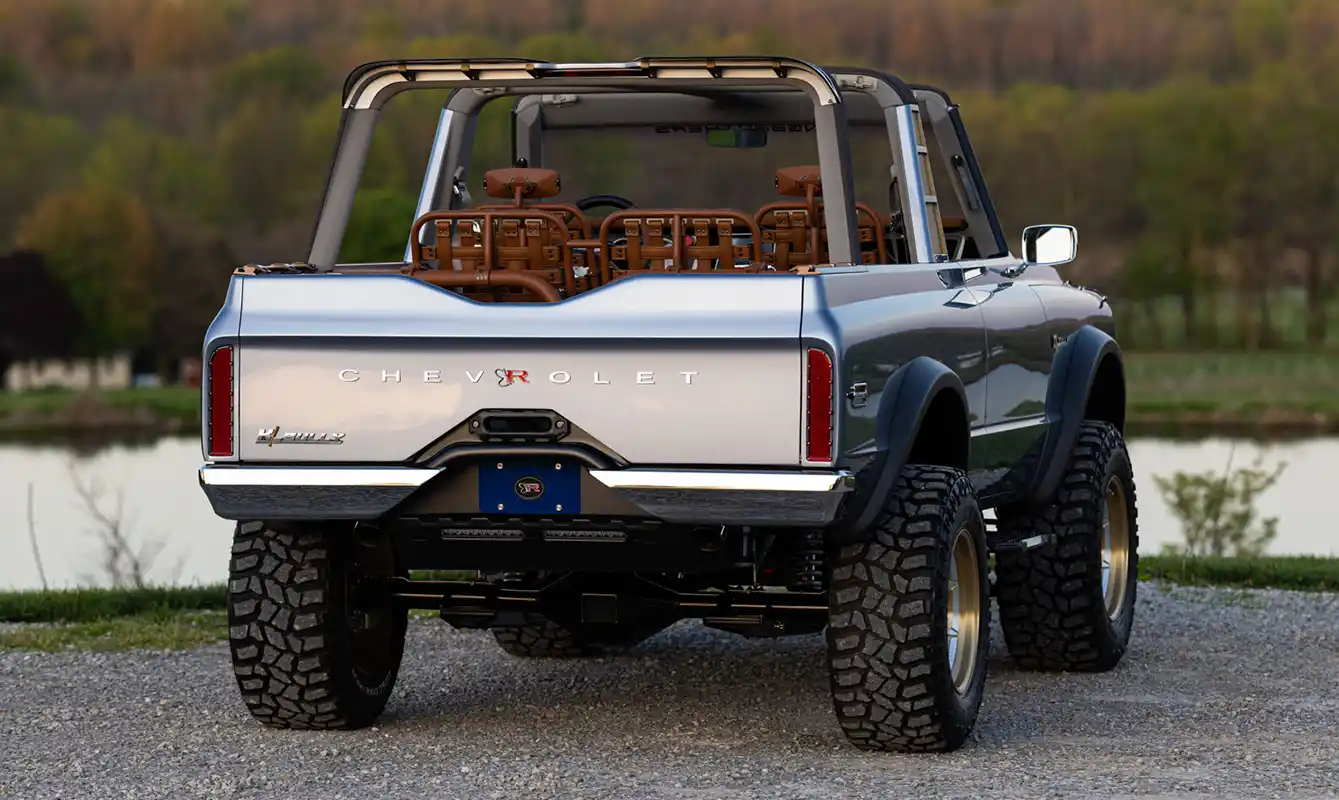 "BULLY's" formidable power is transferred to the ground through a Bowler Tru-Street GM 4L80E automatic transmission. Underneath, "BULLY" rides on a fully custom chassis built by Roadster Shop. The Currie Dana 44 front and Dana 60 rear axles tie to the chassis via a triangulated four-link suspension that employs two FOX coilovers per wheel. Stopping power is provided by Baer six-piston brakes on all four corners. A Holley Dominator EFI system handles fuel management duties while Motul lubricants keep the engine at peak performance. Flowmaster headers and mufflers customized by Ringbrothers deliver the soundtrack.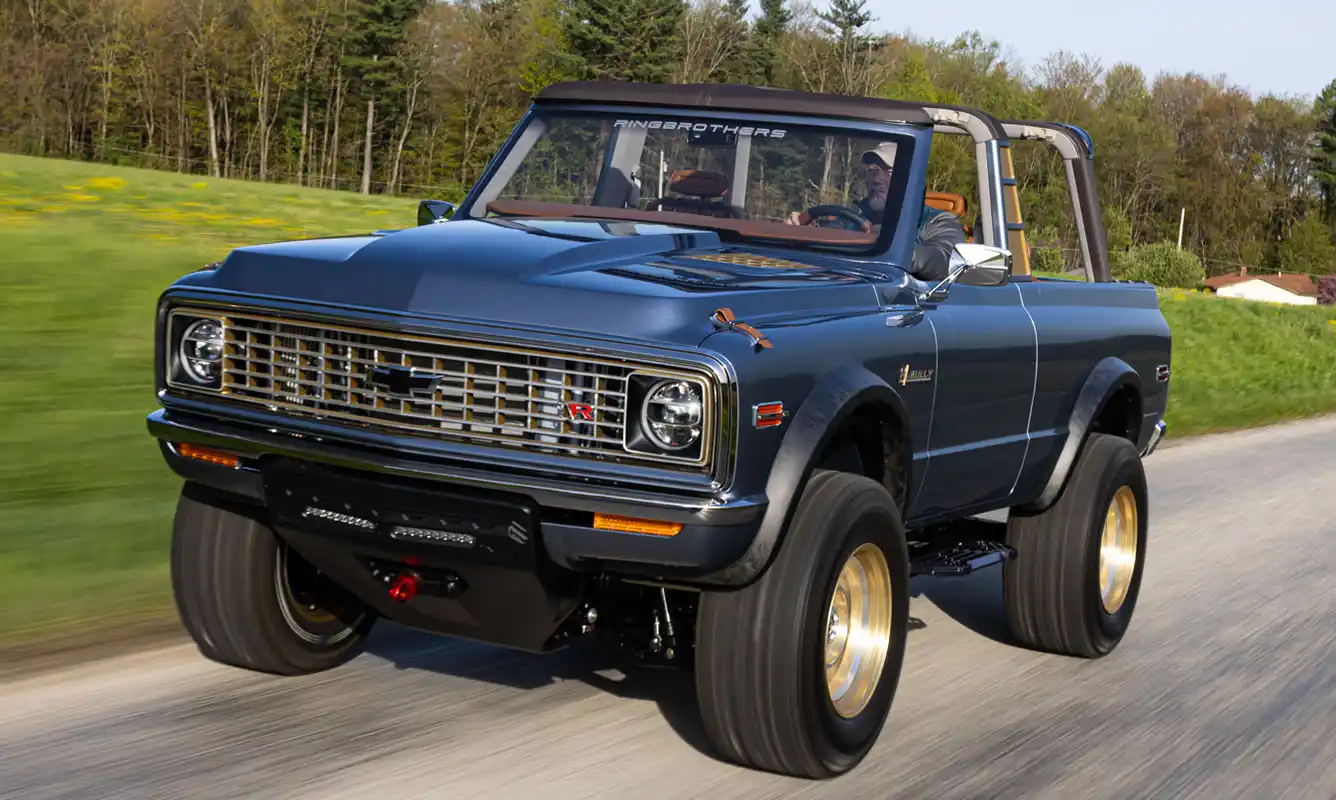 "This project was meant to stand above, both figuratively and literally," added Jim Ring. "Our partners HRE Wheels, Whipple Superchargers, Motul, Painless Wiring, Miller Welding, Holley and so many more enabled us to see this build from concept to production. We're honored to work with the very best in our industry and thank them for their continued support."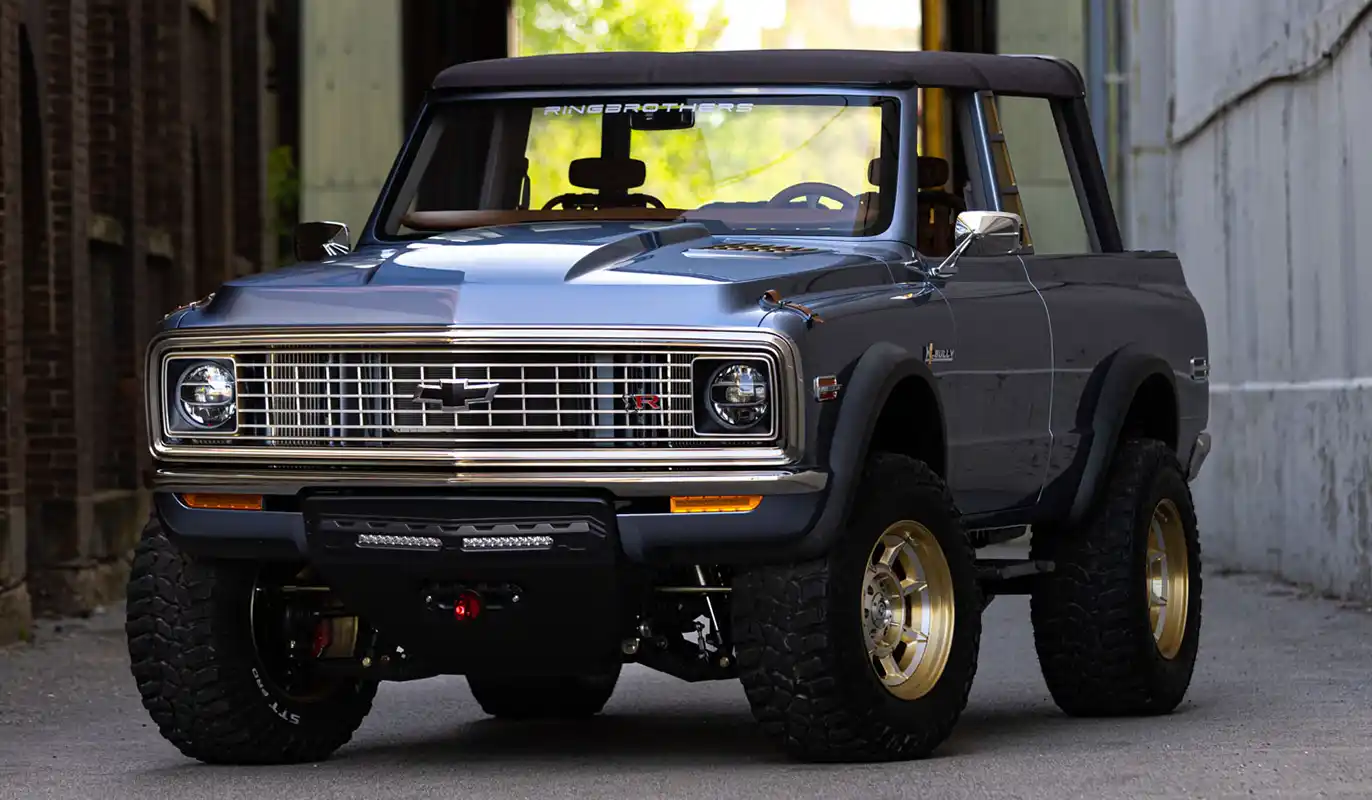 For an interior that matches "BULLY's" stance and performance, the Blazer features fully custom upholstery by Steve Pearson at Upholstery Unlimited. The in-house fabricated seats use an aesthetic based on the theme of "floating" and combine the Blazer's rugged nature with supreme craftsmanship. Three individual pods separate the dashboard and house the Dakota Digital instrumentation and custom Ringbrothers carbon-fiber steering wheel.