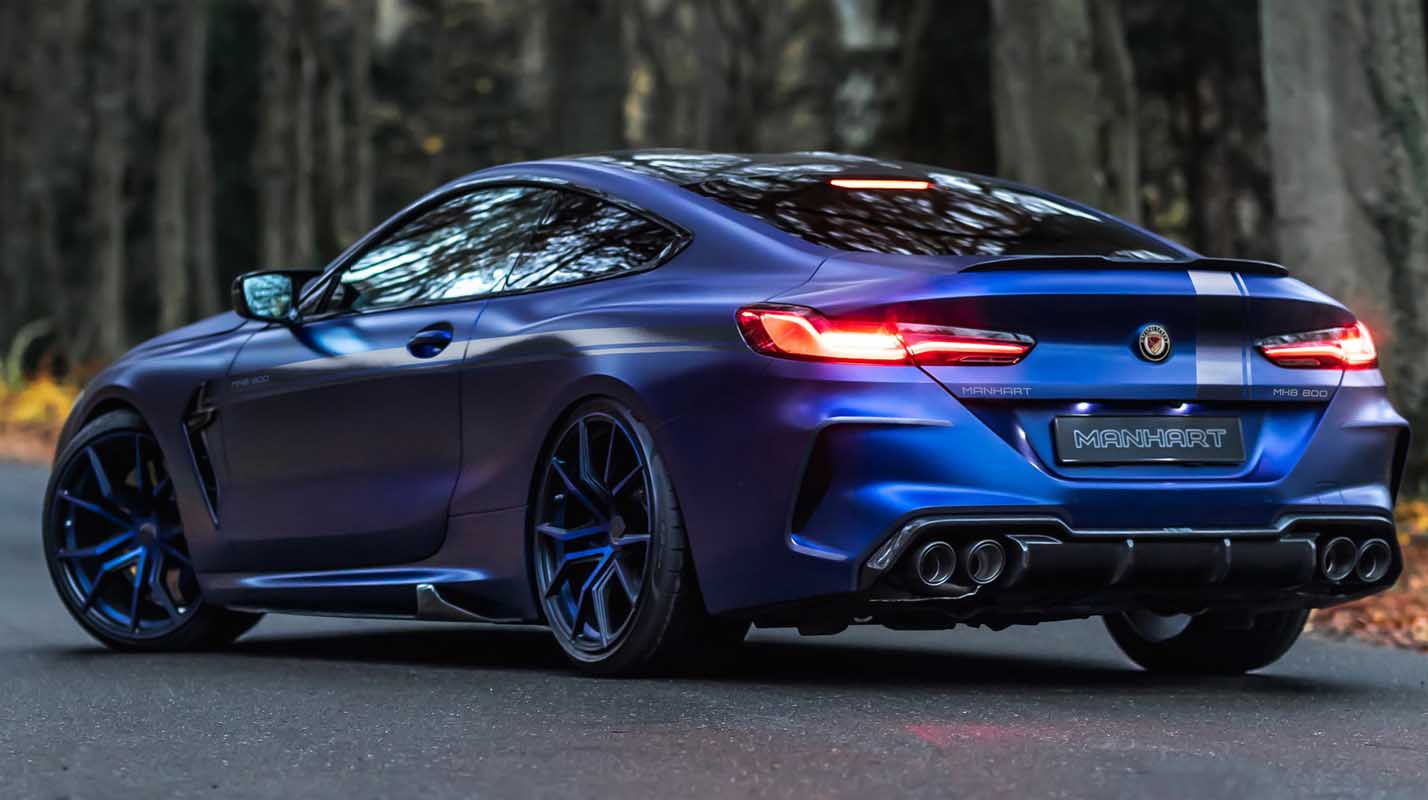 The BMW M8 Competition is without doubt one of the most powerful, luxurious and exclusive models that the sporty luxury class market has to offer. In the front of the elegant two-door coupé body, which extends to an exterior length of more than 4.80 metres, sits the fabulous, four-litre biturbo V8 S63B44, which also causes a sensation in a very similar form in its saloon brother, the M5, and the SUV duo, the X5 M and the X6 M.
For a customer for whom the 625 hp and 750 Nm M8 Competition in its standard form was still too ordinary, Manhart Performance have now converted this example into a sensational MH8 800.
The model is only produced in an extremely small number of units, as the addition of the name, LIMITED 01/10 makes clear. The vehicle shown here is the fifth of the ten MH8 800s that will be built. As is customary, the car's new designation already makes clear what it has to offer in terms of performance, although it even understates it somewhat: The S63 eight-cylinder boasts 823 hp and 1,070 Nm of maximum torque.
Manhart achieved this with its in-house performance kit in conjunction with the turbo upgrade, the Manhart intercooler upgrade, the Manhart carbon air intake and the complete Manhart stainless steel exhaust system.
The latter culminates in four tailpipes, each 100 millimetres in diameter, complete with carbon casing. In addition, there are Manhart OPF-Delete replacement pipes made of stainless steel and race downpipes without catalytic converter, which, however, do not have TÜV approval and are therefore only suitable for export.
However, Manhart not only improved the performance, but also the appearance: A suspension upgrade with adjustable KW springs provides more depth and at the same time optimised driving dynamics.
Manhart Spider rims in 10.5×21 and 11.5×21 inch with 275/30ZR21 and 295/30ZR21 tyres provide the road contact. Further highlights are the black radiator grille and Manhart carbon package for the bodywork: it includes a bonnet with GTR air outlets, a front spoiler, side skirts and a rear diffuser.
To round things off, Manhart installed decal set, which in this case is quite discreet. All the more eye-catching, however, is the car's matt blue paintwork, to which the coloured accents on the rims are also perfectly matched.
Last but not least, the interior is upgraded with an Alcantara steering wheel including a carbon accent on the lower spoke.