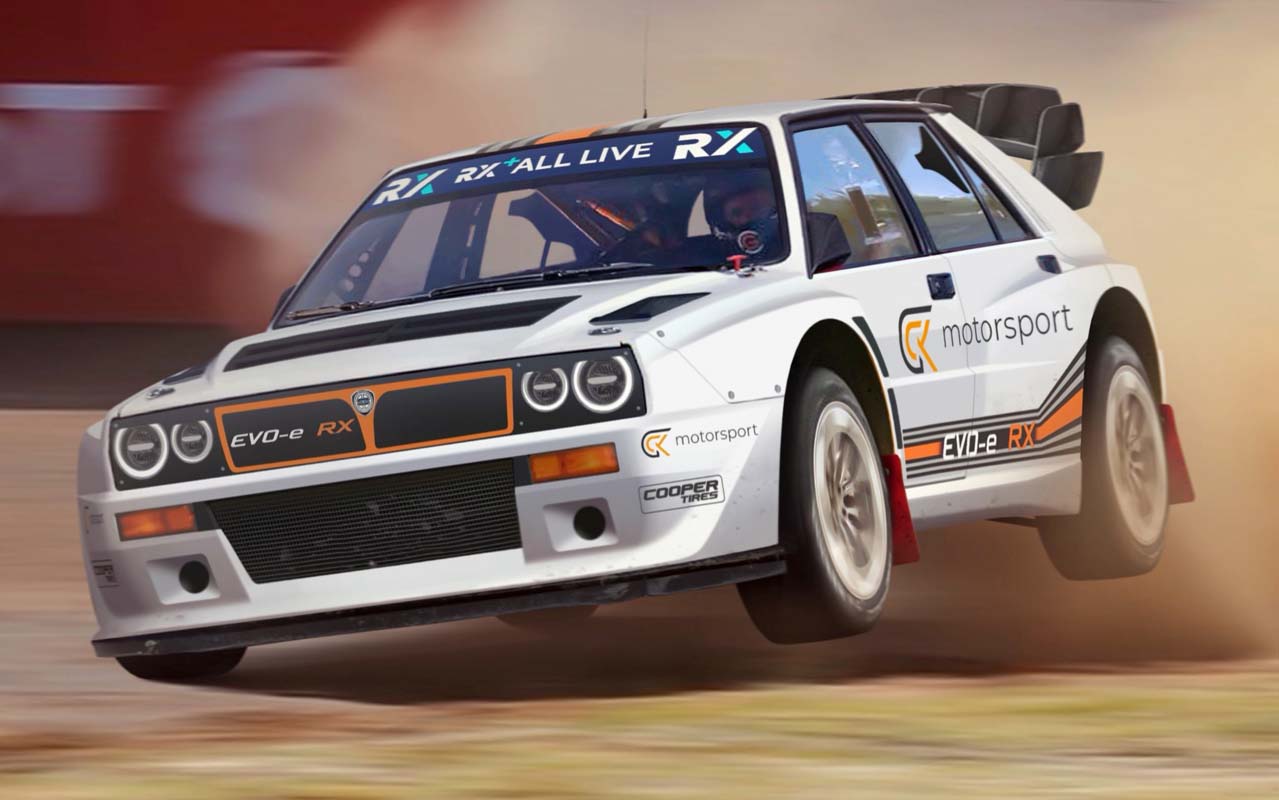 GCK Motorsport will revive one of the sport's most iconic cars when it returns to FIA World Rallycross Championship competition for the new electric era in 2022 with a model based upon the legendary Lancia Delta Integrale.
Founded by four-time World Freeriding Champion-turned-rally, rallycross and stunt driver Guerlain Chicherit, GCK joined World RX in 2018. From then until 2020, the team entered Renault machinery for drivers including Andreas Bakkerud, Anton Marklund, Liam Doran and Chicherit himself – achieving a trio of podium finishes.
In 2022, the GCK name will be back – and in emphatic fashion, designing, building and running the bespoke Lancia Delta Evo-e, based upon the previously announced GCK Exclusiv-e retrofit of the Lancia Delta Integrale.
Synonymous with motorsport spectacle and success, the Delta Integrale clinched eight FIA World Rally Championship crowns between 1988 and 1992 – five manufacturers' titles and three drivers' trophies, split between Juha Kankkunen and Miki Biasion.
In celebration of those triumphs and ahead of the mooted introduction of a new road-going Delta, the very hottest of Italian hatches will return to action and make its World RX debut during the championship's inaugural electric campaign next year.
Underpinning every car on the grid will be the cutting-edge RX1e kit developed by Austrian firm Kreisel Electric. This will generate greater all-round performance than ever courtesy of 500kW delivered to the twin motors – equivalent to 680bhp – and 880Nm of instant torque at the touch of a pedal, resulting in eye-watering acceleration faster even than Formula 1.
Not only will GCK Motorsport be back in the World RX driver's seat in 2022, but GCK Energy will power the grid following a successful first season delivering green energy to the supporting FIA RX2e Championship.
Using a combination of solar energy and power collected from green energy networks ahead of race weekends, GCK Energy will supply electricity to recharge the batteries of all cars between races from its custom containers. This will make the new generation of World Rallycross one of the most environmentally-conscious disciplines in international motorsport.
Guerlain Chicherit, President, Green Corp Konnection (GCK), said:
"I'm super excited for GCK to be returning to the FIA World Rallycross Championship under its new electric banner. The race format lends itself perfectly to delivering one of the most thrilling sporting spectacles with electric cars so far, and we chose the Lancia Delta Integrale because it is a vehicle that made us all dream. It is the rally car par excellence – without doubt the most incredible of its era – and one that remains hugely popular to this day.
"It'll be a busy year for GCK Motorsport, and the whole team is looking forward to taking on this challenge. Motorsport is going through a significant change at the moment, with the impact felt across all industries. Playing our part in developing some of this change is what keeps us all motivated every day."
Arne Dirks, Executive Director, Rallycross Promoter GmbH, said:
"In everything he does, Guerlain Chicherit is a pioneer, and the team that he founded shares that same spirit and same commitment to continually break new ground. Since announcing that GCK would be taking a sabbatical from World RX at the end of last year, he has always been very clear that when the time was right and the electric era was upon us, they would return – and we have kept the positive discussions going throughout.
"As a man with his finger firmly on the pulse, Guerlain understands the way the world is going and that in order to advance, you need to adapt, and his future-thinking approach is complemented by a genuine retro passion – as evidenced by GCK's choice of car for 2022, which is a real masterstroke. Having grown up seeing the epic Lancia Delta Integrale conquering rally stages all over the world, I personally cannot wait to witness the Delta Evo-e in action in World Rallycross next season!"
source: fiaworldrallycross.com