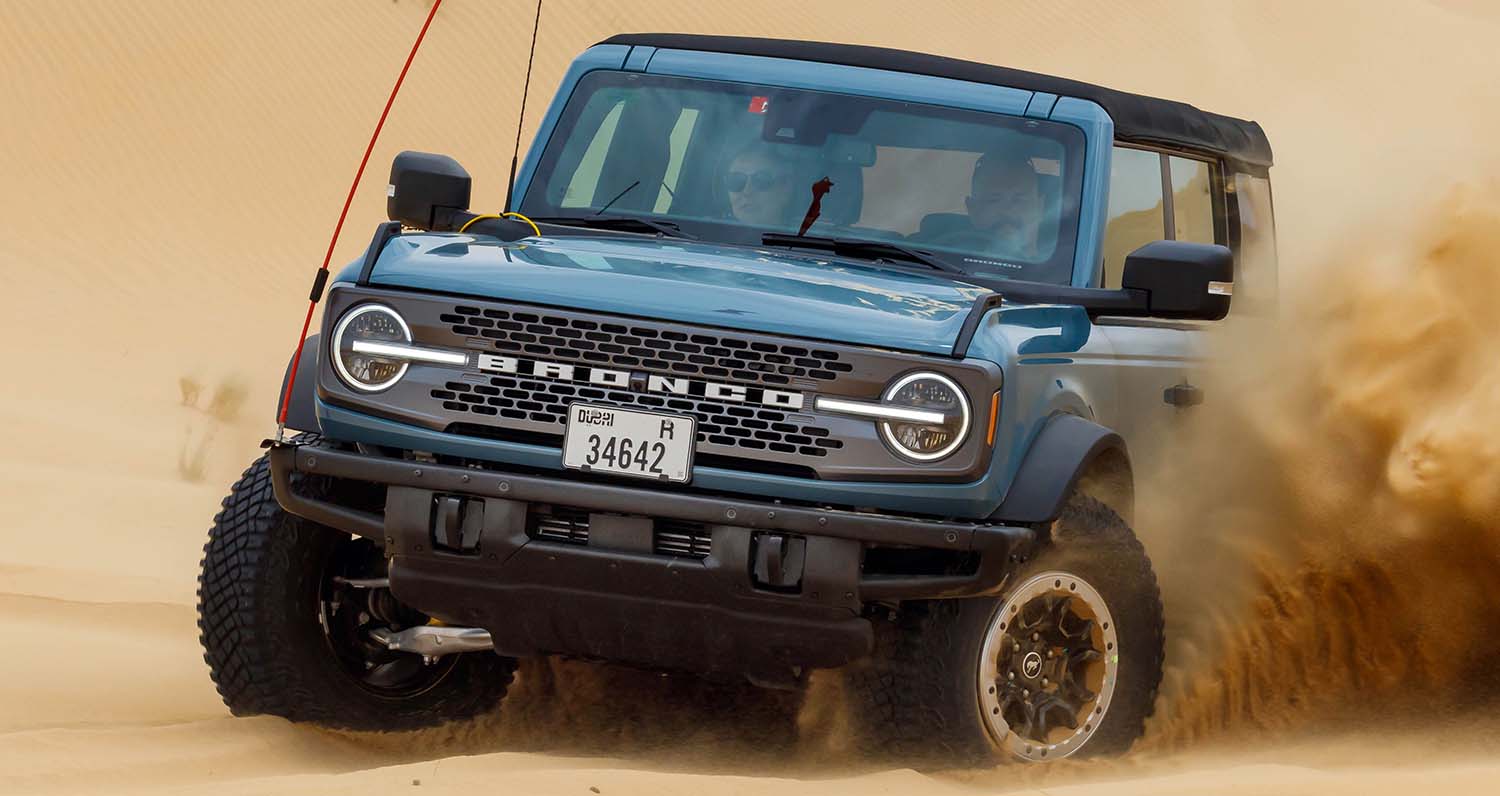 As anticipation builds towards the launch of the all-new 'Built Untamed' Ford Bronco later this year, Ford's Middle East team of specialist engineers have been busy ensuring it is ready to take on the region's toughest conditions and its most demanding drivers.
The first 2021 Bronco – a four-door model in Badlands trim –arrived several months ago, destined for a life of desert and hot-weather testing in the hands of the Dubai-based Ford engineers.
Summer temperatures in the Middle East regularly soar to over 50 degrees Celsius, making the desert conditions particularly brutal on the performance of vehicle powertrain and air-conditioning systems. And while the Bronco was engineered and tested by teams across the globe, it's the particular nature of the conditions in the Middle East that make testing here so vital to the success of vehicles sold in the region.
"The lead engineering teams have done a great job in developing the all-new Bronco," said Mike Chavez, Lead Vehicle Technologist for Ford International Markets Group (IMG). "But it's important that we get out and push the vehicle to its limits to ensure that it not only meets our requirements but those that our customers have too."
Every test vehicle is fitted with thermal sensors to monitor under-bonnet and in-cabin temperatures. The team also taps into the vehicle's onboard systems to gather data during a series of test drives which, in the Bronco's case, included a city test drive, a cross-country mountain drive, and several desert specific tests. Built ready for adventure and with rugged durability at its core, the Bronco was engineered to give customers to the confidence to go over any-type of terrain with its new G.O.A.T modes.
"Each mode just adds more capability to the vehicle, and it's been a pleasure to drive. We're engineers but we're enthusiasts too, and I think customers are going to be impressed with the balance of the car. You can drive it every day and be totally happy driving on the streets and if you want to take it out in the desert, it will transition right from one to the other seamlessly. It is just an amazing car to drive." added Chavez.
"The suspension tuning, the approach and departure angles and the power of the vehicle – it's all there when you want it and need it. You don't have to think about it: you can just point the Bronco where you want it to go and it will just make it happen. It's just a lot of fun."
The all-new Bronco two- and four-door models arrive in showrooms later this year across the Middle East.