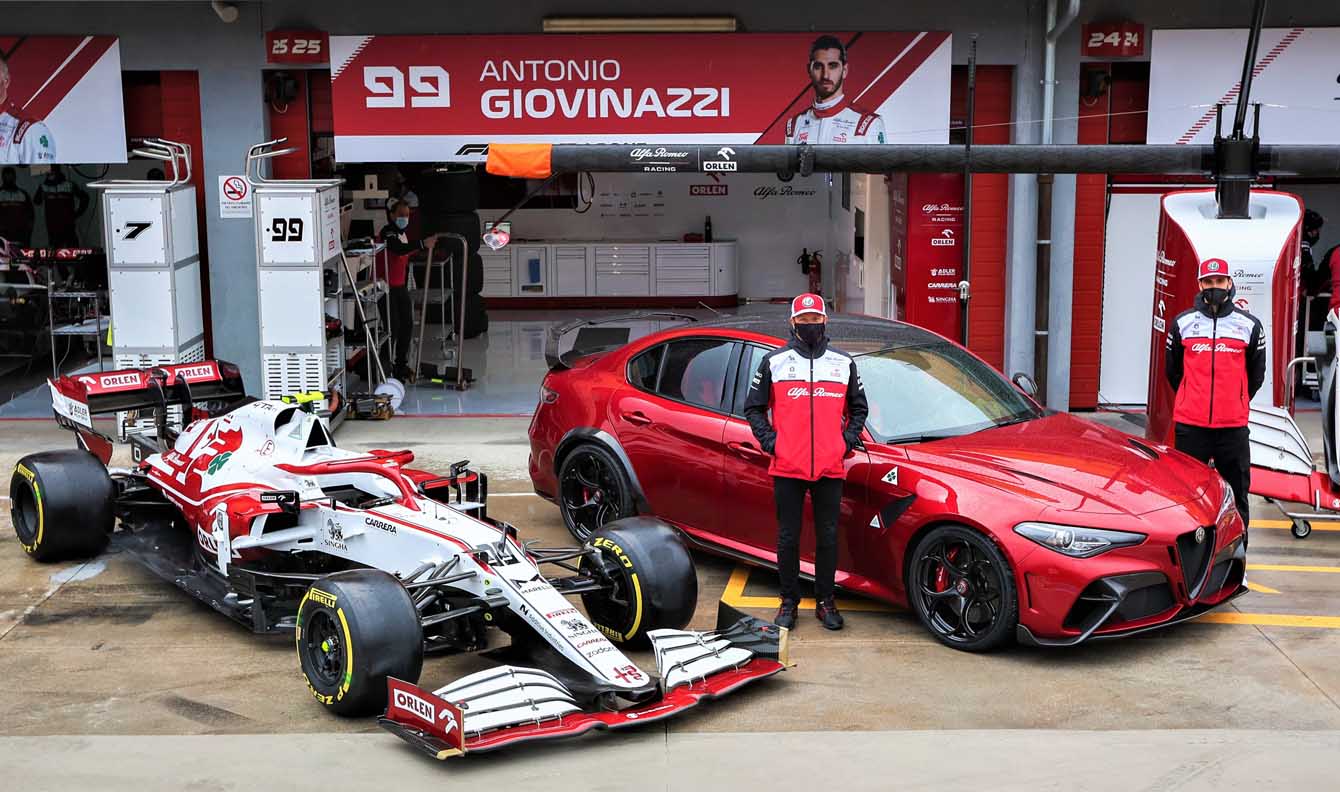 At 3 pm on Sunday, April 18th, the second round of the 2021 Formula 1 World Championship will kick off on the Enzo and Dino Ferrari circuit in Imola, in a return to the circuit, a few months since the last race in November.
Although still taking place behind closed doors, this event will have a huge media impact. To celebrate the occasion, the Emilia Romagna Region, in partnership with the Italian Ministry of Foreign Affairs, has prepared a communications campaign focused on Made in Italy and Italian excellence in the automotive field. Alfa Romeo, the standard-bearer of Italian sportsmanship on four wheels, chose this stage for the official debut of the Giulia GTAm.
The Biscione supercar, whose logo already stands out on the race uniforms of the drivers from the Alfa Romeo Racing ORLEN team, was the special guest in the pit lane, alongside drivers Kimi Räikkönen and Antonio Giovinazzi.
In the development phase, both drivers supported the Alfa Romeo team with test sessions focused on the fine-tuning of the project, and have now done the honours for the brand by hosting the most powerful car ever made by Alfa Romeo in the team's garage.
Together with its "sister" the GTA, the Giulia GTAm acts as the heir of the 1965 Giulia Gran Turismo Alleggerita, one of the most successful Alfa Romeo cars in history. Courtesy of the fruitful synergy with the Swiss Sauber Engineering team, the Giulia GTAm adopts technical and aerodynamic solutions that are a nod to the world of racing and Formula 1, such as the use of ultralight materials and carbon fiber components, to improve the weight/power ratio and refine the aerodynamics; or the 20" wheel rims with a single wheel-locking nut, a typical solution among F1 single-seaters, but a unique one in currently marketed road-going sedans.
The Alfa Romeo Giulia GTAm and the track: a pairing now brought back to life on the legendary Imola circuit.