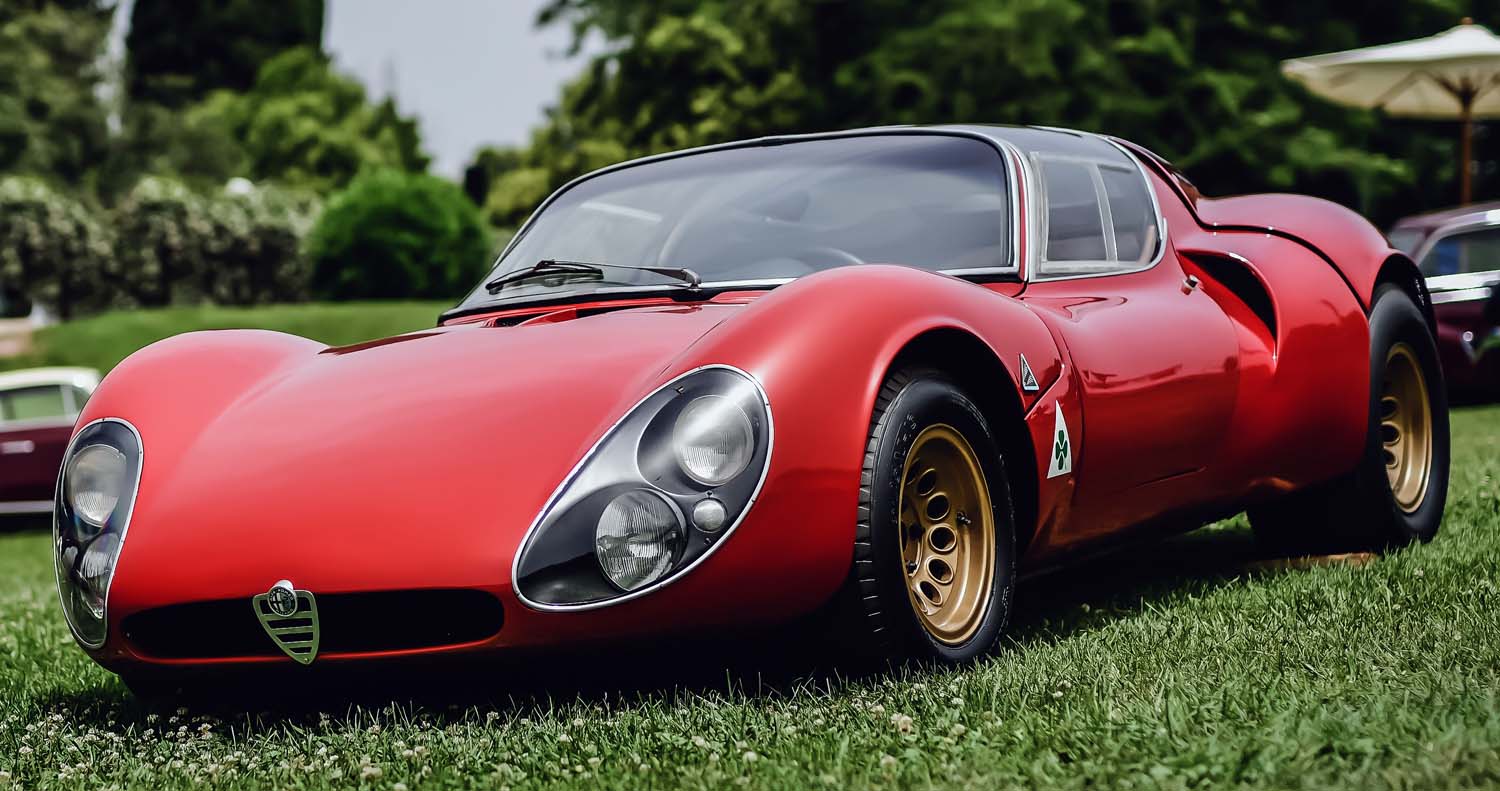 The 2nd edition of the "Roma Eternal Beauties – The REB Concours" – an exclusive beauty contest for 70 vintage cars produced from the early 20th century to 1970 – has just ended at the Circolo di Golf Roma Acquasanta on the Appian Way.
To welcome the many visitors and distinguished guests, the Stellantis Heritage department showed out-of-competition two of the most sought-after models in the vintage Alfa Romeo collection: the 1938 8C 2900 B Speciale Tipo Le Mans and the 1967 33 Stradale Prototipo, "maids of honor" at the event, usually on display at the Museo Storico Alfa Romeo in Arese. Two rarities for true admirers, suffice to say that the 8C took part in the 24 Hours of Le Mans in 1938, speeding far away from its competitors and seizing victory, only to be stopped in its tracks by a mechanical failure. Just as extraordinary is the 33 Stradale Prototipo, produced in a very limited edition of only 18 units with a 2-liter, 230-hp V8 engine, much sought-after by prestigious coachbuilders such as Bertone, Pininfarina and Italdesign who made it the basis for futuristic concept cars.
Alongside testimonials to its great history, the Alfa Romeo brand also wished to show off its latest addition: the Giulia GTAm, the best performing supercar ever produced by the Biscione brand. Making its first appearance in central Italy was this model produced in only 500 numbered units, fitted with a supercharged variant of the 540-hp 2.9 V6 Bi-Turbo engine, with a best-in-class power-to-weight ratio of 187 hp per liter. The Giulia GTAm is inspired by the 1965 Giulia GTA, one of the most successful models in Alfa Romeo's 111-year history. However, a common thread binds the three cars on display, as highlighted during a talk entitled "Alfa Romeo, past present and future" to the entertainment of the audience at the competition: these are actually three prototypes (the GTAm was exhibited in the 000/500 model) that represent just as many stages in the "developmental journey" of Alfa Romeo in terms of lightening – from the Superleggera bodywork of the 8C 2900 Le Mans to the A for Alleggerita ('lightened') in the GTAM – and in the quest for performance.
The Alfa Romeo models exhibited out of competition received the unanimous acclaim of many of the jurors and guests in attendance, but it should also be noted that a 1929 Alfa Romeo 6C 1750 Sport, registered by a private individual, won The Gentlemen Drivers Award, given by the former rugby champion Andrea Lo Cicero.
Last but not least, excellent feedback for the test drives requested of the Alfa Romeo Giulia and Stelvio Quadrifoglio, as offered to visitors: over 30 guests and collectors expressed a desire to experience the emotions of a road test with professional drivers, who also responded to the many questions put by enthusiasts.