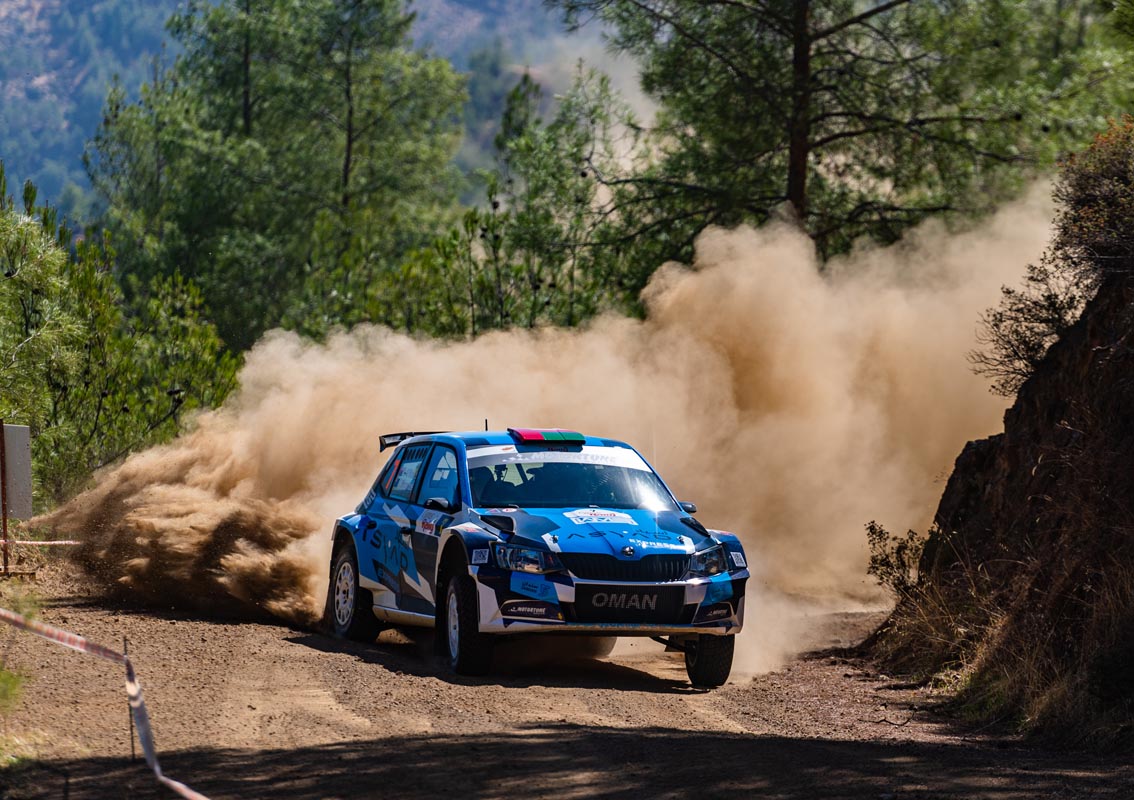 Omani rallying legend Hamed Al-Wahaibi impressed on his return to international competition at the Nicosia-based Cyprus Rally, round four of the 2021 FIA Middle East Rally Championship (MERC). He had set a fifth and a fourth quickest time on the opening two special stages before a setback cost him his place in the top five on SS3 on Saturday.
Running with logistical support from Asyad Express, an Omani delivery and logistics company, and Sandan Development LLC (a new industrial area near Muscat), the 53-year-old and co-driver Tony Sircombe were revelling in their return to the stages as a partnership that thrived 20 years ago in the FIA World Rally Championship.
Despite the setback on stage three, the team will restart under Rally2 regulations on Sunday and hope to complete the Cyprus round of the regional rally series.
"Unfortunately we were not able to finish the stages on the first day," said Al-Wahaibi. "We slipped off the road entering a narrow corner. Tony and I are still learning with the new car and we will try and find out where the error occurred, maybe in the pace notes. We performed well before the accident. The car is in good condition and we can return for the last day."
Sircombe added: "It was just one of those things. A slight mistake in the notes, it appears. It was a narrow corner with a drop off. We knew it tightened but it was a bit deceptive at the beginning. It looked like it was a lot wider than it really is and it put us out."
Al-Wahaibi's first taste of MERC rallying since 2011 came on the short, but nonetheless demanding, Nikitari gravel test. The Omani clocked a time of 6min 35.2sec in his Motortune-run Škoda Fabia 1.6 and that put him into a confidence-boosting fifth place behind three experienced local drivers with knowledge of the stages and defending champion Nasser Saleh Al-Attiyah.
Al-Wahaibi was now getting into his rhythm and a professional drive through the longer 20.07km of the Kapouras special saw him earn the fourth quickest time behind early leader Simos Galatariotis, Alex Tsouloftas and Al-Attiyah. He moved to within 1.1 seconds of Christos Demosthenous's hold on fourth overall.
The last stage of the opening loop was a first run through the 21.21km of the longest stage of the rally at Kourdali. The  stage win again fell to Galatariotis and the Cypriot extended his overall advantage over Tsouloftas to 27.9 seconds. But Al-Wahaibi left the road without incurring too much damage to the car and was forced out of the day's action.
Teams will tackle three sinuous stages of 13.01km (Lythrodontas), 19.02km (Ayios Ephifanios) and 10.96km (Ayia Marina) on two occasions on Sunday.
The ceremonial finish is scheduled for 18.00hrs in Nicosia in the afternoon.