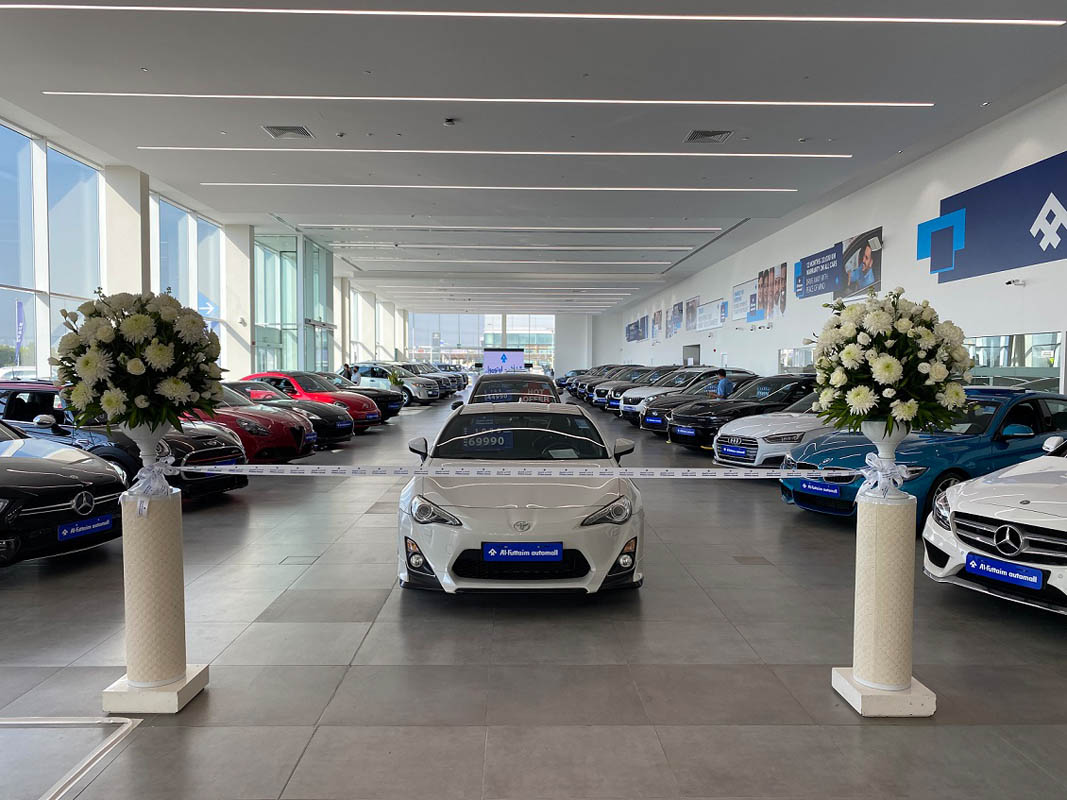 In line with its customer-centric approach and commitment to providing innovative mobility solutions that enrich the lives of its customers, Al-Futtaim Automotive has officially launched a new pre-owned car showroom at Dubai Investment Park (DIP).
The second branch in the emirate of Dubai, Al-Futtaim Automall DIP is a one-stop shop for those who are looking to buy and sell pre-owned cars from all brands and manufacturers. Home to the widest range in the region with 1,200 cars in stock, Automall is the largest retailer of pre-owned vehicles in the UAE and provides a mileage certificate with every purchase.
Vincent Wijnen, Senior Managing Director, Al-Futtaim Automotive, said, "Al-Futtaim's entrepreneurial spirit and relentless customer focus continually enables us to grow and expand to meet our customer's needs. With this new opening, we aim to cater to a rise in consumer demand in the region for a more comprehensive pre-owned vehicle shopping experience. A trusted, well-respected industry name, Al-Futtaim Automotive has been operating in the region for more than 80 years so our customers can purchase with complete peace of mind as well as convenience. Our customers are particularly attracted to Automall's seven-day moneyback guarantee."
Research conducted by consulting firm Frost & Sullivan has found that affordability and simplified digital transactions were among the most important draws for UAE consumers to the pre-owned car market. The booming industry is anticipated to experience a double-digit growth rate over the next five years; from a market size of $14.2bn in 2020, it is expected to reach $18.2bn by 2025.
Ralph Howie, Managing Director at Al-Futtaim Automall commented, "We have seen an increase in sales in the market which is reflective of the growth expected in this sector in the coming years. We predict that our 2021 sales will be almost 10% higher in volume than 2019. Interestingly, we have also seen a shift towards small and midsize SUVs which now make up 50% of our sales. It was this increase in demand that led us to make the decision to open an additional facility closer to customers in the south of Dubai, an area which is likely to witness exponential growth in the coming years."
Customers looking to buy quality pre-owned cars, or trade in their own, can head to the new Al-Futtaim Automall DIP – where they will find over 30 brands available including Toyota, Lexus, Nissan, Mitsubishi, Ford, Honda and many others. On display at the new showroom are different models and makes, including SUVs, budget vehicles and cars of all sizes.
Al-Futtaim Automall DIP will offer customers the best market pricing, as well as a 20,000 km warranty, while focusing on helping every visitor buy the highest quality car. Trained technicians carry out a 99-point service check on every vehicle.
The new Automall provides a variety of financing options – making owning a car easy, affordable, and a stress-free experience, in addition to a seven-day money-back guarantee. The showroom also gives customers the option of trading in any car, regardless of its condition. Al-Futtaim Automotive also buys over 1,000 vehicles in cash every month.
"We are excited to welcome customers to our much-anticipated DIP branch," "With the huge increase in demand for cars that are more than one year old that we are witnessing, our offerings will be focused on ensuring choice, great value and assurance through an extensive warranty. Al-Futtaim Automotive remains committed to delivering the highest quality products and best service to our customers," Howie concluded.
To book a visit, customers can visit www.automalluae.com or contact the call centre on 600567005.