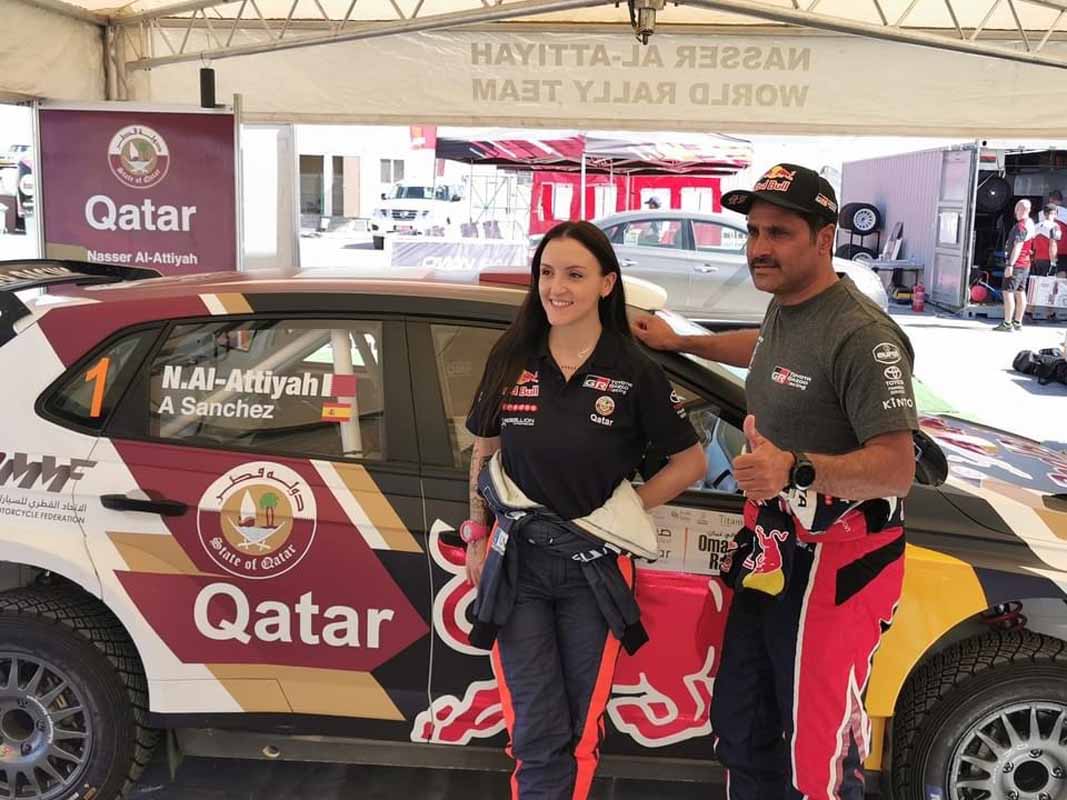 Qatar's Nasser Saleh Al-Attiyah and stand-in Spanish co-driver Alba Sánchez González began their new partnership in winning style by setting the fastest time of 3min 42.8sec through the opening super special stage of Oman Rally Sohar International on Thursday afternoon.
Bidding to win a remarkable 18 FIA Middle East Rally Championship titles since 2003, the recent Dakar Rally winner flung his Autotek Volkswagen Polo GTI through the narrow dusty corners of the graded opening test and moved into a 3.3-second lead over Oman's Hamed Al-Wahaibi and Kiwi co-driver Tony Sircombe in their Motortune-run Škoda Fabia Evo.
Nine FIA entrants and four cars running in the Oman National Rally Championship were flagged away from a revised ceremonial start at Nakhal before crews tackled the opening 3.90km super special stage with the spectacular backdrop of the rugged mountains to one side and the urban Nakhal area to the other.
Sunny and slightly windy conditions prevailed, as the defending Oman Rally champion Abdullah Al-Rawahi and Jordanian navigator Ata Al-Hmoud carded the third fastest time in their Škoda Fabia. The youngster finished just 5.4 seconds adrift of his local rival to set up the prospect of a thrilling tussle for the podium places over the weekend.
Nasser Khalifa Al-Atya teamed up with the experienced Italian co-driver Giovanni Bernacchini to hold fourth place in a Ford Fiesta R5. MERC debutant Petr Kačirek and co-driver Václav Kopáček safely negotiated the opening stage in their Duck Racing Škoda Fabia in fifth.
The opening stage ran in reverse order and the Jordanian pairing of Issa Abu Jamous and Emad Juma were the first crew into the stage. They carded a target time of 4min 15.3sec and that put them into sixth at the night halt.
The local crew of Jarah Al-Touqi and Issa Al-Wardi were second quickest of the MERC2 contingent in their Subaru Impreza and held seventh overall.
Oman's Zakariya and Mohammed Al-Aamri were eighth and Jordan's Ihab Al-Shorafa and Yousef Juma rounded off the FIA contingent in ninth place.
Oman's Haitham Al-Hadidi and Saif Al-Hinai drew first blood on the national rally that ran behind the main field.
The bulk of the competitive action takes place over 12 timed special stages on Friday and Saturday before the ceremonial finish and post-event press conference take place at Nakhal from 15.25hrs on Saturday afternoon.
2022 Oman Rally Sohar International – positions after SS1:
1. Nasser Saleh Al-Attiyah (QAT)/Alba Sánchez González (ESP) Volkswagen Polo GTI R5                                                                    3min 42.8sec
2. Hamed Al-Wahaibi (OMN)/Tony Sircombe (NZL) Škoda Fabia R5                                                                                                                                                                                                                                                                                                                                                         3min 46.1sec
3. Abdullah Al-Rawahi (OMN)/Ata Al-Hmoud (JOR) Škoda Fabia R5                                                                                                                                                                                                                                                                                                                                                         3min 51.5sec
4. Nasser Khalifa Al-Atya (QAT)/Giovanni Bernacchini (ITA) Ford Fiesta R5                                                                                                                                                                                                                     4min 09.9sec
5. Petr Kačirek (CZE)/Václav Kopáček (CZE) Škoda Fabia R5                                                                                                                                                                                                                                                                                                                                                           4min 11.0sec
6. Issa Abu Jamous (JOR)/Emad Juma (JOR) Mitsubishi Lancer Evo IX                                                                                                                                                                                                                                                                                                                                                      4min 15.3sec
7. Jarah Al-Touqi (OMN)/Issa Al-Wardi (OMN) Subaru Impreza                                                                                                                                                                                                                                                                                                                                                         4min 26.3sec
8. Zakariya Al-Aamri (OMN)/Mohammed Al-Aamri (OMN) Subaru Impreza                                                                                                                                                                                                                      4min 32.5sec
9. Ihab Al-Shorafa (JOR)/Yousef Juma (JOR) Mitsubishi Lancer Evo IX                                                                                                                                                                                                                                                                                                                                                      4min 35.7sec
2022 Oman National Sohar Rally – positions after SS1:
1. Haitham Al-Hadidi (OMN)/Saif Al-Hinai (OMN) Mitsubishi Lancer Evo VIII                                                                                                                                                                                                                        4min 18.7sec
2. Haitham Soomar (OMN)/Wael Al-Shabani (OMN) Mitsubishi Lancer Evo VII                                                                                                                                                                                                           4min 23.1sec
3. Alain Nawfal (LEB)/Bashar Qassimi (OMN) Yamaha YXZ 1000 R                                                                                                                                                                                                                                                                                                                                                         4min 25.4sec
4. Musab Al-Soomar (OMN)/Bassam Al-Qasmi (OMN) Kia Rio                                                                                                                                                                                                                                                                                                                                                         4min 54.7sec
Follow the race – Cronobandeira Live Results – Cronobandeira Live Results