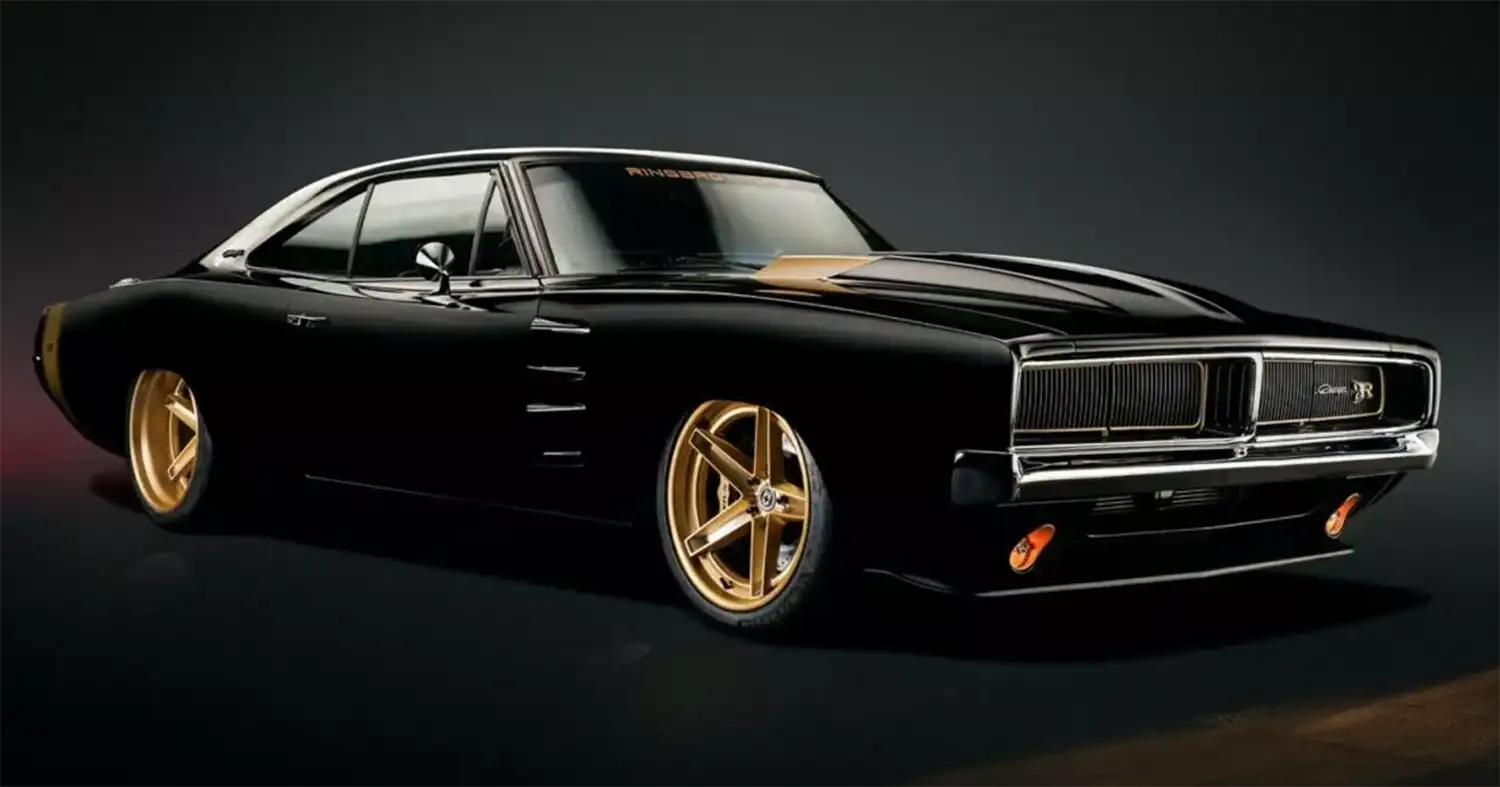 Ringbrothers, the world-renowned custom car builder and parts manufacturer, has unveiled its latest custom creation, "TUSK," a meticulous and thorough remastering of the iconic 1969 Dodge Charger. Engineered from the wheels-up, TUSK is an uncompromised expression of the original with extensive fabrication and carbon-fiber components combined with a modern chassis, suspension and Mopar's most powerful crate engine: the 1,000 horsepower Hellephant.
Limited to just 100 units, the rare and coveted Hellephant serves as the soundtrack, powerplant and inspiration for the Charger's name. The 426ci (7.0-liter) supercharged V8 delivers 950 ft-lbs of torque to the rear wheels via a Bowler TREMEC T-56 Magnum six-speed manual and a QA1 REV Series custom carbon-fiber driveshaft with a Strange Engineering Ford 9-inch rear end. The all-aluminum Hemi rests below a custom two-piece carbon-fiber hood with billet machined hood scoop grilles and is mounted 2.5 inches further back against the custom-built firewall for better weight distribution.
Every piece of TUSK has been customized by the Ringbrothers team. The Charger's iconic front end features a one-piece exposed carbon-fiber surround with a single piece of billet machined chrome trim accentuating the "blind-eye" grille. The front valance and chin spoiler are one-off pieces designed in-house at Ringbrothers, and both the front and rear bumpers have been tucked and narrowed to further the Charger's imposing design. Other custom touches include the removal of the windshield cowl vents, reshaped and extended rear quarter end caps, new door skins, extended and lowered rocker panels, one-off belly pan, lower rear valance, and custom driveline tunnel and floors.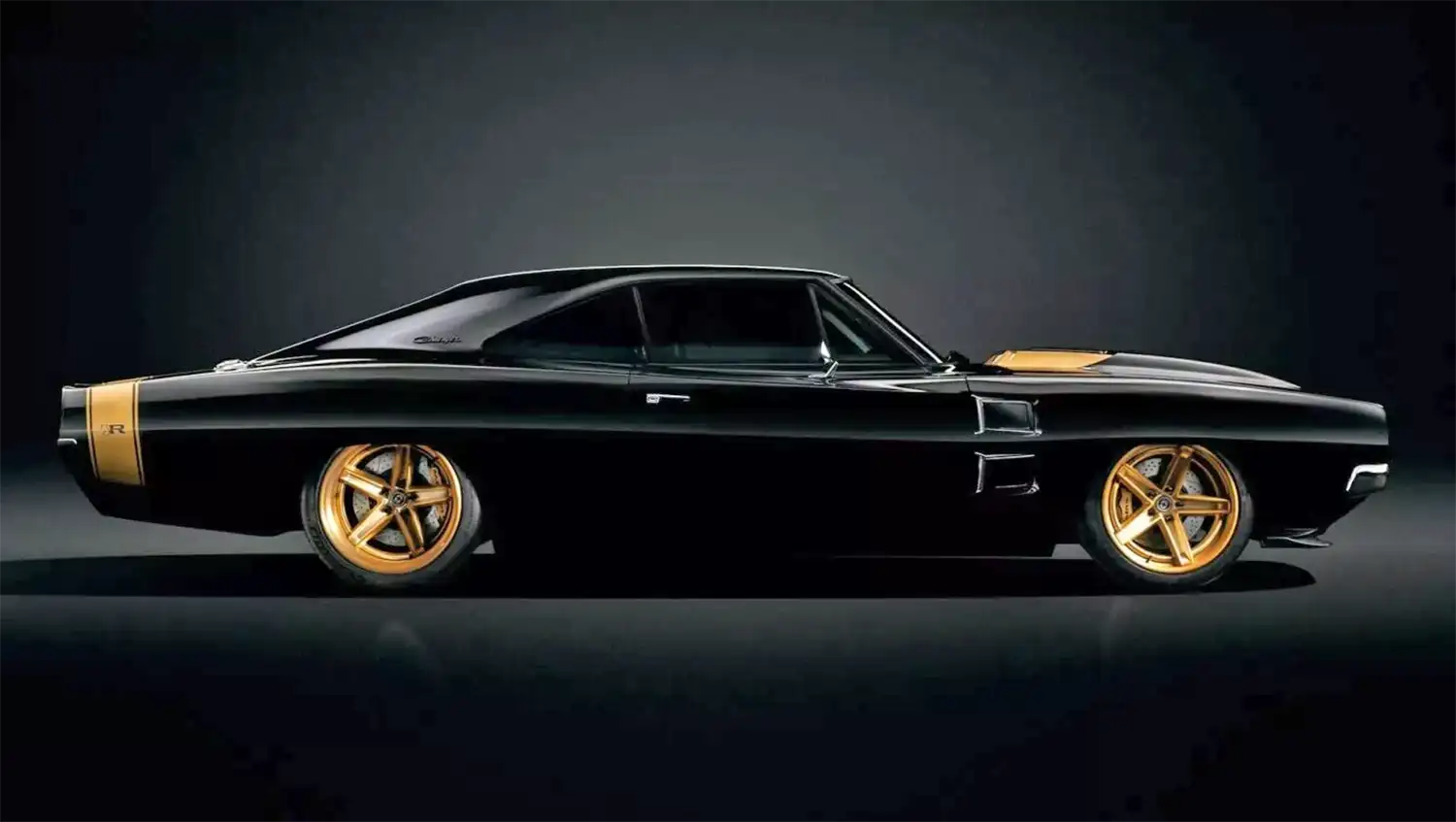 "The Charger's 'coke-bottle' body is the perfect canvas to push the limits of what we can do and showcase our in-house talent and capabilities," said Ringbrothers co-owner Jim Ring. "TUSK took over 5,000 hours to complete and is a radical rethink of the classic Charger, marrying the aesthetics of a 20th-century icon with the rigorous build quality and signature touches Ringbrothers has become renowned for."
BASF Glasurit's "Black to the Future" accentuates the Charger's tapered fenders and muscular proportions while the contrasting gold elements give notice of a rightly menacing look. That intimidating aesthetic is not purely visual, as the front wheels have been brought forward two inches to extend the wheelbase and enhance handling. A custom Roadster Shop FAST TRACK chassis brings dynamic performance to the foreground. The Charger features Fox RS SV coilovers at all four corners with ample stopping power thanks to Baer Brakes Extreme 6S six-piston calipers. To aid in dissipating brake heat, the front fenders feature machined billet side vents, and the Charger rides on Ringbrothers "TUSK" Edition HRE Wheels wrapped in Michelin Pilot Sport 4S tires.
The same meticulous approach extends to the interior with modern comforts and conveniences, including a custom leather interior with a carbon-fiber console and, in true Mopar fashion, a custom carbon-fiber "pistol grip" shifter. The bespoke interior was tailored by Upholstery Unlimited and is appointed with a Gentex rearview mirror, Dakota Digital gauges and a Vintage Air Gen IV climate-control system.
"Performance and design shaped this build. It really shows what can be accomplished when cutting-edge techniques work in tandem with painstaking levels of detail and imagination," added Ringbrothers co-owner Mike Ring. "The second-gen Charger is one of those cars that's so iconic as the zenith of American muscle car styling and performance, and that's what we set out to replicate with this build. Of course, we must thank our partners HRE Wheels, BASF, Miller Welding and others for supporting us every step of the way."