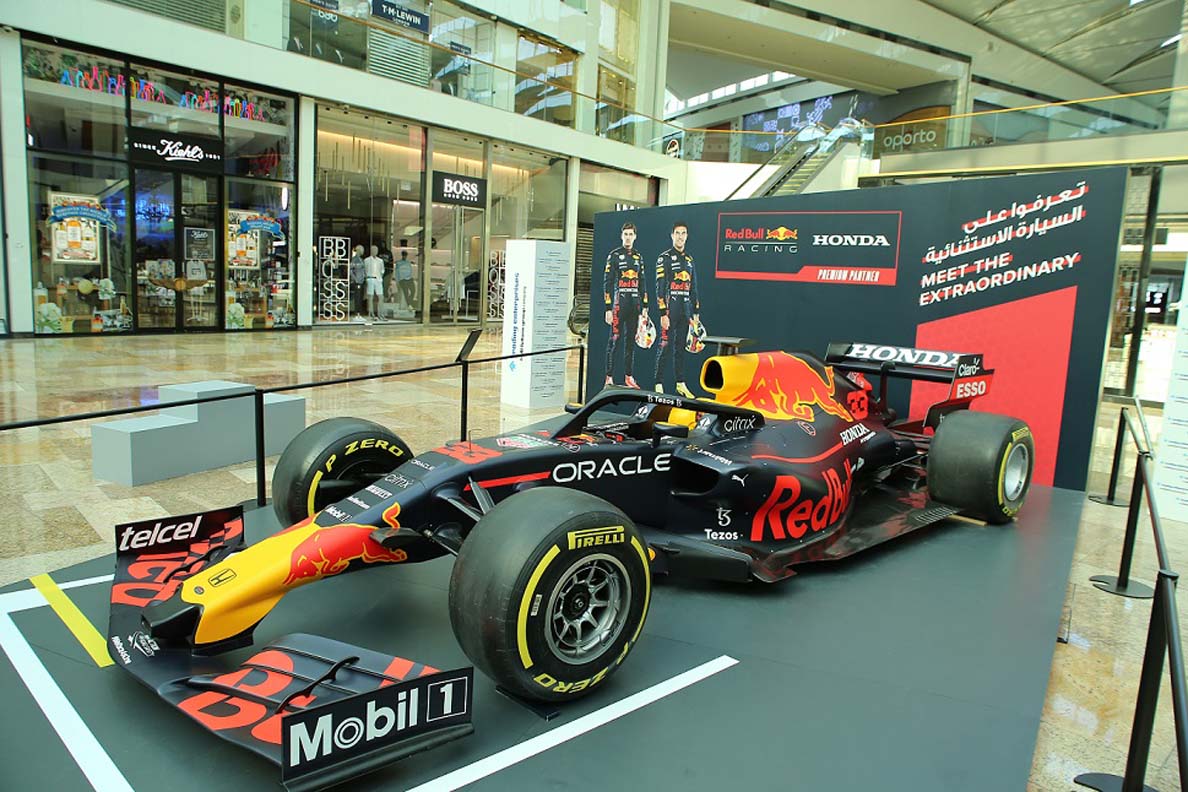 F1 fans rejoice! Al-Futtaim's Trading Enterprises, the exclusive distributor of Honda vehicles in the UAE, will be taking the RB16B Red Bull Racing Honda F1 show car on an exciting roadshow touring across the Emirates. Designed for the 2021 Formula One season, fans in the UAE can get up close and personal, at different locations, with the car.
Honda has long enjoyed a rich racing heritage and association with Red Bull Racing, having provided engines to the Red Bull family and Scuderia AlphaTauri teams since 2019, securing nine race victories to date.  The roadshow commences this weekend, Thursday 17th June at Dubai Festival City Mall, known for its exceptional shopping experiences.  Honda UAE will be asking fans to show off their podium winner look next to the Red Bull Racing Honda F1 show car for a chance to win a stay at the Intercontinental Hotel in Dubai or Abu Dhabi as well as additional spot prizes such as Red Bull Racing Honda merchandise. Winners will be announced by 20th July 2021.
The roadshow's first pit-stop after Dubai Festival City Mall will be the Honda showroom in Umm Al Nar, Abu Dhabi before moving on to YAS Mall. The car will also be making a special appearance at the opening event of the all new Honda facility in Al Ain, culminating at the Honda showroom in Festival City, Dubai.
Rhett Maxwell, Honda UAE's General Manager at Al-Futtaim's Trading Enterprises, said, "Formula One has always enjoyed great popularity in the UAE and we are thrilled to be able to leverage our partnership with Red Bull Racing to bring this machine to fans across the Emirates. Al-Futtaim prides itself on its customer-centric approach and we are committed to finding new ways to get closer to our customers to deliver on our brand promise of enriching every day. With this roadshow we are putting our customers and Honda Racing fans right at the centre of the action. We look forward to seeing you at one of our locations across the UAE."
A subsidiary of the Al-Futtaim Automotive Group, Trading Enterprises was established in 1970s in Dubai and is the sole authorised retailer for Honda and is staffed with a highly skilled and trained professional team to provide a complete car buying experience.
Full schedule:
17th-19th June: Dubai Festival City Mall
21st-29th June: Honda Showroom Umm Al Nar
1st-3rd July: Yas Mall
5th-8th July: Honda Showroom Al Ain
10th-17th July: Honda Showroom Dubai Festival City