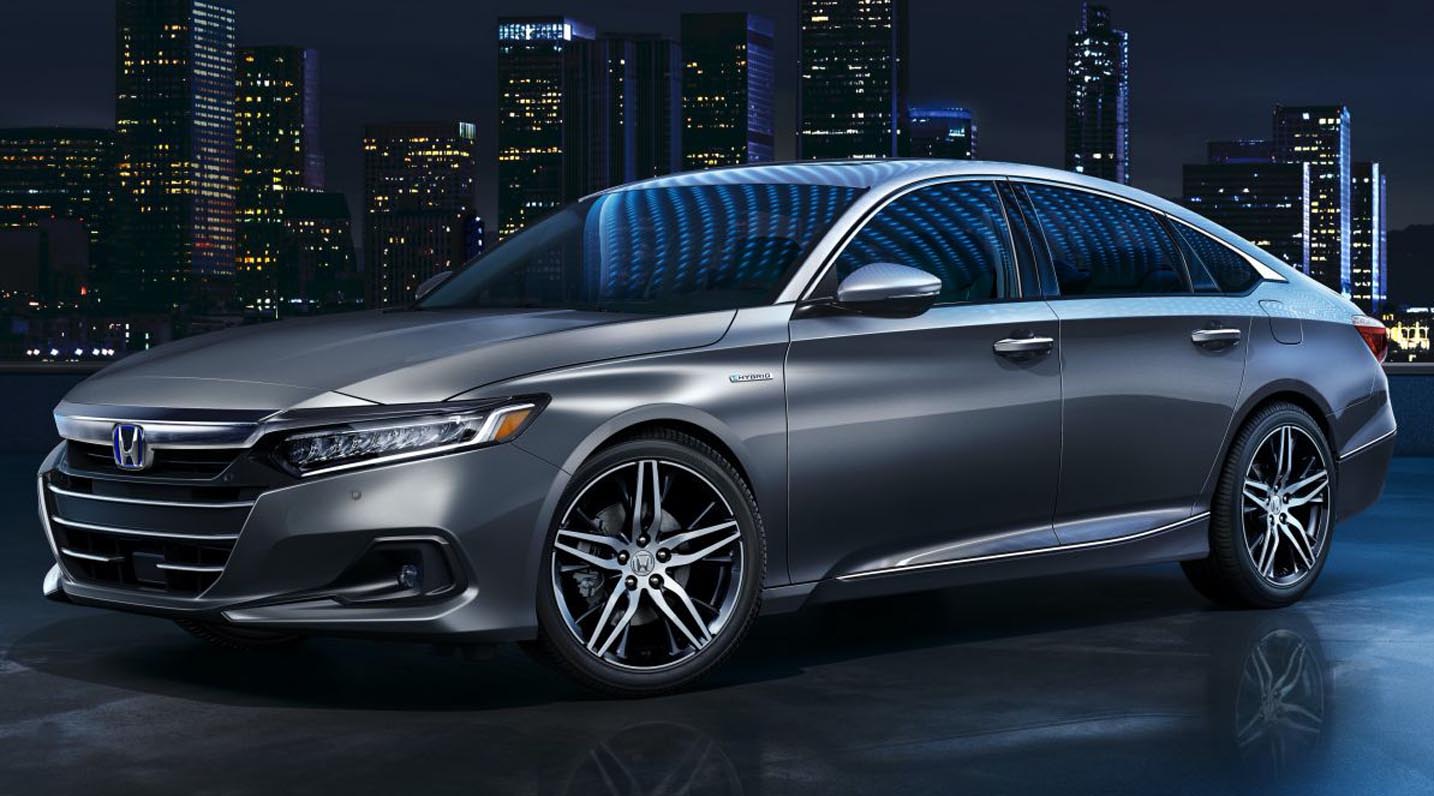 Al-Futtaim's Trading Enterprises – Honda has announced the UAE market launch of the new, redesigned 2021 Honda Accord. Offering a refreshed styling and new features across all grades, Honda's flagship mid-size sedan is powered with two turbo-charged engine variants, a 1.5L Turbo and 2.0 Turbo, offering a sportier look and feel.
Now available across Honda showrooms in the UAE,  the 2021 Accord boasts a more distinguishable Sport Grade with exterior and interior design updates including new Piano Black accent trims, 18-inch machine-cut alloy wheels, new interior colour on the concert hall-inspired cabin and advanced features added to enhance safety and connectivity.
First introduced in 1976, the Honda Accord is the second longest-running automotive nameplate in Honda's history, after the Honda Civic. Poised as the first automobile from a Japanese automaker to be manufactured in the US, the Accord has generated a total global production of more than 17.5 million units to date, making it Honda's perennially best-selling midsize sedan.
The 2021 Honda Accord boasts a low, wide stance, and rigid unibody structure that features a light and sophisticated chassis. Conveying "Absolute Confidence" in every element of design and performance, the 2021 Accord offers UAE motorists outstanding quality, fuel efficiency, unprecedented driving dynamics and the latest generation of advanced Honda safety and driver-assistive technologies.
Trading Enterprises – Honda is offering the 2021 Accord in four grades, including LX, LX Sport, EX and EX-L – all powered by a 1.5L Turbo engine. The fifth and top-of-the-range grade is the 2.0L Turbo Sport that is packed with a wide range of technologies and design trims on both exterior and interior.
Rhett Maxwell, Honda UAE's General Manager at Al-Futtaim's Trading Enterprises, said, "We are excited to welcome Honda's flagship model to the UAE in its new and refreshed design inside-out. Redesigned to resonate with the modern driver, the 2021 Accord offers a new level of emotional appeal and premium quality that defies its mainstream mid-size sedan status among UAE drivers.
With its sportier looks yet luxurious feel, remarkable performance, innovative connectivity, and high-standard safety credentials, the 2021 Accord is Honda's testament to take the driving experience to a completely new level."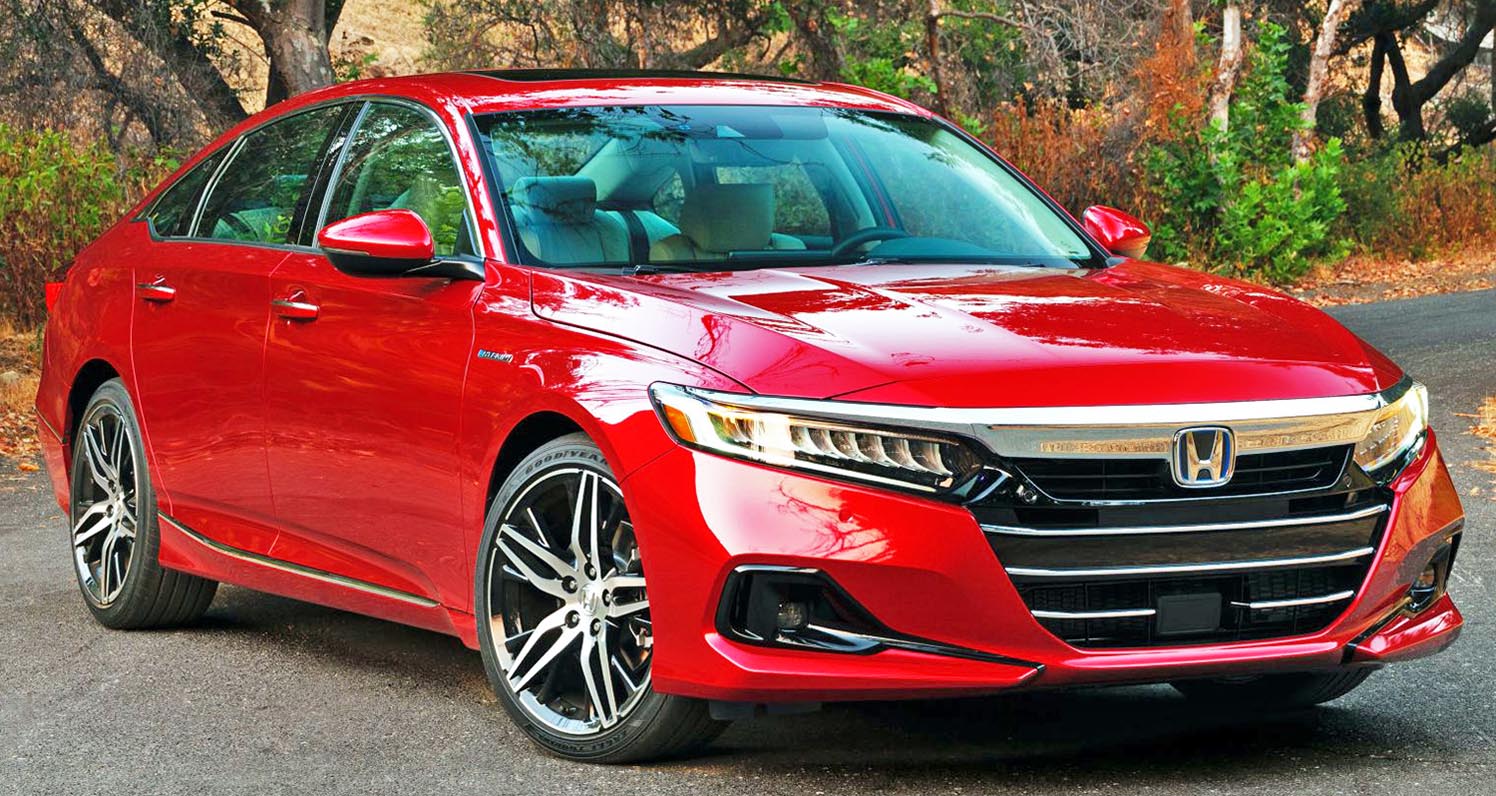 Sophisticated and Sporty New Exterior Styling
The 2021 Accord gets a refreshed styling with a new front bumper, restyled wider lower and upper grille, for even more sophisticated and sharper looks. The LED high and low beam headlights (available on 2.0L Turbo) blend naturally to the solid wing and upper grille.
For the Sports Grades there are Piano black accents added, starting with shark fin antennae, side mirrors, with the rear spoiler complimenting the piano black grille and upper door trims. The 18-inch machine-polished alloy wheels (in the sports grades) also continue with the piano black theme, making the 2021 Honda Accord really stand out. Other grades of Honda Accord will boast restyled 17-inch alloy wheels.
Spacious and Luxurious Interior Styling and Features
The Concert Hall-inspired Cabin allows for an uninterrupted view coupled with new, advanced and sophisticated features that are convenient and easy to use. The 2021 Accord is fitted with beige interior, along with leather in the top grades and black interior options. Refined, spacious and intuitively designed, the Accord's cockpit ensures that every feature is positioned just where the driver needs to stay full control all the time.
The 2021 Accord is now equipped with wireless charging (EX-L Grade onward) and two new rear USB ports (EX onward) for easy and quick charging. The clean and elegantly laid out dashboard presents advanced driving technology in the simplest of ways, placing essential information directly in the line of sight for instant readability. This include the Head-Up Display which shows vital information such as speed, directions, incoming calls all in the driver's line of sight.
Audio and Connectivity
The 2021 Honda Accord is a technologically advanced vehicle, which offers the latest features in technology and connectivity. Some of the features on the 2021 Accord Include:
8-inch Display Audio Touchscreen *: Full colour 8-inch Display Audio Touchscreen offers the latest in, device connectivity and acts like a command centre allowing the driver and the front seat passenger to customise according to preference. Equipped with Apple CarPlayTM in its interface, the audio system introduced the new Digital Audio Broadcasting (DAB), that provides crystal clear sound and more details to display on the screen about the music or the radio station.
Rear USB Connector: The new 2021 Accord has added rear USB charging so that rear passengers can now charge their phones without any hassle. (EX Grade onwards)
Wireless Charging: Smartphones supporting wireless charging can be easily charged, using the Wireless charging platform in the centre console on the EX-L and 2.0 L Sport Grade.
Rear Wide View Camera: It provides three different angles — normal, top-down and wide for a better view of what is behind the driver whenever shifting into reverse.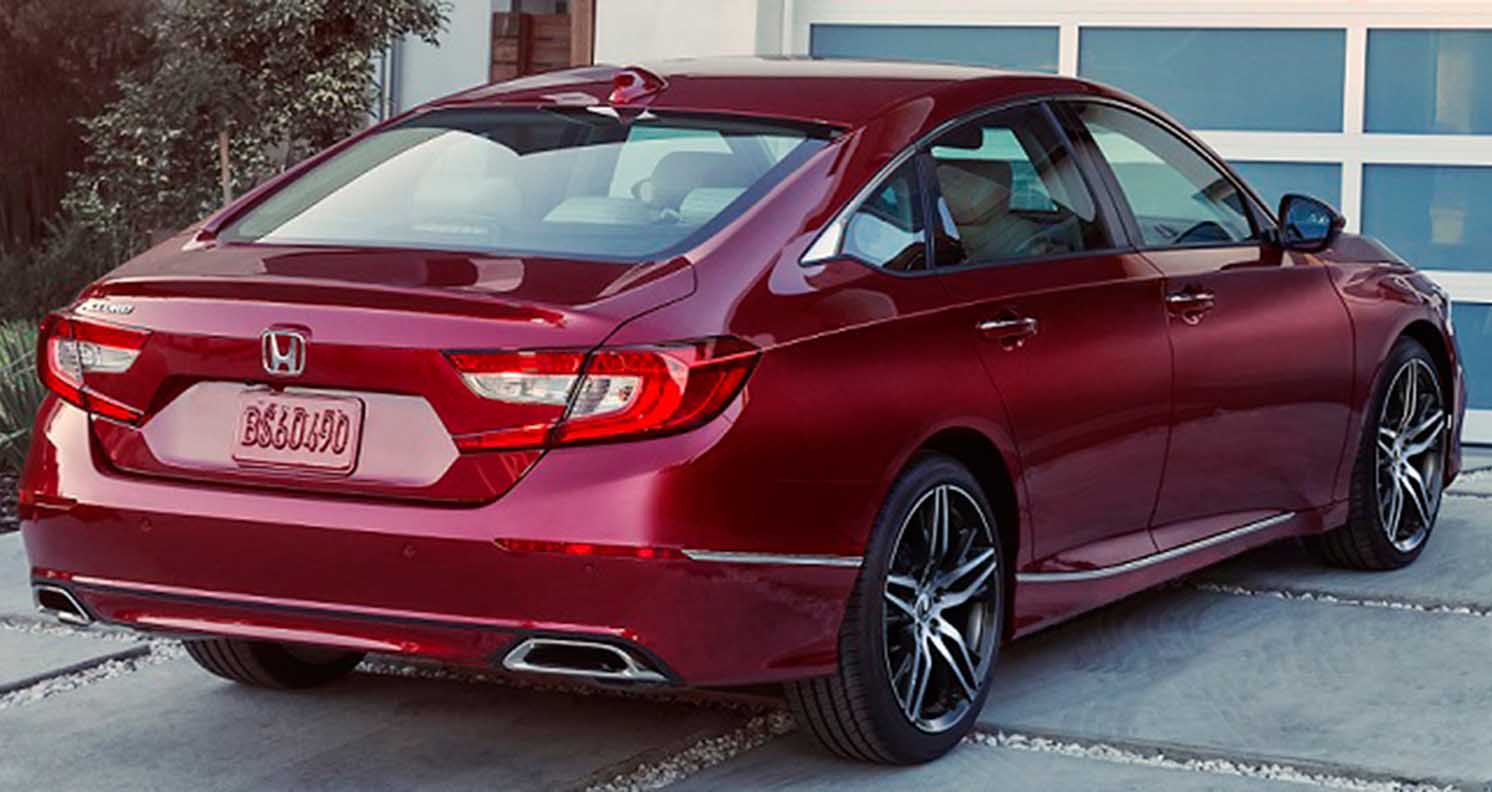 Advanced Safety Features
The 2021 Accord boasts a wide range of safety features including Advanced Front Airbags, Side Airbags Front, Side Curtain Airbags, Driver's and Front Passenger's Knee Airbags, ACETM Body Structure, Honda Lane Watch (Ex Grade Onwards), Heads Up Display (2.0L Turbo Sport Grade only). For a safer and more secured driving experience, new safety features have been introduced in the 2021 Accord including Rear Automatic Emergency Brake Assist and Rear Seat Reminder.
Rear Automatic Emergency senses solid objects at speeds below 10km/h such as in parking situations. Using sonar-based parking sensors, the new feature warns the driver or apply the brakes to help avoid or mitigate a collision when an object is detected. ​The Rear Seat Reminder is another new safety feature available in all grades and is designed to notify the driver to check the rear seat, when the ignition is turned off.
Powertrain
The 2021 Accord retains two direct-injected VTEC® Turbo 4-cylinder engines with dual VTC – a 1.5-litre 16-valve inline-4 and a 2.0-litre 16-valve DOHC inline-4. Both turbocharged engines produce peak torque across a broad range of engine speed (RPM), delivering smooth and virtually lag-free power for exceptional throttle response and power delivery in all driving conditions.
The 1.5-L turbo is mated to a Honda's continuously variable automatic transmission (CVT) with G-Shift Control and produces 198HP at 5500rpm and a torque of 260Nm at 1600-5000rpm. The more powerful 2.0-L Turbo is mated to a smooth, responsive Honda-designed 10-speed automatic gearbox with an automatic push button gear selector. It produces 247 HP at 6500rpm and a torque of 370Nm at 1500-3500 rpm.
In the 2.0L Turbo Sport Grade the conventional shift lever is replaced with a fully electronic, shift-by-wire gear selector. Park, Neutral and Drive are selected with the push of a button. Reverse is selected by pulling back a dedicated switch. Additionally, steering wheel-mounted paddle shifter system allows the driver to take manual control of transmission gear selection.
Honda SensingTM
The EX-L and 2.0L Turbo Sport Grades of the new 2021 Honda Accord are equipped with the Honda SensingTM suite of safety and driver-assistive technologies, that are designed to alert the driver to things they might miss while driving. It includes:
Collision Mitigation Braking System™ (CMBS™): To help reduce the likelihood of a frontal impact, the Collison Mitigation Braking System™ helps bring the car to a stop if the system determines that a collision with a vehicle detected in the front or a pedestrian is unavoidable. A warning sound, and if necessary, brake pressure is automatically applied.
Forward Collision Warning (FCW): It scans the road ahead to warn drivers of a potential collision and provides visual and audible alerts to prompt the driver to take corrective actions to avoid a potential hazard.
Lane Departure Warning (LDW): It will detect if the car is straying out of its current lane without the turn signal activated and provides an alert to prompt the driver to make a correction.
Road Departure Mitigation System (RDM): Road Departure Mitigation System uses the windscreen-mounted camera to detect whether the car is veering out of its lane. It applies subtle corrections to keep the vehicle in its lane, and in certain situations can apply braking force and provide a tactile warning.
Lane Keeping Assist System (LKAS) ™: It helps to keep the car in the middle of the current lane, by detecting road markings with a monocular camera and making small adjustments to steer the vehicle within the lines.
Head on Collision System: The Head on Collision System warns drivers of a potential collision with audible and visual warnings. It also uses a tactile warning with autonomous braking as well and vibrates the steering wheel to warn the driver in case they are tired.
Adaptive Cruise Control (ACC): Adaptive Cruise Control (ACC), allows the driver to set a desired speed and following distance from a vehicle detected ahead, allowing the Accord to adjust its speed automatically for a safe and comfortable journey.
Low Speed Follow: The system uses a millimetre wave radar and monocular camera mounted to the windshield to continually track the distance to the detected vehicle ahead and adjusts the Accord's speed to maintain the set distance. The Low Speed Following function allows the Accord to come to a complete stop, if the vehicle in the front slows down and stops. To move off again, simply apply the throttle.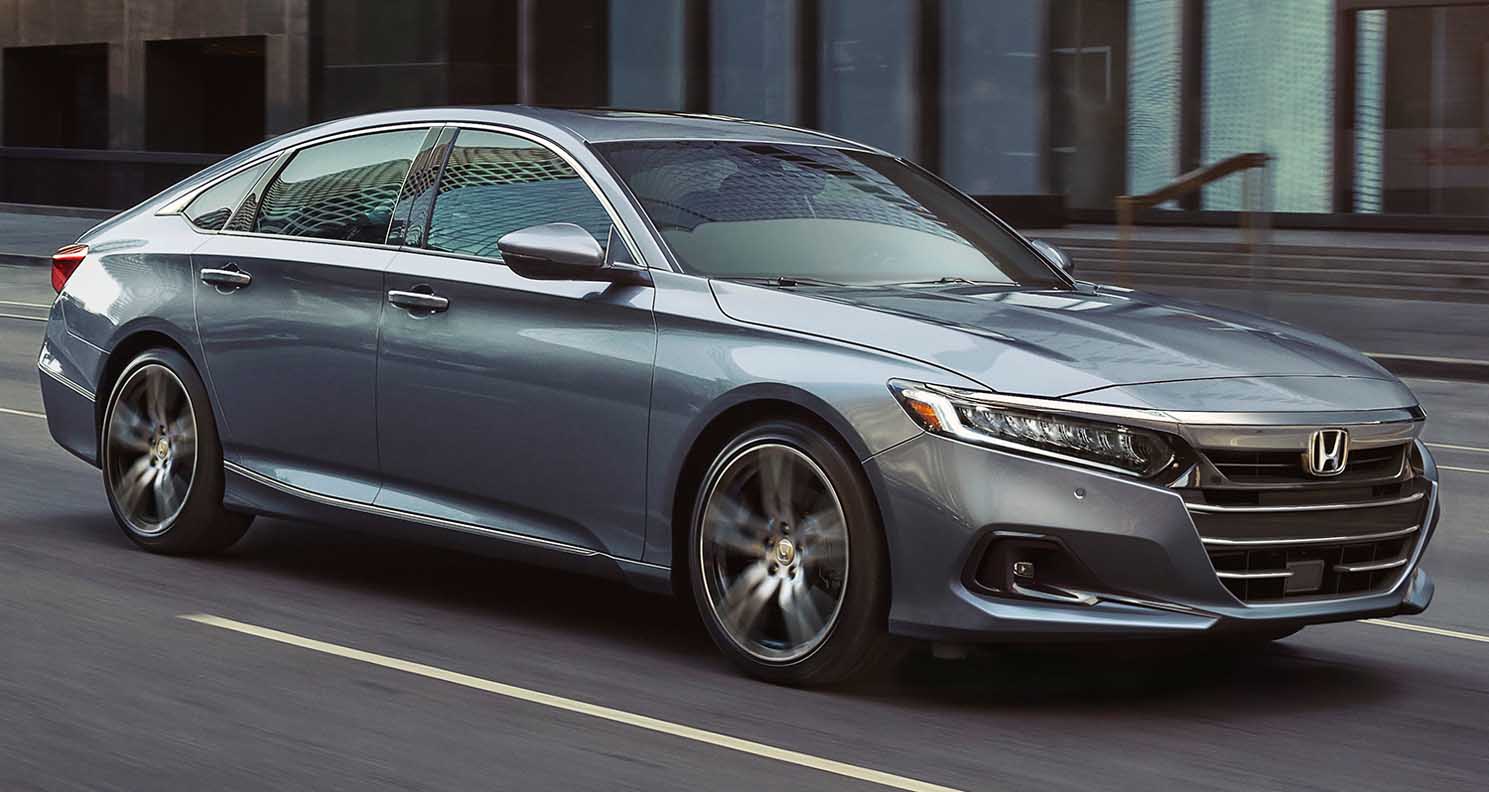 Color Availability:
The 2021 Honda Accord is introducing a new exterior colour – Sonic Gray Pearl to join the wide range of exterior and interior colours, available for all Grades, including:
Exterior Colors:
Sonic Gray Pearl (New)
Platinum White Pearl
Lunar Silver Metallic
Modern Steek Metallic
Crystal Black Pearl
Obsidian Blue Pearl
Still Night Pearl
San Marino Red
Radian Red Metallic
Interior Colors
The new 2021 Honda Accord is now available across Honda showrooms in the UAE, located at Dubai Festival City, Al Ain, Fujairah, Sharjah and Ras Al Khaimah, at a starting price of AED 94,900.