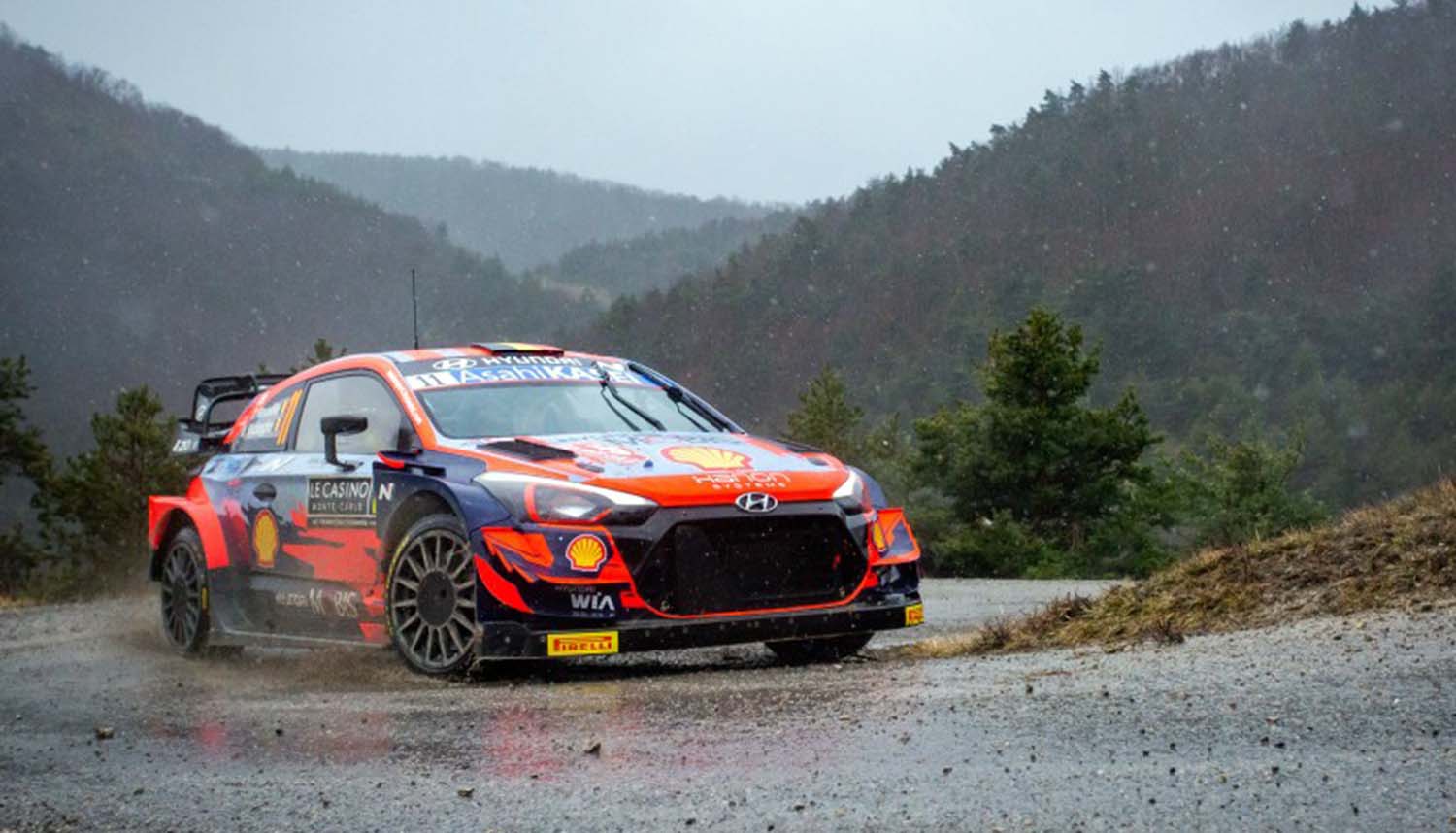 Based in the capital city Zagreb, the event has its roots in the Delta Rally that first ran in 1974, and has previously been a part of the FIA European Rally Championship between 2007 and 2013. Marking a return for the WRC to pure asphalt conditions, the stages are set to feature a mixture of worn and smooth surfaces and combine fast roads with more technical sections.
Twenty-year-old Kalle Rovanperä will arrive in Croatia as the youngest ever leader of the WRC standings after a strong start to the season. The Finnish Toyota driver has a four-point advantage over Hyundai's Thierry Neuville, with his own team-mates Sébastien Ogier and Elfyn Evans a further four points behind. Ott Tänak is 12 points from the lead after his win for Hyundai on Arctic Rally Finland.
Craig Breen stays in the third Hyundai for his first asphalt WRC event since 2018. At M-Sport Ford, young Frenchman Adrien Fourmaux makes the step up from the WRC2 class; it will be his maiden appearance at the top level alongside the team's regular driver Gus Greensmith, who will compete in Croatia with a new co-driver in the person of Chris Patterson, replacing Elliott Edmonsson. Takamoto Katsuta will once again drive a fourth Toyota Yaris WRC, while Pierre-Louis Loubet lines up in his 2C Competition-entered Hyundai.
In the FIA WRC2 support category, there is a first appearance in 2021 of the reigning champion Mads Østberg, once more driving a Citroën C3 Rally2 as he looks to challenge his fellow Norwegian and series leader Andreas Mikkelsen. Teemu Suninen swaps places with Fourmaux for this event to line up in a Ford Fiesta Rally2 for M-Sport along with Tom Kristensson, who steps up after winning the FIA Junior WRC title in 2020. They will also face competition from Nicolay Gryazin in a Movisport-entered Volkswagen Polo GTI, his team-mate Enrico Brazzoli, and Toksport's Marco Bulacia driving a Škoda Fabia Evo.
A total of 15 cars are entered in FIA WRC3, led by Rallye Monte-Carlo class winner Yohan Rossel. The Frenchman will battle it out against fellow countryman Nicolas Ciamin, Austria's Hermann Neubauer, Belgium's Cedric de Cecco, plus three-time ERC champion and 2019 WRC2 runner-up Kajetan "Kajto" Kajetanowicz from Poland. Great Britain's Chris Ingram, the 2019 ERC champion, will begin his debut WRC3 campaign in Zagreb, navigated by fellow Briton Ross Whittock.
The new FIA Junior WRC season begins in Croatia with eight young drivers entered in identical Ford Fiesta Rally4 cars, headed by 2020 runner-up Martin Sesks from Latvia.
THE 2021 ROUTE
Twenty stages totalling 300.32 competitive kilometres lie ahead of the drivers on the Croatian Rally. Following a Shakedown on Thursday morning, the rally begins from the Zagreb Fair Service Park on Friday morning and takes the crews south-west for a loop of four stages, which will be repeated after the mid-day service. Saturday takes place in the same area with an identical format with two loops of four stages. The final day will be run to the north of Zagreb with a pair of stages each to be run twice, with the final stage serving as the Wolf Power Stage.
MEDIA ACCREDITATION
Media accreditation and attendance is strictly managed with modified terms under COVID-19 regulations. All attendees are required to comply with the COVID protocol as defined by the event organisers (please refer to Bulletin 2).
Media accreditation must be collected personally by accredited Pass Holders at the Accreditation Desk located at the Media Center:  INA-Industrija nafte d.d., Avenija Većeslava Holjevca 10, HR-10020 Zagreb.
The opening hours are:
Tuesday, April 20: 14:00-21:00
Wednesday, April 21: 08:30-21:00
Thursday, April 22: 08:00-21:00
Friday, April 23: 08:00-21:00
2021 WRC RALLY CROATIA TIMETABLE AND MEDIA OPPORTUNITIES
| | |
| --- | --- |
| Tuesday, April 20 | |
| Tree planting for invited drivers, Stop point SS Stojdraga – Gornja Vas | |
| (open to accredited PH only) | 11:30 – 13:30 |
| | |
| Wednesday, April 21 | |
| Mandatory media safety briefing via video conference (details TBC) | 18:00 hrs |
| | |
| Thursday, April 22 | |
| Shakedown for P1 and P2, SD Medvedgrad | 09:00 – 11:00 |
| Shakedown for all Priority drivers, SD Medvedgrad | 11:00 – 13:00 |
| Shakedown for all drivers, SD Medvedgrad | 13:00 – 15:00 |
| FIA Press Conference, via video conference (details TBC) | 15:30 hrs |
| – FIA WRC | 15:30 hrs |
| – FIA WRC2 | 15:40 hrs |
| – FIA WRC3 & guest driver | 15:50 hrs |
| – FIA Junior WRC | 16:00 hrs |
| Ceremonial start, start podium, Zagreb | 18:30 hrs |
| | |
| Friday, April 23 | |
| Start of the rally (Section 1), Zagreb fair SP | 07:46 hrs |
| First car arrives for media zone, regroup, technical zone & service (TC4A), SP | 12:58 hrs |
| First car arrives for media zone, technical zone & service (TC8A), SP | 19:20 hrs |
| | |
| Saturday, April 24 | |
| Start of Section 3, Zagreb fair SP | 07:01 hrs |
| First car arrives for media zone, regroup, technical zone & service (TC12A), SP | 12:18 hrs |
| First car arrives for media zone, technical zone & service (TC16A), SP | 18:18 hrs |
| | |
| Sunday, April 25 | |
| Start of Section 5, Zagreb fair SP | 06:25 hrs |
| Podium Ceremony & Price Giving, Power Stage finish, Kumrovec | 14:00 hrs (approx.) |
| First car arrives for media zone after having checked in at TC20A, SP | 15:18 hrs |
| FIA Press Conference, via video conference (details TBC) | 16:00 hrs (TBC) |
FIA PRESS CONFERENCE ATTENDANCE
| | |
| --- | --- |
| Thursday, April 22 | 15:30 (local time) – WRC |
| | Toyota Gazoo Racing WRT – Kalle Rovanperä (FIN) |
| | Hyundai Shell Mobis WRT – Craig Breen (IRL) |
| | M-Sport Ford WRT – Adrien Fourmaux (FRA) |
| | Hyundai 2C Competition – Pierre-Louis Loubet (FRA) |
| | |
| | 15:40 (local time) – WRC2 |
| | Movisport – Nicolay Gryazin (RUS) |
| | TRT World Rally Team – Mads Ostberg (NOR) |
| | M-Sport Ford WRT – Tom Kristensson (SWE) |
| | |
| | 15:50 (local time) – WRC3 & guest driver |
| | Yohan Rossel (FRA) |
| | Kajetan Kajetanowicz (POL) |
| | Chris Ingram (GBR) |
| | Viliam Prodan (HRV) – non-priority guest driver |
| | |
| | 16:00 (local time) – Junior WRC |
| | Martin Koci (SVK) |
| | Raul Badiu (ROM) |
| | Will Creighton (IRL) |
| | |
| Sunday, April 25 | Winning FIA Junior WRC Championship driver |
| | Winning FIA WRC3 Championship driver |
| | Winning FIA WRC2 Championship driver |
| | Top three drivers in the overall classification |
| | Representative of the winning manufacturer |
MANUFACTURER WRC ENTRIES, 2021 WRC RALLY CROATIA
| | |
| --- | --- |
| Toyota Gazoo Racing WRT | Kalle Rovanperä / Jonne Halttunen (#69) |
| | Sébastien Ogier / Julien Ingrassia (#1) |
| | Elfyn Evans / Scott Martin (#33) |
| | |
| Hyundai Shell Mobis WRT | Thierry Neuville / Martijn Wydaeghe (#11) |
| | Ott Tänak / Martin Järveoja (#8) |
| | Craig Breen (IRL) / Paul Nagle (ILR) (#42) |
| | |
| M-Sport Ford WRT | Adrien Fourmaux / Renaud Jamoul (#16) |
| | Gus Greensmith / Chris Patterson (#44) |