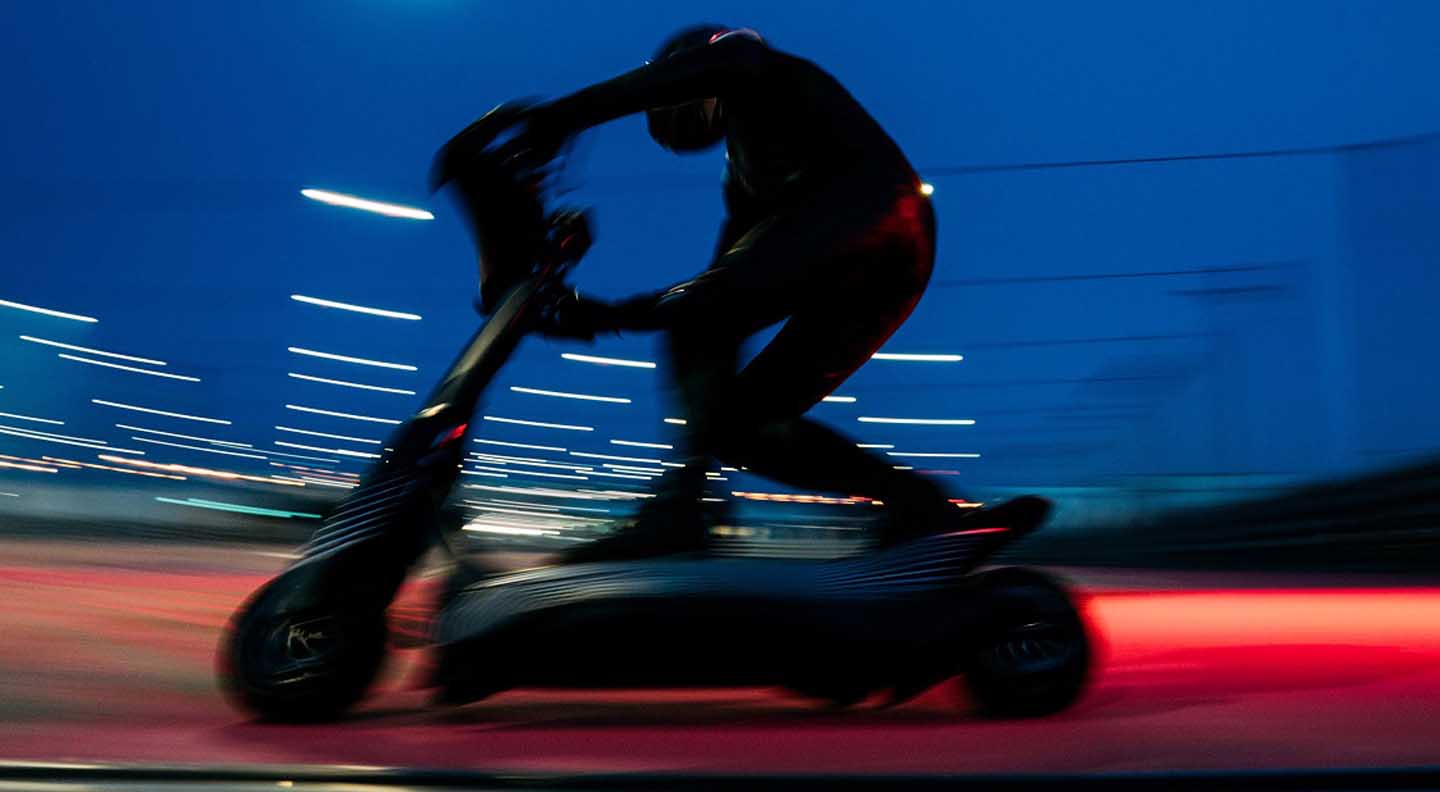 The eSkootr Championship (eSC) has officially unveiled the electric eSkootr that will contest the series' first races in 2021.
The cutting-edge eSkootr S1-X model has been developed and designed by engineers with leading motorsport experience, and track-tested by some of the world's top two-wheel development riders.
Racecar design & technology
With a prototype initially developed by Williams Advanced Engineering, the S1-X features racecar design and manufacturing techniques – including a carbon-fibre chassis frame, environmentally friendly natural-fibre bodywork and bespoke, adjustable front and rear suspension elements CNC-machined from aluminium.
It is the fastest and strongest electric scooter ever built.
Capable of achieving race speeds in excess of 100km/h (60mph) and cornering angles of 50 degrees, on specially designed circuits between 400 and 1000m long, it is an example of how racing technology can transform an everyday vehicle – and develop and accelerate pioneering future technologies for the road.
Battery & boost
The S1-X is powered by a Lithium Ion battery which charges two 6kW motors, one housed in each wheel. As in a regular road-going electric scooter, the rider controls power delivery via a conventional thumb-operated throttle. However, a torque delivery system balances power between front and rear wheels to enhance high-speed stability – and can be overridden by the rider via a boost button for an instant burst of acceleration during races.
The eSkootr has a 1.5kWh range to contest eSC's short but action-packed heats and finals, a maximum weight of 35kg, and can produce 16hp.
Preparation for 2021 races
The eSkootr Championship has been designed to accelerate micromobility culture and technology in forward-thinking global cities. It will host its first races this autumn.
Focus now turns to a full build programme in order to supply eSC's teams with hardware ahead of a pre-season rider selection test – to be held in early summer.
"We've been developing a series of prototype race eSkootrs for the past year, so it's a great feeling to finally reveal the S1-X. What's been most rewarding is just how many different elements have successfully come together to make it all happen – we've been pioneering new technology across every step of the process. We already know the S1-X is an extremely fast and fun machine – now we want to get as many racers as possible to try it as we push towards our first race."
Hrag Sarkissian, eSkootr Championship CEO
"We set ourselves some very aggressive development goals for the S1-X – and we've already hit all of our stage-one targets ahead of the first season. But this model just marks a frozen moment in the ongoing development of our race eSkootr – we know that summer's extended track running will give us a significant amount of extra data as we push development. We've already targeted new steps for motor performance and efficiency, as well as changes to the bodywork and aerodynamics."
Khalil Beschir, eSkootr Championship COO
"Micromobility sport is a step in a new direction for motorsport – and I definitely think we've achieved so much with the design of our first eSkootr. The aim now is to bring this to people: to teams and entrants, to athletes and riders, to fans and families in cities around the world. This really is the start of an exciting new chapter in how we can build the most affordable and sustainable motorsport on the planet, and really make it work for everyone."
Lucas di Grassi, eSkootr Championship Sustainability Ambassador
"From the first idea to our S1-X model, it's already been such a great journey. We've only really started to get going, but have already set some pretty aggressive design, performance and handling parameters for the S1-X. We've looked really closely at front-fork stiffness, rear-wheel compliance, kinematics, packaging of the technology and drivetrain design. Of course, the speed of our eSkootr along straights and through corners is intrinsically connected to the track design and race format – so stay tuned, there's still a lot more to come."
Alex Wurz, eSkootr Championship Safety Ambassador
"I'm so proud to have helped develop the S1-X – it's been quite a ride. Even when we started running the first prototype, the chassis felt good; it gave you confidence to push the limits. Further tests have really shown what this first model will be capable of achieving – races are going to be very fast, head-to-head and fun. Racing flat-out during a full heat or final is going to be a real achievement – this is a physical sport that requires speed and finesse. I think it's going to be incredible."
Dakota 'Kota' Schuetz, eSkootr Championship Rider Ambassador