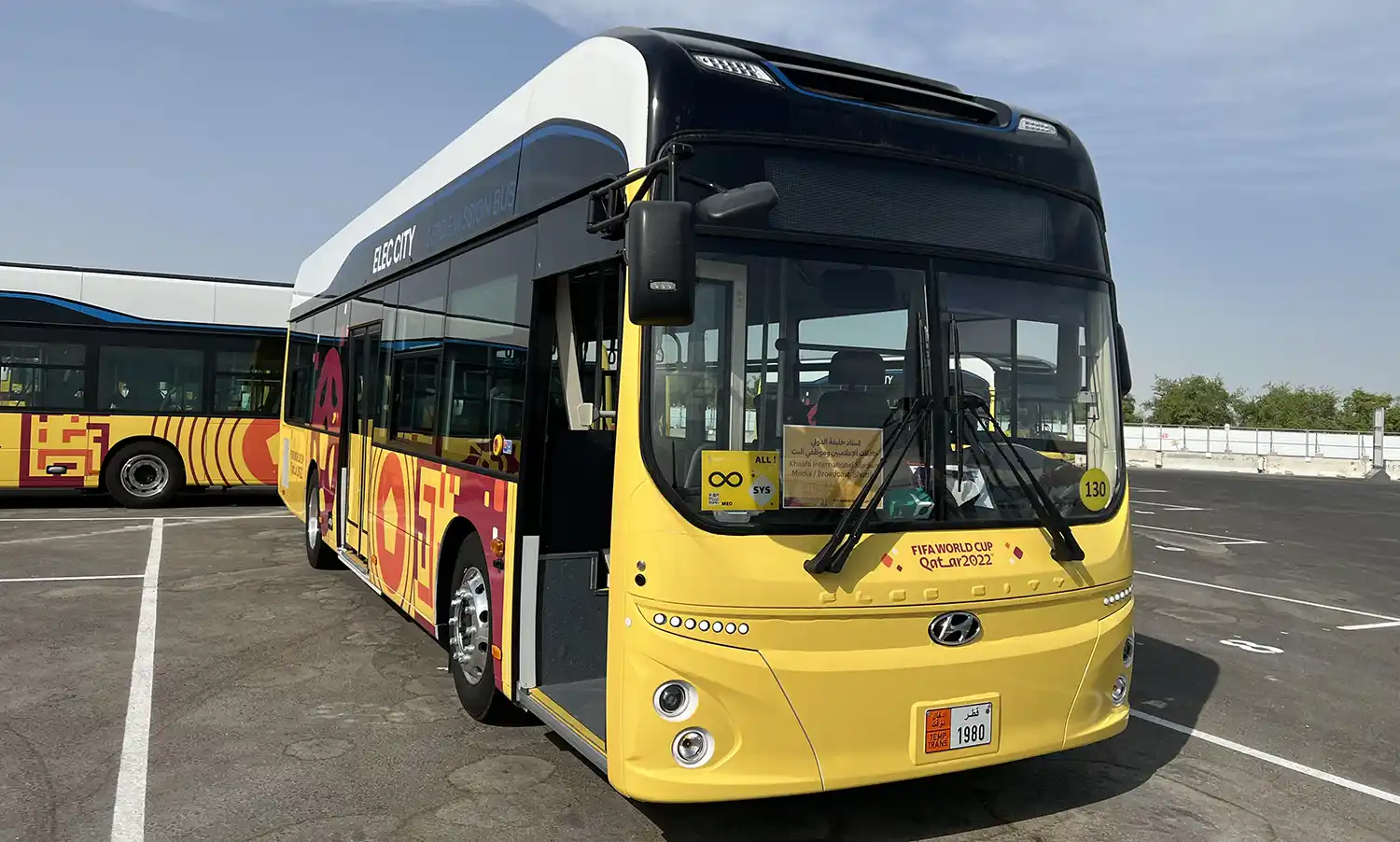 Hyundai Motor Company, an official sponsor of FIFA World Cup Qatar 2022 TM, helped the world's biggest football tournament with its mobility needs by providing a fleet of Hyundai buses, including 10 eco-friendly Elec City electric buses for use during the event, which is taking place in Qatar from November 20 to December 18.
The Hyundai Bus fleet provided for the tournament included, Universe & County buses, used for the participating national squad's transportation, each bus was wrapped in the national colors of each team, and carried a pledge from each team that would contribute to the "Goal of the Century (GOTC)" sustainability campaign, which was launched by Hyundai.
The BEV Elec City buses were used to transport members of the media, while Hyundai Motor prepared a dedicated organization and support system for stable EV operations of the Eco-Friendly Bus.
To ensure safety and smooth operation, Hyundai Motor conducted real-time monitoring of the fleet vehicles for any breakage or accidents, and provide prompt service response, such as emergency dispatch, troubleshooting and vehicle inspection as needed.
The company is also utilized a real-time vehicle control service to improve fleet service quality management. By detecting any accident or vehicle breakage in real time, the system unifies all processes from vehicle warehousing and emergency dispatch to vehicle repair and accident response.
In addition to providing fleet buses and vehicles, Hyundai Motor launched the Goal of the Century (GOTC) World Cup campaign with the slogan 'A United World for sustainability' in April, visualizing carbon neutrality for the World Cup and football fans worldwide.
As part of the campaign, Hyundai Motor created Team Century, a group of campaign ambassadors with former England national football player Steven Gerrard as captain. Each member of Team Century is setting goals for creating a sustainable future for the planet in their field of expertise.
All 11 members of Team Century were revealed to complete a single united team, including Hyundai Motor's global brand ambassador BTS, Afghan refugee football player and Denmark UNESCO ambassador Nadia Nadim, American fashion designer Jeremy Scott, Italian sculptor Lorenzo Quinn, documentary photographer Nicky Woo and Boston Dynamics robot Spot.