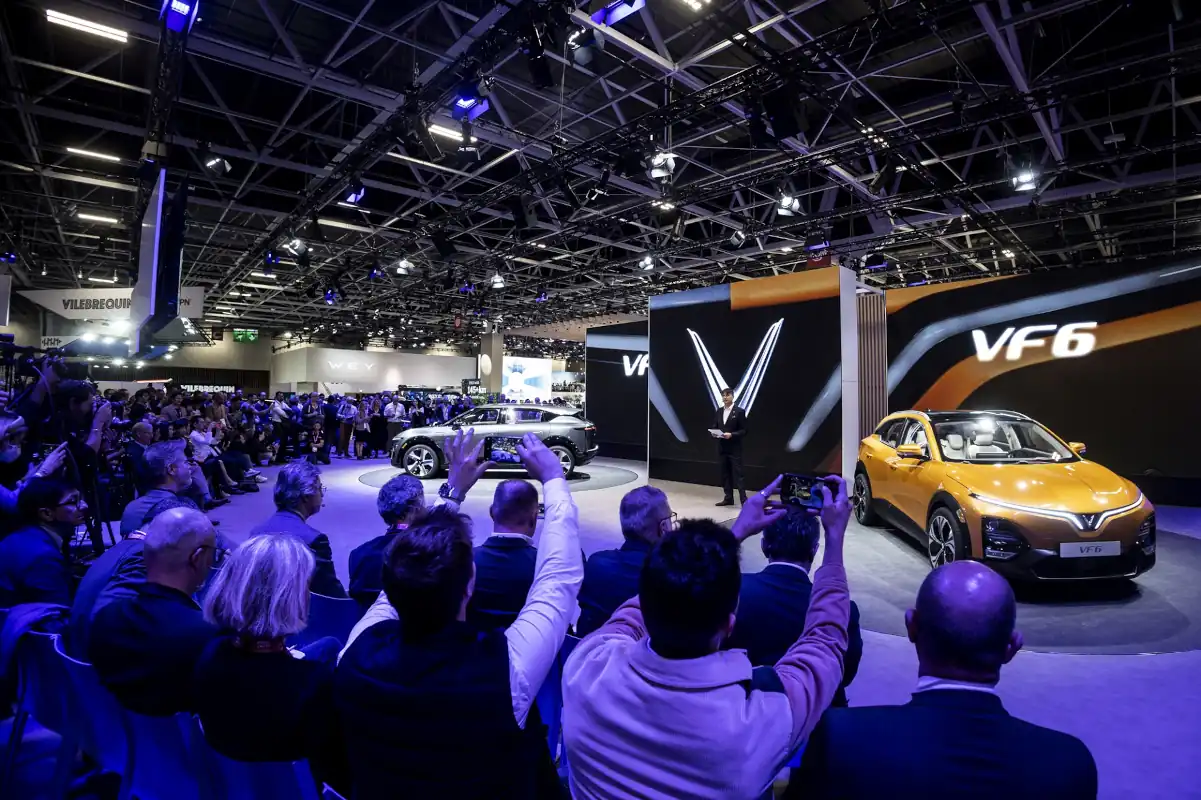 Vinfast Announces Its Headquarters In Germany, France And The Netherlands
VinFast, the first Vietnamese electric vehicle (EV) manufacturer, revealed further details of its European business strategy today at the 2022 Paris Motor Show and announced the opening of dedicated country headquarters in Germany, France and the Netherlands. The opening of the headquarters aims to amplify VinFast's business activities in the region, develop its extensive direct-to-consumer retail network, and roll out mobile service, to ensure a premium customer experience.
The three headquarters of VinFast in Germany, France, and the Netherlands are located in Frankfurt, Paris, and Amsterdam. Opening a VinFast headquarters in each market is designed to provide an optimal level of service to each customer, driven by an in-depth understanding of each country's nuanced requirements. In support of its ambitious rollout, VinFast already has hundreds of employees in place across its European launch markets, boasting a range of major vehicle manufacturer experience and market-specific expertise. VinFast also plans to increase this figure in the coming months.
The opening of VinFast's first flagship store, in Cologne, Germany, is scheduled for November 2022. It will be followed before the end of the year by Paris as the first French store, then Nice; and Amsterdam as the primary Dutch location; Berlin, Munich, Frankfurt and Hamburg, in Germany. New European locations opening early in 2023 will include Oberhausen in Germany; Marseille, Rennes, Montpellier and Metz in France; and Den Haag and Rotterdam in the Netherlands.
VinFast's retail and services system will be supported by a network of technicians and Mobile Service vehicles that provide customers with a wide range of flexible repair and maintenance options. Service appointments can be booked via the VinFast app and carried out at home or work, or at any VinFast store that supports servicing. The mobile service has been deployed in Germany and will expand across Europe in Q1 2023. VinFast also aims to hire over 200 technicians during the next 12 months to support its aftersales network.
Ms. Le Thi Thu Thuy, Vingroup Vice Chairwoman and VinFast Global CEO shared: "Returning to the site of our global debut four years ago, VinFast is proud of the great strides it has taken towards its market expansion and commitment to driving the global electric vehicle revolution. VinFast aspires to an even bigger achievement: becoming a beloved all-electric brand in crucial European markets. I believe that our world-class quality cars, reasonable pricing strategy, and outstanding customer services will soon make VinFast a preferred brand of European consumers."
Europe is an important market for VinFast. Along with establishing its headquarters in France, Germany, and the Netherlands, as well as developing an extensive retail and service network, VinFast continues to seek a suitable location for a European manufacturing facility.
VinFast, also received the AUTOBEST The Rising Star award in a ceremony at the 2022 Paris Motor Show. The award is to recognise the rapid emergence of VinFast: from a newcomer to leading the pack of ambitious new automotive brands in Europe.
The AUTOBEST jury of experienced European automotive journalists made their decision based on criteria such as business strategy, product line-up, commercial readiness and credibility.
AUTOBEST acknowledged VinFast for its commitment to European markets with more than just a single car: its electric vehicle range spans the segments. The jury also noted VinFast's purchasing flexibility, innovation, environmental focus, infrastructure, servicing and customer support.
At the 2018 Paris Motor Show, VinFast received the AUTOBEST A Star Is Born award when the company debuted its first two concept cars. After only four years, VinFast has achieved a great leap on its global expansion journey: from two models of internal combustion engine cars to an all-electric range; from a start-up to a driver of the global transition to electrified mobility. This milestone marks a significant development by Vietnam's only global automotive brand.
"In 2018, VinFast debuted with a bold plan that would traditionally take a long time to deliver. But only four years later, we acknowledge VinFast's spectacular rise not only as Vietnam's first global vehicle manufacturer, but also as one of the world's first to stop production of internal combustion vehicles in favour of an all-electric strategy," says Mr. Dan Vardie, AUTOBEST Chairman. "VinFast has moved at an incredible speed, from building a highly-automated manufacturing complex with leading scalability in the region, embarking on partnerships with globally-recognised suppliers, to announcing an all-electric line-up and a robust European launch strategy. VinFast has proved itself to be leading the pack of ambitious new automotive brands. We are delighted to present the team with this award and to formally welcome them to Europe."
Ms. Le Thi Thu Thuy, Vingroup Vice Chairwoman and VinFast Global CEO shares: "We are delighted to be recognised as one of the industry's youngest, most vibrant automotive brands. This award not only recognizes the hard work of VinFast to electrify mobility, but also marks a Vietnamese brand on the world automotive industry map. We commit to continuous innovation to provide excellent products and an optimal customer experience, while accompanying our European and global customers on their journey towards a sustainable future."
VinFast's return to the 2022 Paris Motor Show represents an astonishing rise for the company: from start-up to a pioneering position at the forefront of the global transition to electrified mobility. This remarkable journey is enabled by the speed, determination and ambition of a Vietnamese brand, VinFast's global intelligence network, and a commitment to a sustainable future for the planet and generations to come.