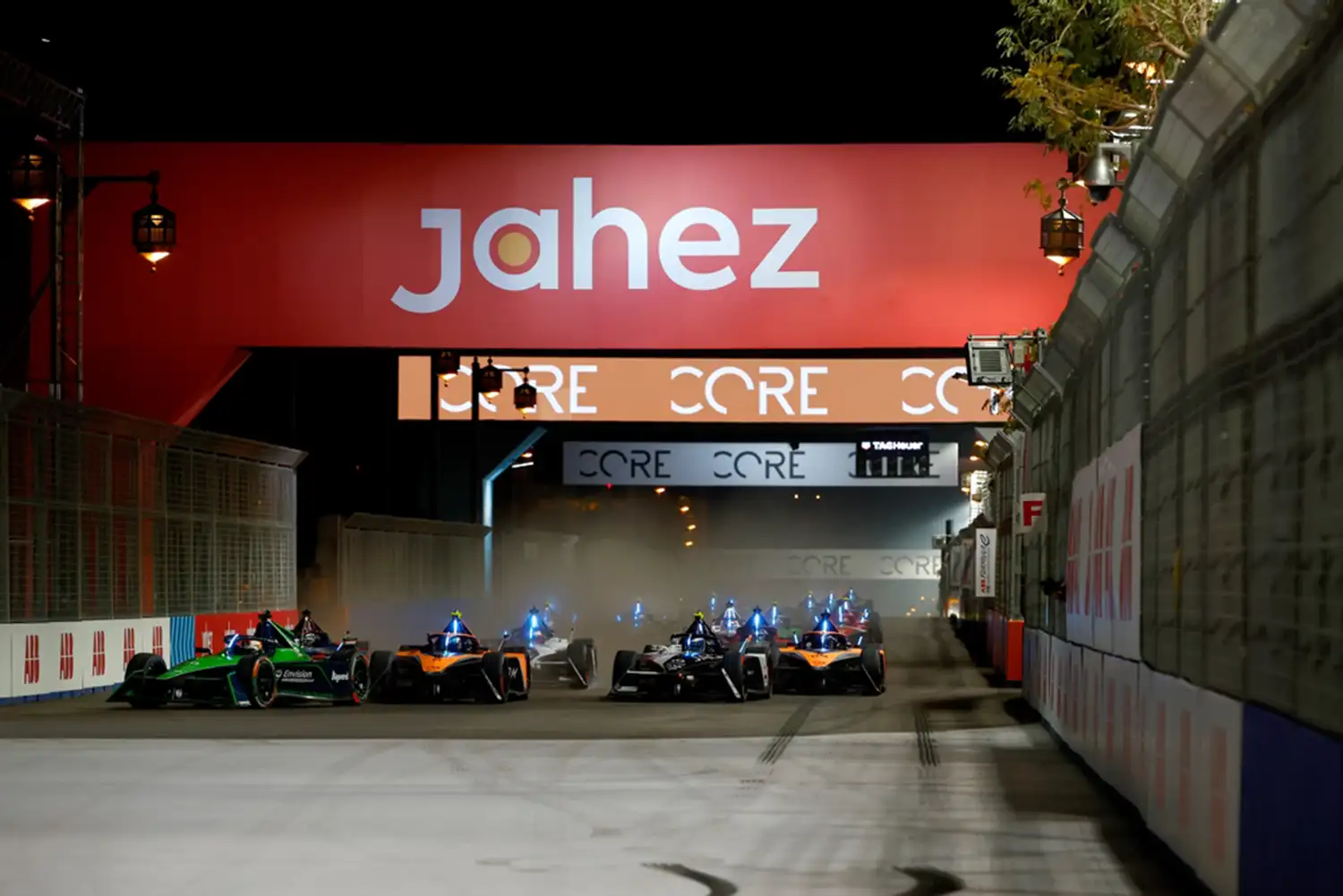 Formula E and promoter CBX today announced that tickets for the 2024 Diriyah E-Prix are on sale now with a 20% discount until Wednesday 15 November. Reduced ticket prices start at just 80 SAR.
Formula E returns to Diriyah on Friday, 26 January and Saturday, 27 January following the most competitive season in its history which saw all on-track speed records smashed and triple-digit overtakes in most races. The Drivers' and Teams' world titles were decided on the final race weekend of the season with Britain's Jake Dennis (Andretti Formula E Team) crowned the top driver and Envision Racing earning the honours as best team.
Dennis will be determined to defend his world title in Diriyah and will be desperate to overcome the disappointment of last season when bitter rival Pascal Wehrlein, of TAG Heuer Porsche Formula E Team, pushed him into second place in both races.
Wehrlein, meanwhile, will be out to repeat his Diriyah double victory in his bid to dethrone Dennis in the 16-race Formula E season and claim a first Formula E world championship title for himself.
Pascal Wehrlein, driver, TAG Heuer Porsche Formula E Team, said: "I'll never forget the weekend in Diriyah. Our victories on this tremendous racetrack were one of the highlights of season 9 for me and our team. We had a great car and a perfect strategy. We can't wait to see what the next season yields, especially at a circuit where we had so much success".
The fast and flowing 2.49km circuit, flanking the At-Turaif UNESCO World Heritage Site, will once again be lit up by the latest low-power LED technology. The LED units reduce energy consumption by up to 50 per cent compared to non-LED units and are powered by sustainably-sourced biofuel generators.
Ahead of the world-class racing action which starts at 8pm AST, fans can enjoy family-friendly experiences in the the Allianz Fan Village – Formula E's immersive fan festival at the heart of every E-Prix – offering a full day of entertainment, exploration and innovation for everyone. Live music from world class artists will be announced soon.
Alberto Longo, Co-Founder & Chief Championship Officer, Formula E, said:  "The Diriyah races hold a special place in the Formula E calendar. As the only night races of the season and the first double-header, they generate a unique atmosphere for fans and drivers. All 22 drivers will be pushing the record-breaking GEN3 race car harder and faster than ever after it's ultra-competitive first season which will maximise on-track entertainment. Together with the family-friendly experiences on offer in the Allianz Fan Village, this will be an event to remember and we urge fans not to miss out and get a ticket before it's too late."
Tickets can be bought online at https://webook.com/en-US/events/2024-diriyah-e-prix.