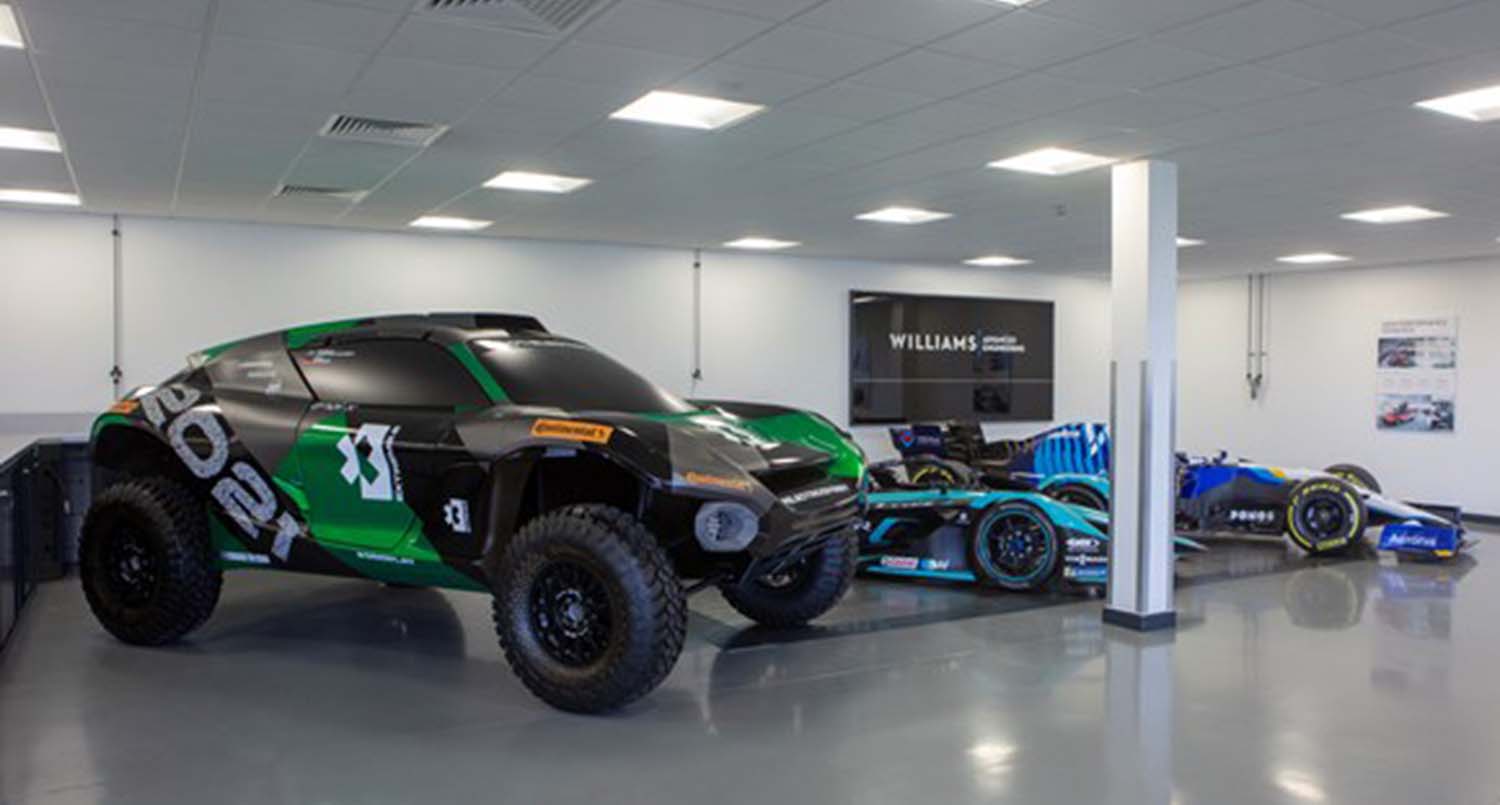 When it comes to motorsport, there's no doubt that the name Williams is held in the highest esteem. The legendary organisation has been one of the sport's leading engineering and racing protagonists with nine F1 constructors' championships (second only to Ferrari) to its name. Its sister company, Williams Advanced Engineering (WAE) is now considered to be a major force in the electric motorsport arena thanks to its work with Formula E and more recently, as the sole power train developer for the pioneering off road championship Extreme E.
We caught up with Craig Wilson, Williams Advanced Engineering CEO and Glen Pascoe, WAE Principal Engineer, for an early Season review and an in depth look at the WAE facility. We also wanted to pick their brains about how on earth the Extreme E battery is actually made, and the challenges of creating a battery that can power the enormous ODYSSEY 21 in the most extreme locations.
XE: First of all, how did the Williams and Extreme E relationship begin?
Craig Wilson, "WAE had already been involved with Formula E as we were the original and only battery supplier to the championship when it began in 2014. The technology was relatively young then and were all learning a great deal – but it was hugely exciting to be part of the electric revolution and to be there from the start and we still are.
"Following the on-track successes we've had at Le Mans (providing engineering support for Porsche's sports car racing programme), through the hybrid F1 era, then four seasons supplying batteries to the first-generation Formula E grid (and due to supply the Gen 3 batteries), together with being technical partner for Jaguar Racing, we have learned a lot about how to extract the highest levels of performance from a battery.
"Having proven our capabilities with Alejandro Agag, SPARK and the team in Formula E, we were then in a good position to pitch for the Extreme E sole developer role in 2019."
XE: What steps did Williams take to create the battery? 
Glen Pascoe, "In Extreme E, the challenge is arguably even greater than for other series as we are taking battery technology away from the traditional race circuit and into hostile environments, where humidity, dust, extremes of temperature, shock and vibration will play a huge part and to that end, the batteries have had to be uniquely tailored for the environment.
"And with races being head-to-head over short distances, the batteries are sized to manage high intensity operation over a shorter time than in other e-racing series, but in a far harsher environment. As a result, we have developed a whole new module that can produce 400kW peak power in a bespoke battery construction along with an entirely new pre-race conditioning system to maximise robustness and minimise mass.
"Simplicity, serviceability and modularity were all critical design requirements. Commercially available cells were selected and designed into a pack in conjunction with the series to align both with the race format and the vehicle performance duty cycle. Working with limited space in the car, we had to meet tough power and mass performance targets and deliver a bespoke battery pack design in under 12 months!"
XE: How has the battery performed in the first two X Prix's of Extreme E's debut season, Saudi Arabia and Senegal, and what were the challenges that you faced?
Glen Pascoe, "The biggest challenges in Saudi Arabia were definitely sand and the temperature! Thin air was also an issue.
"The first run simulation took part at the hottest time of the day and a battery rebuild we carried out was intensive and not helped by strong winds and even a sandstorm providing an unwelcome interruption, which covered all battery parts and electronics with a fine grit. We broke out the vacuum to begin a deep clean for all components. Eventually, the batteries were ready, and it was time for the team-wide shakedown on Friday 2 April.
"The first qualification session saw two major impacts – Stephane Sarrazin in the Veloce Racing car and Claudia Hürtgen in the ABT Cupra XE – and after the driver's safety was checked, we were delighted to see that both batteries remained absolutely intact, safe and damage-free, showing the green light all the way through the car recovery process.
"The Senegal event brought a mixture of similarities and differences to Saudi in the challenges we faced at the track. Whilst not as hot as Saudi Arabia, ambient temperatures remained high and was accompanied by 90%+ humidity levels. This brought its own unique challenges in ensuring we were actively managing the battery temperature both during the on-track action and between races.
"Alongside this the Senegal event showed the cars tackling a very demanding, technical and aggressive track. The batteries were constantly punished with heavy impacts and harsh vibrations as the cars bounced around the dunes and deep ruts. Ensuring battery health throughout the weekend was key to ensuring a successful event.
"Both of the first two races offered humidity, dust, extremes of temperature, shock and vibration!"
Glen concludes, "To break it down, we came away with the knowledge that…
the batteries performed flawlessly even with the severe impacts that happened in the Desert X Prix as well as the intense head to head battles we saw in the Ocean X Prix. Working on the batteries on location went really well, which is a reflection of all the design work and that went into them
Servicing and maintaining the batteries throughout the events went well, which is a reflection of all the design work that went into them
Again, the batteries performed well in Senegal, a 6km long harsh, technical course, through woods and on the beach
480KM mileage was recorded in Senegal and 1070 km across the 2 races
1120KWh energy discharged in Senegal and nearly 2000kWh across both events
Over 12 hours of on-track running
Have you made any improvements since then?
Glen Pascoe, "Refinement of BMS models to extract maximum performance. And we have optimised the rate at which we log and collect data during an event to ensure most efficient learning."
What are you expecting when you go to the next X Prix in Greenland in August?
Glen Pascoe "No more sand!! But yes, we'll have to adapt and optimise to the vastly different climate and track conditions. The very new challenges of snow and of course water and mud. There will be stone impact and less grip resulting in more drift and vertical impact.
"In addition to the physical challenges, the remoteness of the location means we need to forward plan for every eventuality before arriving on location as there will be no opportunity for late deliveries or freight, no additional transport available or indeed, supplies!"
How do you see the battery developing further as Season 1 progresses?
Glen Pascoe, "Unlocking further vehicle performance as we gather more data on the battery and the overall powertrain."
What are the options for the battery at the end of Season 1?
Glen Pascoe, "Batteries have been designed for multi-season use, so WAE will inspect, re-test and go again.  Any incremental improvements available will be implemented during the turn-around. Once batteries reach the end of their final racing season, the cells can be easily removed as module 'building blocks' and configured into a suitable second life application. Some components are targeted for reuse in alternative applications, and some will be recycled in order to recover valuable raw materials."
How important are collaborations like this for race to road transfer? 
Craig Wilson, "They are a key part of transferring technology to road cars, specifically in areas such as fast charging, battery management and software development. Essentially, affordability comes with volume production. By pioneering and showcasing EV technology in a series such as Extreme E, manufacturers will be able to "carry over" technology into road cars and in doing so, enable the technology to become more affordable."
How is Williams' technology implemented in cars we see on the road today? 
Craig Wilson, "As mentioned previously the key technology areas will likely be improved energy density, lifecycle, durability, power capability and fast charging. In addition, there will probably be a greater than ever emphasis on software in order to unlock more of the potential of the battery chemistry using advanced algorithms for increased performance, safety and reliability."
Apart from all that, are you looking forward to racing Greenland? What are you most excited about? 
Glen Pascoe, "Snowball fights in August of course!!
"No seriously, this is huge as no previous international motorsport events have ever been held in Greenland, so the WAE team are proud to be supporting this unique and ground-breaking event. Seeing the cars go head-to-head in a challenging new climate for the drivers will also be so exciting to watch. We can't wait!"