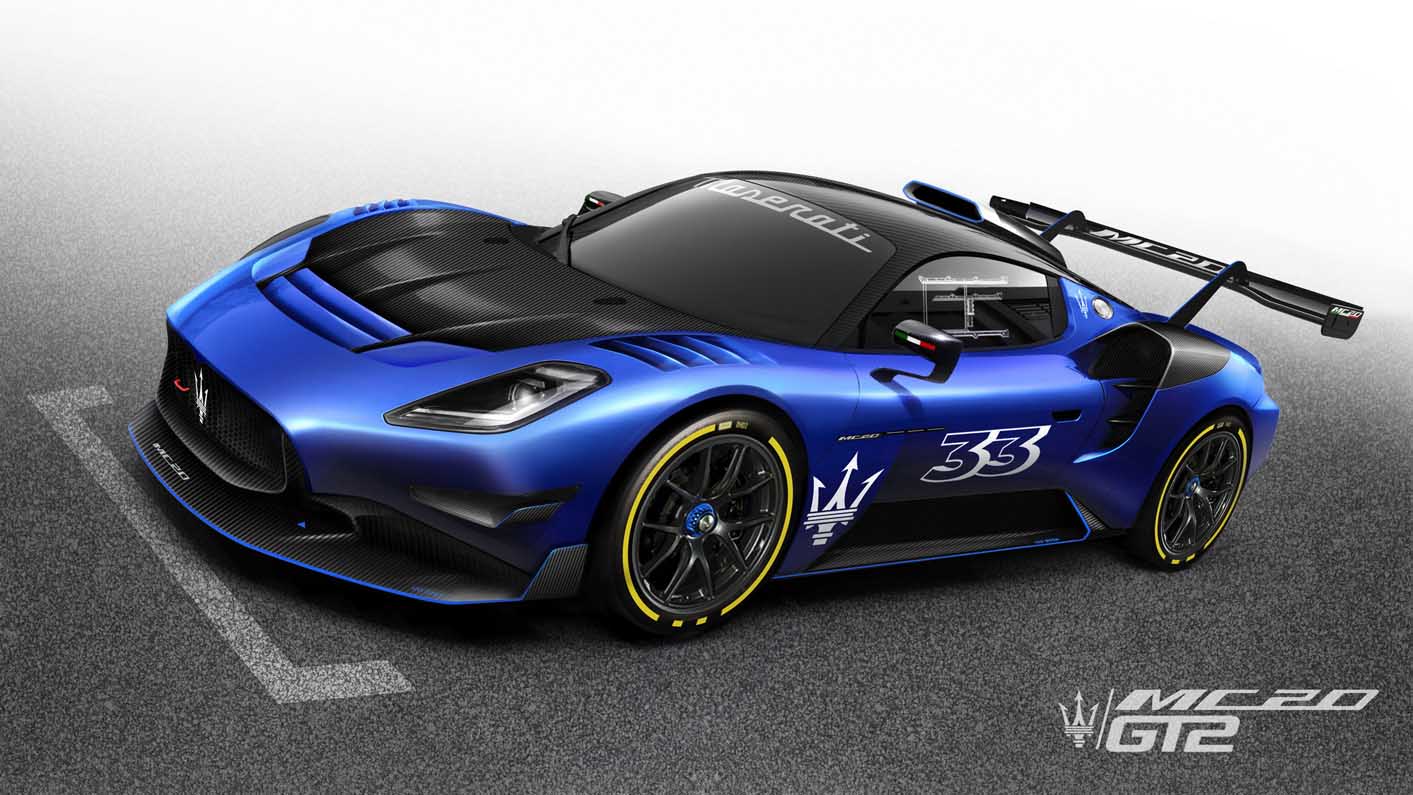 Another big step in the Maserati motorsport strategy: the MC20 – designed ever since its early stages of development to bring the Trident back on track in closed-wheel competitions – will feature in the Fanatec GT2 European Series Championship, making its debut in 2023.
Maserati will be offering its customers and teams the MC20 GT2.
MC20 GT2 is based on the road version, from which it inherits its best-in-class specifications. These include the innovative Nettuno engine with new Maserati Twin Combustion (MTC) technology, double-wishbone suspension with semi-virtual steering axis and carbon fibre monocoque.
Maserati's return to the track in GT competitions represents the ideal link between the brand's new era and the victories achieved by the frequently victorious MC12 in the FIA GT Championships from 2004 to 2010.
Specifically, to highlight the link between the MC12 and MC20, at the 24 Hours of Spa – won three times by the MC12 (in 2005, 2006 and 2008) – Maserati is ushering in the new Maserati Corse era with an experience dedicated to the glorious milestones in its sporting history.
In the words of Davide Grasso, Maserati CEO: "We are driven by our passion, both on the road and on the track. We have a long history of world excellence in motorsport and we are extremely proud to race with the extraordinary MC20. Racing has always been Maserati's natural habitat and now, both in the Fanatec GT2 European Series Championship and in the Formula E Championship, this brand is making a new start from its roots to build the future".
Jean-Marc Finot, Senior VP, STELLANTIS Motorsport, stated: "Maserati Corse is bringing the link between Formula E factory program and our road cars with the MC20 GT2. This new step is completing the legacy and the legitimacy of Maserati in Motorsport. The MC20 is a fantastic road legal car. We are happy that our passionate customer will enjoy racing with it".
Maserati GT2 – Features and technical specifications
Vehicle
Single-seater non-road-homologated race car
Maserati Centro Stile design
Width/Height (mm) 2020* x 1220*
Dry weight to be determined in BoP
Complies with FIA race safety requirements
FIA-homologated FT3 120 L fuel tank
FIA-spec fire extinguisher
Engine
Maserati Nettuno
V6 90° twin turbo
3000 cc
Power output to be determined in BoP (630-hp base engine under development)
Maserati Twin Combustion (MTC) Twin Spark with TJI double combustion control
Dry sump
Drive train/transmission
2WD 6-speed sequential racing gearbox with paddle shifters
Racing clutch and limited-slip self-locking mechanical differential
Bodywork
MC20 GT2 racing kit bodywork
High-performance aerodynamics
Multi-adjustable rear wing
High downforce
LED headlamps
FIA-approved rain light
Lexan front and side windows
Chassis
Ultra-light carbon fibre central monocoque
FIA-homologated safety roll cage
3/4 on-board air jacks
Brakes
Racing callipers and ventilated racing brakes
Bespoke brake cooling
Rims
Bespoke forged 18" aluminium rims
Centre lock system fittings
Slick tires
Suspension
Double-wishbone with semi-virtual steering axis
Adjustable racing dampers
Adjustable front and rear anti-roll bars
Interiors
Adjustable racing pedal box
Adjustable steering column
6-point racing safety belt
Multi-functional carbon-fibre steering wheel
Rear-view camera display (optional)
In-car camera for video recording (optional)
Dash and data acquisition system
Driving performance optimisation display (optional)
Air conditioning
Tyre pressure monitoring system (optional)
Adjustable racing ABS and traction control
* Subject to changes during vehicle development