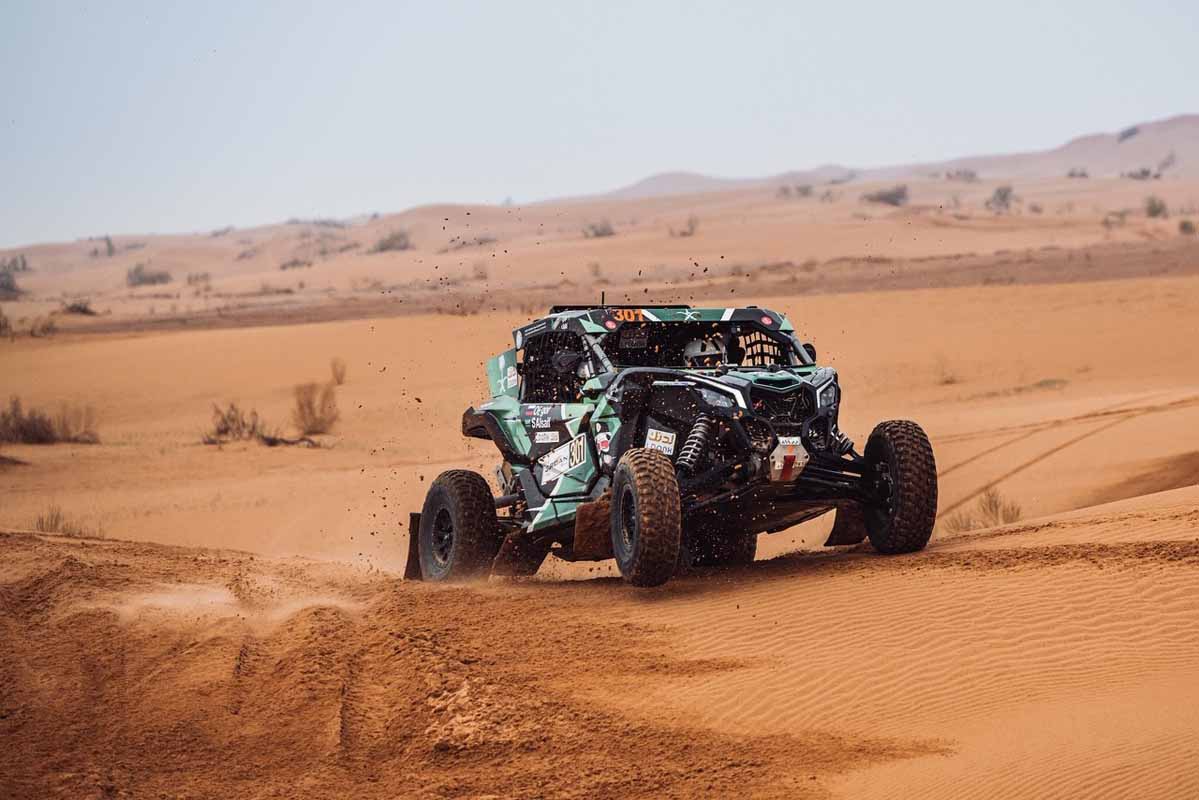 The Qatar Motor and Motorcycle Federation (QMMF) today (Sunday) released a staggering entry list for next weekend's Qatar International Baja, the second round of the FIM Bajas World Cup and round two of the FIA Middle East Cup for Cross-Country Bajas.
Twenty-eight cars, including 10 and six entries in the respective FIA T3 and T4 categories, have entered the three-day spectacle (March 24th-26th), alongside 29 motorcycles, six quads and one SSV in the FIM section. There will also be a National Baja running behind the main FIA event.
Competitors from 20 nations will head to the Losail International Circuit this weekend. The world class facility recently hosted the opening MotoGP race of the 2022 season and is the base for technical and administration formalities, rally HQ and the start and finish ceremonies.
While cross-country regulars, Nasser Saleh Al-Attiyah, Yazeed Al-Rajhi, Yasir Seaidan and Miroslav Zapletal, top the FIA T1 entry, there are some surprising names further down the list.
Kris Meeke has tackled two Qatar special stage rallies and one Dakar Rally in a career where the numerous highlights and international spotlight have been in the FIA World Rally Championship. The Andorra-based Ulsterman will team up with Frenchman François Cazalet to drive one of three Can-Am Mavericks entered by Nasser Racing.
A second Nasser Racing machine will be in the hands of WRC star Dani Sordo, the Spaniard making his first competitive appearance on an event in the Gulf region and his debut on the cross-country rallying scene in a T3 lightweight prototype Can-Am. The third Maverick will be in the hands of Al-Attiyah's brother Khalifa and his Italian co-driver Max Delfino.
Six Can-Ams have been entered by the QMMF Team for Ahmed Al-Kuwari, Ahmed Al-Muhannadi, a returning Adel Abdulla, Abdullah Al-Kuwari, Khalid Al-Muhannadi and Rashid Al-Muhannadi. Veteran Qatari rally driver Sadoon Al-Kuwari also returns to try his hand in a T4 Can-Am.
Mohammed Al-Balooshi is the early leader of the FIM Bajas World Cup and the Emirati tops the two-wheel contingent on a Husqvarna FR450, with main competition likely from his closest Jordanian FIM rival Abdullah Abu Aishah, Poland's leading Junior rider Konrad Dabrowski, Kuwait's Abdullah Al-Shatti and Dane Thomas Kongshoj.
Qatar will be represented on two wheels by the Extreme Enduro trio of Mohammed Al-Kaabi, Abdulrahman Al-Sheeb and Sheikh Mohammed Al-Thani and the Rasen Team's Yaghoob Azadi.
Saudi riders dominated the quad category, which also sees an entry from Belgium's Emiel Stuckens. Kuwait's Sarah Khuraibet and Poland's Joanna Modrzewska will be competing for points in the FIM Women's category, while Qatar's Abdullah Al-Khelaifi and Abdulaziz Al-Jabri crew the sole FIM SSV.
Seventeen-year-old female Emirati racer Aliyyah Koloc is the early pace-setter in the FIA Middle East Cup for Cross-Country Rallies Drivers' Championship and the FIA T3 section. The Can-Am pilot has 40 points to Hamad Al-Harbi's 33 points and Muneef Al-Salmani's 25. All three will take part in Qatar.
Koloc returns to action with Buggyra ZM Racing, alongside her twin sister Yasmeen in a second car. The experienced San Marino-based Camelia Liparoti will be competing for T4 honours in her Yamaha YXZ 1000R, but Kuwait's Meshari Al-Thefiri is the top seed in this category.
The 2022 Baja is being held under the chairmanship of QMMF President Abdulrahman Al-Mannai, QMMF's Executive Director Amro Al-Hamad and board member Abdulrazaq Al-Kuwari.