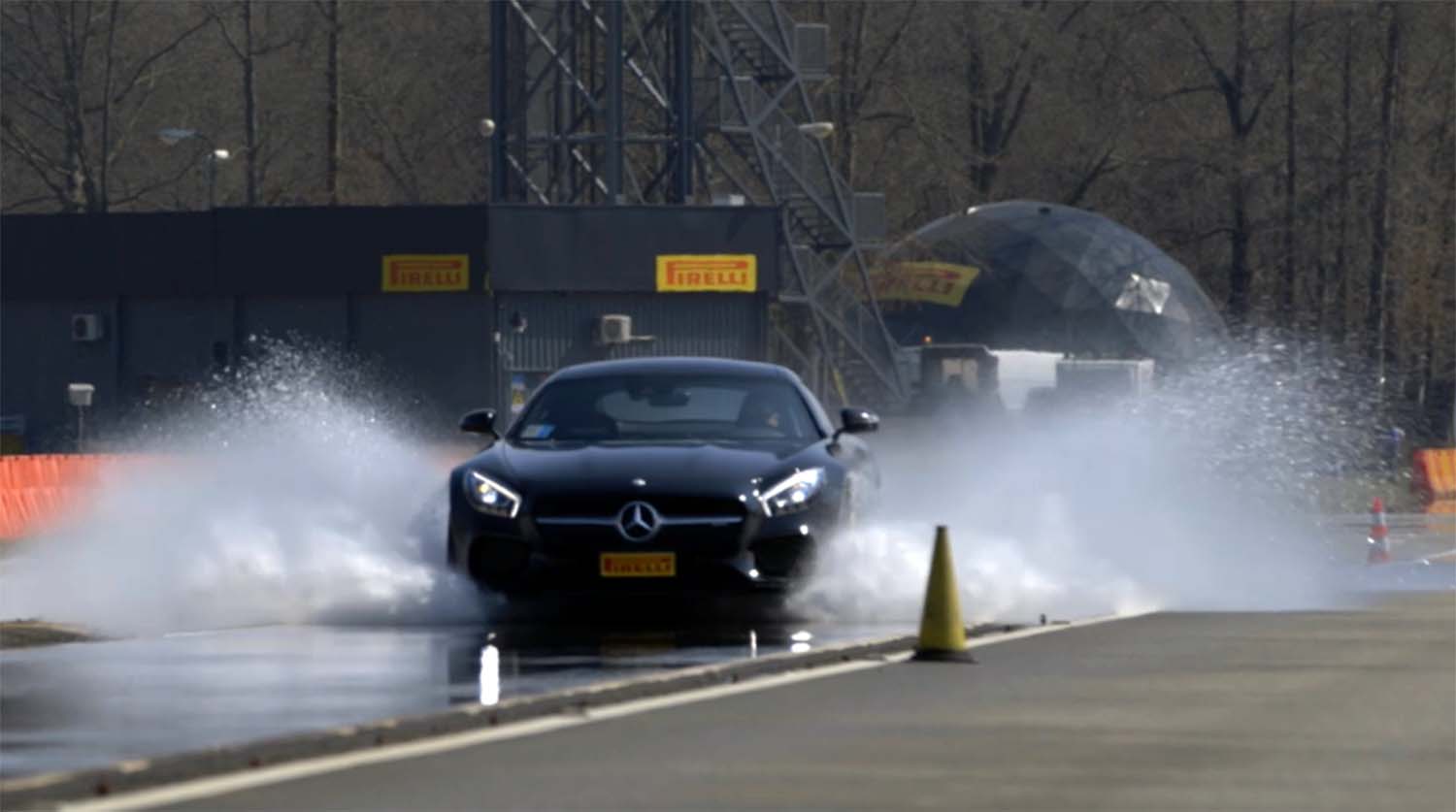 Cars today are incomparably safer than in the past thanks to the innovative technologies that are supporting every component of the vehicle. However, rain remains a real threat for safe driving especially that wet conditions have a major impact on tyre grip.
While the UAE rarely experiences heavy rainfall, there is always a margin for the unexpected and drivers are urged to make sensible driving decisions to ensure safety. According to the command and control unit of Dubai Police, nearly 1,900 traffic accidents occurred over a single weekend in January last year due to rainfall in Dubai, (source: uaebarq).
As a leading global tyre manufacturer, Pirelli strives to offer increased control on the road. Thanks to its engineers' passion for innovation and their exclusive experience of F1®, Pirelli innovate tyres that offer an increased grip in order to guarantee a high level of traction, stability and braking efficiency which translates to excellent comfort while driving.
As part of its commitment to sustain road safety, Pirelli Middle East has put together nine tips for UAE motorists to drive more safely when it rains.
Drive cautiously – The basic rule of driving in wet conditions is simple: to adopt a more cautious style – moderating speed, avoiding distractions and keeping both hands firmly on the steering wheel. Ensuring slow turns, gentle breaking while driving and paying extra attention to road signs ahead is essential to make sure traction is intact. Another key element is to also increase the distance between cars, ideally allowing around five seconds' braking distance.
Pay extra attention to road signs – It's always important to acknowledge road signs especially in rainy weather, as it enables the driver to react in good time by adjusting their speed and stay in control of the car. In particular, drivers are advised to be aware of road signs that warn of slippery surfaces and those that announce humps and underpasses, which are at high risk of flooding. Also, it is good to use lane markings and the right edge of the road as a guide, as it helps in avoiding oncoming traffic or being blinded by oncoming headlights.
Switch on the lights – It is the most essential and first step you should take when you are driving, and it starts raining heavily. Turn the headlights on as it will help you see clearly and also helps other vehicles see you.
Evaluate Tyre Condition – The tyres of a car play an essential role in road safety and guarantee increased safety. However perfect the mechanical elements of a car may be, it can never be 100% efficient without fully functional high-quality tyres.
Steer carefully – With caution and moderate speed, most dangerous situations can be averted but there is still a risk of oversteering or understeering in wet conditions. Instinct may lead to drivers accentuate steering, but the correct response is to lighten the throttle and straighten the steering wheel slightly until the wheels regain the right course.
Ensure good visibility – drivers must deal with visibility issues caused by rain. Checking windscreen wipers and using in-car climate controls to reduce the risk of internal fogging is a must ahead of getting on the road.
Watch out for foaming – tyres may lose grip on even a thin layer of water on the road. The rain can mix with dirt and oils deposited on the road, creating a particularly slimy emulsion, which can appear as foam emerging from the asphalt.
Tackle Aquaplaning – Even at just 50 km/h, driving into puddles can cause aquaplaning. The best way is releasing the throttle, gripping the steering wheel firmly and lightly touching the brakes if necessary.
Avoid deep water – If a driver cannot easily judge the depth of a puddle, the best thing to do is to be extra cautious. Water puddles could conceal a pothole capable of causing serious damage to tyres, rims and suspension – or even loss of control. The same advice applies to flooding, where the main risk of driving through deep water is inadvertently drawing it into the engine or getting the electrical system wet.
Perfect for the UAE weather and road conditions, Pirelli's tyre family boasts tread patterns that are designed to minimise aquaplaning.
3 Wide longitudinal grooves produce excellent water expulsion for the safety and control reserved in wet conditions. As a summer tyre range, Pirelli tyres are made from a specific type of compound designed to maintain high levels of reliability throughout the year.
The unique profile of Pirelli's summer tyres is designed to ensure lower rolling resistance, perfect grip on the road, and a shorter braking distance.