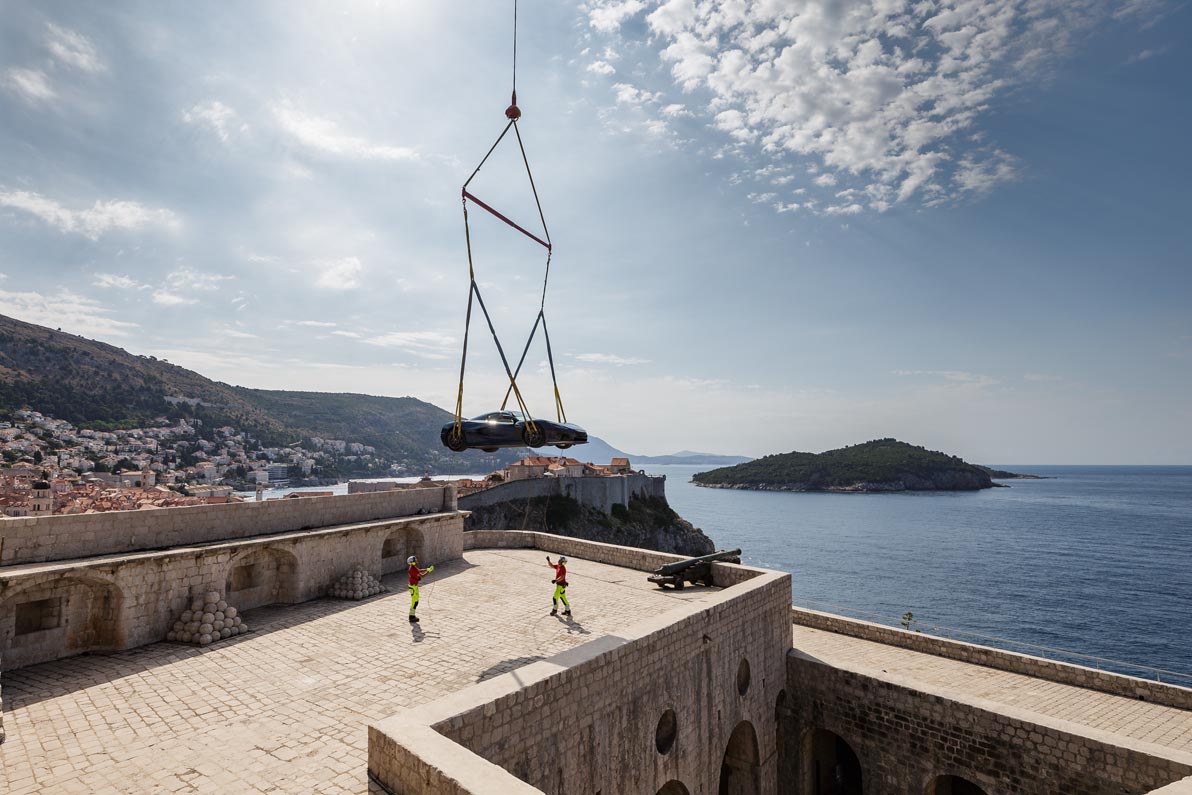 Today, Rimac Automobili will announce the next development in its journey from garage start-up to global all-electric hypercar manufacturer and technology innovator.
An exclusive event is being hosted in Dubrovnik, Croatia, today (Monday 5 July) with an example of Rimac Automobili's all-new 1,914hp Nevera – the world's fastest accelerating production car – helicoptered in for the occasion.
The event begins at 8pm CEST, with a livestream available to view here:
The Rimac Automobili story to-date:
The Past
Electric Glove (2005 – 2006)
Mate Rimac designs an electric glove that replaces a keyboard and mouse. He wins various awards worldwide and begins to express his talent for electronics.
The Washing Machine (2008 – 2010)
Mate buys his first car, 1984 BMW E30 and starts racing. During one of his races his engine fails, and he gets the idea to build and electric motor, based on his idol Nikola Tesla. His peers mocked him and initially named the car "The Washing Machine".
Slowly, the car started to win races and attract more and more attention. "The Washing Machine" soon became "The Green Monster" and became the first electric car to win against gas-powered engines.
Mate Rimac founds Rimac Automobili with the intention to build the first fully electric supercar. In April 2011 the first employees join the company and 5 months later, the Concept_One sees the light of the day at the Frankfurt Motor Show for the first time.
Mate sets 5 FIA & Guinness World Records for the fastest accelerating electric car with the converted BMW E30. Some of these records he still holds today.
Concept_One becomes Formula E's Official Race Director's Car.
Small Series Production (2015)
The company changes direction and in addition to developing electric hyprcars, becomes a technology solution provider to various industry OEMs.
Engineered and produced Rimac Tajima Pikes Peak racecar – 2nd overall.
Production version of the Concept_One launched at Geneva Motor Show (2016) and first customer delivery
0-100 kmh 2,5s
0-200 kmh 6s
0-300 kmh 14s
Power 900 kW / 1224 hp
Battery capacity 90 kWh
Range 350 km
Top speed 355 km/h
Weight 1900 kg
Limited number of units: 8
Dealer Network Expansion (2017)
Rimac Dealer network expands into three continents – North America, Europe and Asia.
Camel Group 2017 investment
Rimac Automobili closes a 30 million Euro investment with Camel Group – Asia's largest battery manufacturer.
Rimac is recognized as a technology partner to many global OEMs: Aston Martin, Koenigsegg, Renault, Jaguar Land Rover, and more.
The Present
Rimac Automobili launches the Rimac C_Two at the 88th International Geneva Motor Show.The next generation of hypercar is born.
Porsche investment (2018)
Porsche AG becomes a strategic partner and shareholder.
Automobili Pininfarina EV technology supply contract (2018)
Automobili Pininfarina announces €80m EV technology supply contract with Rimac. Rimac is to provide battery and drivetrain expertise, software and hardware, in a contract worth up to €80mil, to Automobili Pininfarina in the development of their electric hypercar, the Battista.
Rimac grows to 550+ full time employees.
Expansion of production facilities, opening of offices in Split and Osijek.
Hyundai Motor Company and Kia Motors invest 80m Eur in Rimac and establish a technology partnership (2019
The companies have announced a strategic partnership to collaborate on the development of two high-performance electric vehicles.
Extensive C_Two development and testing in progress (2019)
Porsche boosts shares to 15.5. percent (2019)
As Porsche increases the scale of its electrified model range, the partnership will call on Rimac's expertise in vehicle electrification, including powertrains, batteries and other components related to electrification and autonomous driving.
Rimac grows to over 1,000 employees (2020)
C_Two development and testing continues at a high pace (2020)
Porsche boosts share to 24 per cent (2021)
Porsche invests a further 70M EUR in Rimac Automobili, increasing its share of the business to 24%
Rimac Automobili announces the 200M EUR Rimac Campus (2021)
A brand new 200,000 sq/m headquarters for Rimac Automobili is announced just outside Zagreb, complete with on-site test track, kindergarten and woodland accommodation. Expected to be completed in 2023, large enough to house 2,500 employees
The C_Two officially released in production form as the Nevera.(2021)
Nevera becomes the world's fastest accelerating production car and delivers – or improves – on every single one of the Nevera's performance promises.
The Future
?