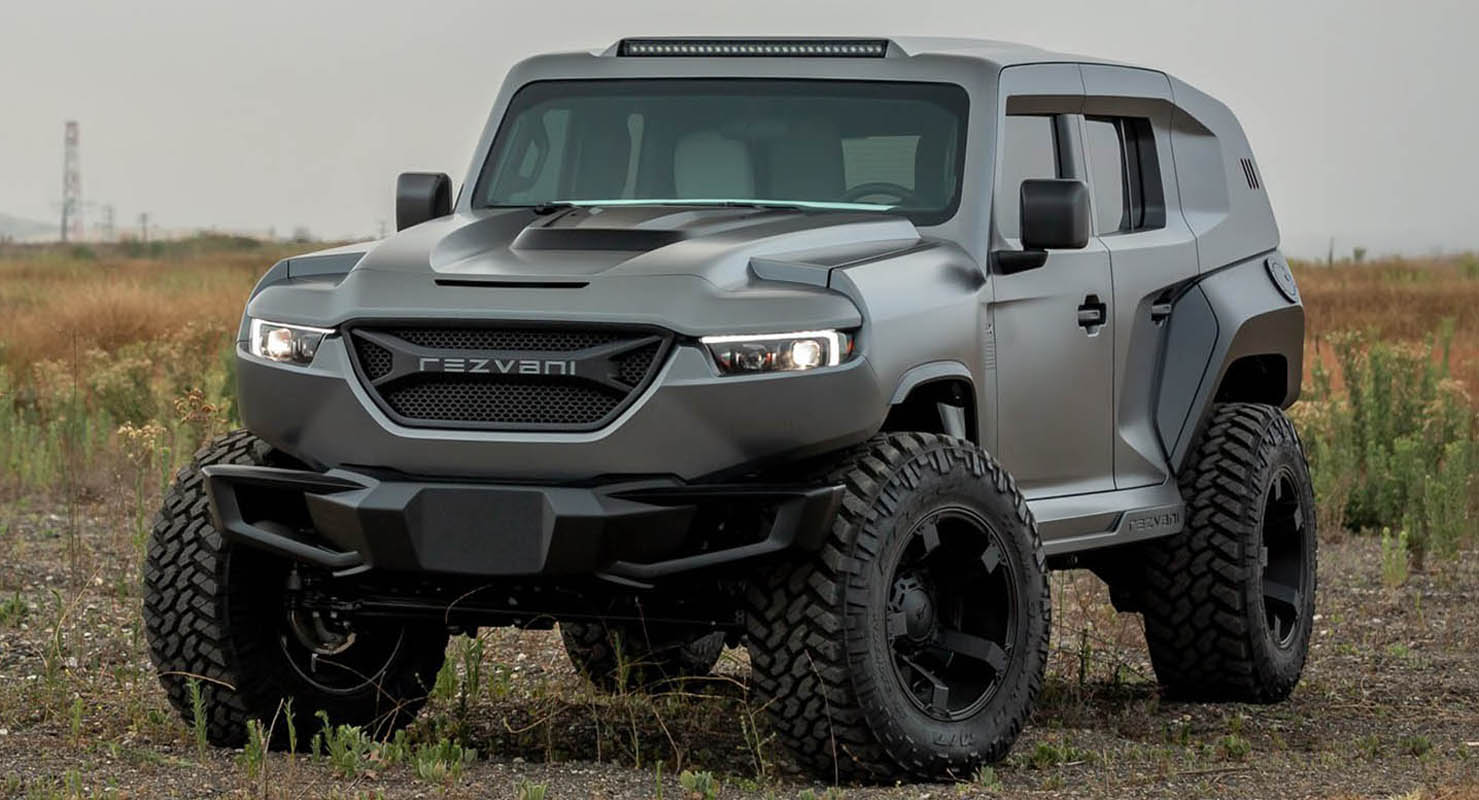 Rezvani unveiled its most extreme model to date. A street-legal, Xtreme Utility Vehicle (XUV), the Rezvani TANK embodies many of the same characteristics found on the military vehicle with the same name. TANK is the most hardcore, most capable vehicle the California-based automaker has ever built.
Under the hood is a powerful 6.4-liter Hemi V8 delivering 500 horsepower and 430 pound-feet of torque. The Rezvani TANK will feature a body-on-frame design, and an on-demand four-wheel-drive system standard on all trims.
Penned by award-winning designer Samir Sadikhov, the Rezvani Tank was inspired by the look of some of the world's most recognizable military vehicles, but designed for civilian use. Its rugged exterior is highlighted by a chiseled fascia, a defined profile, and comes paired to a capable, world-class suspension system.
The aggressive grille and sleek, defined headlights share similarities with the rest of the Rezvani range, including the Beast and Beast Alpha sports cars. At the base of the grille, two LED fog lights allow for added visibility while of trails and roads. A roof-mounted LED light bar also gives drivers another added lighting element.
The optional Off-Road Package adds on a 6-inch lift, and provides even more capable 37 x 12.5" off-road tires, Dynatrac ProRock 44/60 axle set with E-lockers, and Fox 2.5" Remote Reservoir Shocks.
The top-end Off-Road Extreme Package includes the same 6-inch lift found on the mid-range Off-Road Package, but includes added features like 37 x 13.5" tires, Dynatrac ProRock XD60/80 axle set with air lockers and an air compressor, Dynatrac ProGrip front and rear brakes, front 1350 and rear 1410 driveshafts, and Fox 2.5" Internal Bypass Shocks with DSC.
The cabin is defined by a hand-stitched Leather Package that provides comfort and compatibility for driver and passengers alike, with leather seats and a suede headliner. A 7.9-inch central infotainment screen provides access to features like Google Maps, Pandora, Stitcher, and a suite of apps optimized for use on and off road. A Head-Up Display (HUD) provides easy access to information without having to take your eyes off the road.
Alongside the healthy array of standard features, Rezvani also offers options to make your TANK even more capable, including:
FLIR Thermal Night Vision
Ballistic Armor: Kevlar Armor, Bulletproof Glass, Military-Grade Run Flat Tires, Kevlar Protected Fuel Tank, Floorpan, Radiator
Leather Package: Leather Seats, Suede Headliner
Tow Package: Tow Hitch, Front-Mounted Winch
Convenience Package: Automatic Opening/Closing Side Steps, Head-Up Display
GRID offroad wheel package, option for T6061 Air craft FORGED aluminum custom design wheels
The Rezvani TANK starts at $178,500 with deliveries beginning late in 2017. Orders are being taken now.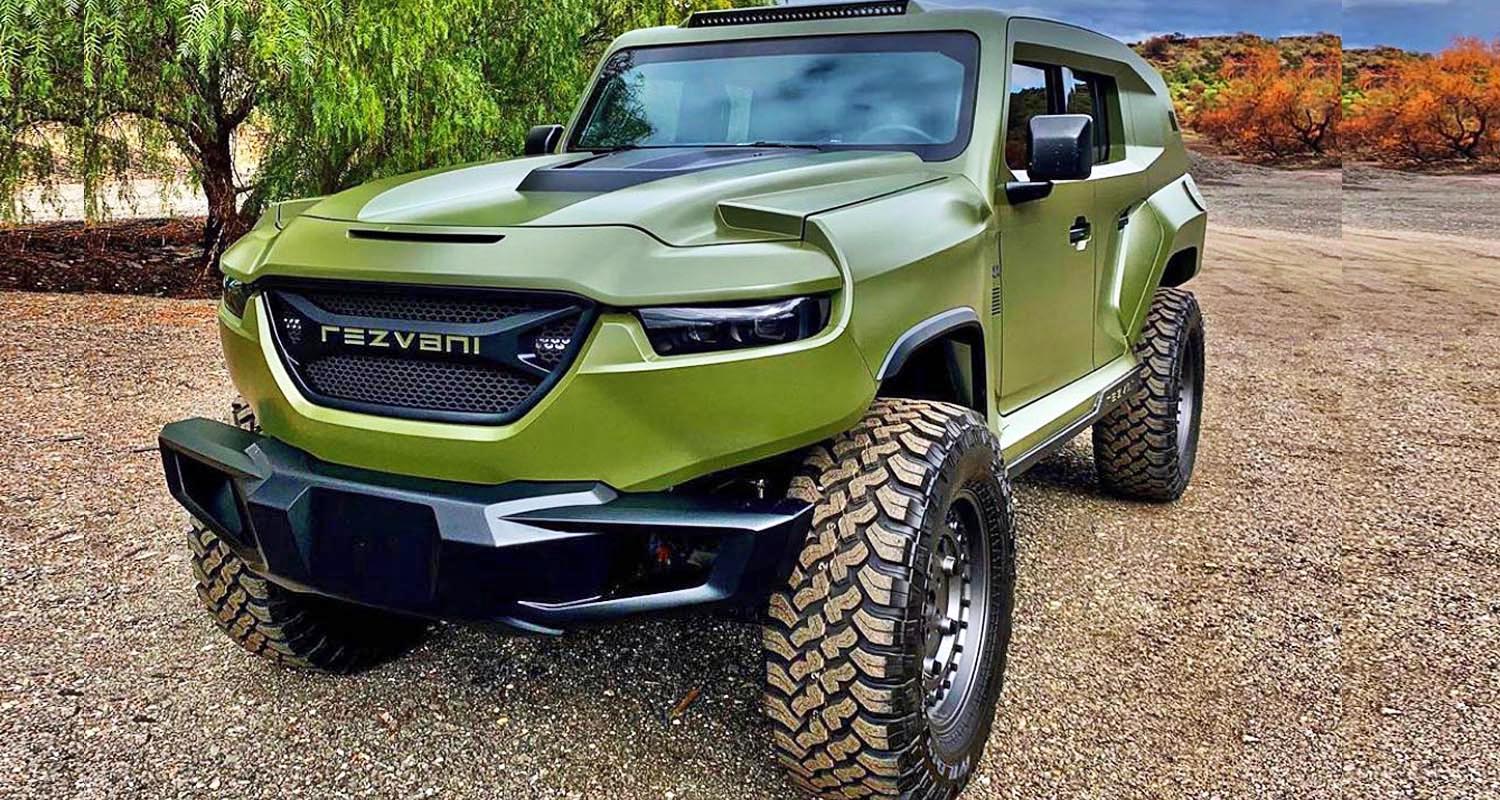 Video: