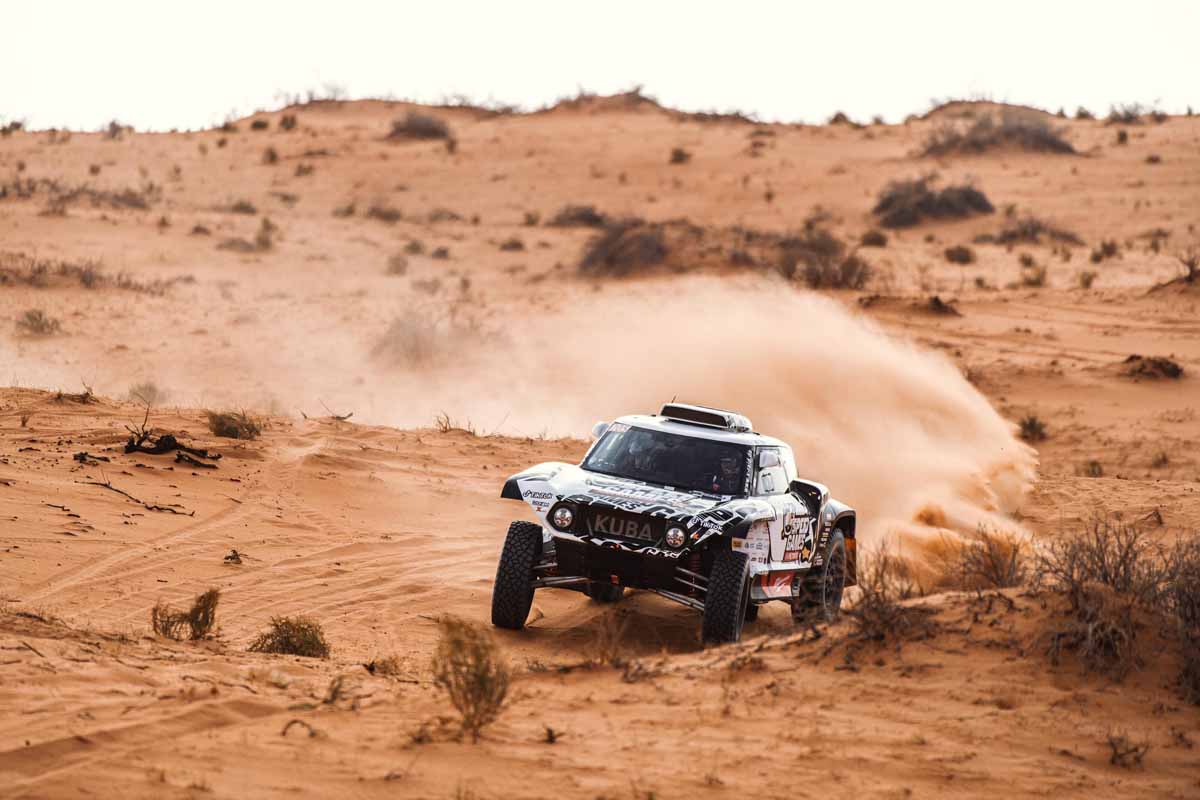 Poland's Jakub Przygonski beat Qatar's Nasser Saleh Al-Attiyah by 69 seconds to claim the fastest time on the second 314km selective section of the Hail Cross-Country Rally on Thursday morning.
But the bonus point that the Qatari collected for setting the second quickest time, coupled with the 1.5 points he earned for being fastest on Wednesday, pushed him ever closer to the FIA World Cup title in the duel with Toyota team-mate Lucio Alvarez. Al-Attiyah now leads the event by 7min 11sec, with his title rival down in sixth place, 24min 28sec behind.
Al-Attiyah said: "I am quite happy. It was a good stage and we take good points yesterday and today. This is good towards the FIA World Cup. We opened all the way and it was not easy. But we lost only one minute. Tomorrow we start behind Kuba (Przygonski)."
Przygonski and German navigator Timo Gottschalk moved to within three seconds of Denis Krotov's hold on second place, as the two X-raid Mini John Cooper Works Buggy drivers enjoyed another strong day in the An Nafud desert.
Fellow Mini Buggy driver Sebastien Halpern overhauled Vladimir Vasilyev's BMW X5 to snatch fourth place, but delays in the desert dropped Spaniard Laia Sanz out of the top 10.
The decision was taken on Thursday afternoon to withdraw Yazeed Al-Rajhi's Toyota from the event. The Saudi had lost too much time with gearbox issues to challenge for the win and early retirement was ultimately the course of action taken.
Martin Prokop continued test and development work on the 2022 specification Ford Raptor Cross-Country, while Juan Cruz Yacopini and Ronan Chabot gained more valuable time with the Overdrive Toyota Hilux T1+.
Three T4 Can-Ams now feature in the overall top 10. Poland's Michal Goczal holds a fine seventh overall and the lead in the FIA T4 section from his brother Marek and Ukraine's Ievgen Kovalevych in a third South Racing-built machine. Australia's Molly Taylor dropped several minutes to her rivals on the day and slipped to fourth in T4 with Dubai-based Briton Thomas Bell in fifth.
Saleh Al-Saif extended his FIA T3 lead to 35min 17sec with another fastest time. Dania Akeel came home in an unofficial second place, but Mashael Al-Obaidan displaced Germany's Annett Fischer to snatch second in the category. Ukbekistan's Anvar Ergashev was forced to retire on Wednesday evening: he had endured pain 500 metres after the start of the first stage and, even though he completed the opening test, it was later discovered that he had an arm fracture…
Othman Al-Ghfeli was fastest of the motorcycle entrants on the second stage by 3min 22sec from Mishal Al-Ghuneim and the Saudi moved into a lead of 13min 47sec over his rival. Italy's Mauro Torrini came home in third and climbed to fifth in the standings behind Abdulhalim Al-Mogheera and Ahmed Al-Jaber.
Abdulmajeed Al-Khulaifi maintained an unofficial advantage in the quad standings with a second stage win. Haitham Al-Tuwaijri and Hani Al-Noumesi came home in second and third places, but the result was unofficial pending any potential penalties imposed later by rally officials.
Saeed Al-Mouri was the unofficial winner of the stage in the National category in his Can-Am. The Saudi beat fellow countryman Al-Mashna Al-Shammeri by nine seconds to hold the outright lead. Aliyyah Koloc is classified in third place.
Japan's Teruhito Sugawara (Hino) pipped Frenchman Teo Calvet to the stage win in the Truck section, but Calvet and his Czech crew of Josef Kalina and Tomas Sikola continue to lead the category in their Tatra.
Tomorrow (Friday), competitors tackle a third selective section of 249km that starts 229km from the bivouac and features passage controls after 77km, 172km and 232km. A short liaison of 47km returns teams to the bivouac in Hail.
2021 Hail Cross-Country Rally – positions after SS2 (unofficial @16.00hrs):
FIA
Nasser Saleh Al-Attiyah (QAT)/Matthieu Baumel (FRA) Toyota Gazoo Hilux 7hr 04min 18sec
Denis Krotov (RUS)/Konstantin Zhiltsov (RUS) MINI John Cooper Works Buggy 7hr 11min 29sec
Jakub Przygonski (POL)/Timo Gottschalk (DEU) Mini John Cooper Works Buggy 7hr 11min 32sec
Sebastien Halpern (ARG)/Bernardo Graue (ARG) MINI John Cooper Works Buggy 7hr 23min 35sec
Vladimir Vasilyev (RUS)/Oleg Uperenko (LVA) BMW X5 7hr 24min 06sec
Lucio Alvarez (ARG)/Armand Monleón (ESP) Toyota Hilux Overdrive 7hr 28min 46sec
Michal Goczal/Szymon Gospodarczyk (POL) Can-Am Maverick (T4) 7hr 38min 35sec
Marek Goczal (POL)/Lukasz Laskawiec (POL) Can-Am Maverick (T4) 7hr 48min 54sec
Ievgen Kovalevych (UKR)/Dmitro Tsyro (RUS) Can-Am Maverick (T4) 7hr 49min 59sec
Miroslav Zapletal (CZE)/Marek Sykora (SVK) Ford F-150 Evo 7hr 53min 56sec
Molly Taylor (AUS)/Dale Moscatt (AUS) Can-Am Maverick (T4) 7hr 58min 47sec
Laia Sanz (ESP)/Maurizio Gerini (ITA) Mini John Cooper Works Rally 8hr 10min 16sec, etc
2022 spec T1+
Martin Prokop (CZE)/Viktor Chytka (CZE) Ford Raptor Cross-Country 7hr 48min 46sec
Juan Cruz Yacopini (ARG)/Alejandro Yacopini (ARG) Toyota Hilux Overdrive T1+ 8hr 30min 09sec
Ronan Chabot (FRA)/Gilles Pillot (FRA) Toyota Hilux Overdrive T1+ AWAITED
Motorcycles
Othman Al-Ghfeli (UAE) Honda CRF450                 6hr 05min 49sec
Mishal Al-Ghuneim (SAU) Husqvarna FR450 Rally 6hr 19min 36sec
Abdulhalim Al-Mogheera (SAU) KTM EXC 450 6hr 26min 59sec
Ahmed Al-Jaber (SAU) KTM 500 EXC-F                 6hr 28min 09sec
Mauro Torrini (ITA) KTM EXC-F 500 6hr 29min 16sec, etc
Quads
Abdulmajeed Al-Khulaifi (SAU) Yamaha Raptor 700 6hr 20min 07sec
Haitham Al-Tujaiwri (SAU) Yamaha YFZ 450 7hr 16min 01sec
Hani Al-Noumesi (SAU) Yamaha Raptor 700 8hr 27min 11sec
Abdulaziz Al0-Sjayban (SAU) Yamaha YFZ 450 14hr 00min 00sec
Abdulaziz Al-Atawi (SAU) Yamaha YFZ 450 14hr 06min 09sec
Trucks
Teo Calvet (FRA)/Josef Kalina (CZE)/Tomas Sikola (CZE) Tatra Phoenix 9hr 50min 35sec
Teruhiro Sugawara (JPN)/Hirokazu Somemiya (JPN)/Yuji Mochizuki (JPN) Hino 600 10hr48min 02sec
Ibrahim Al-Muhanna (SAU)/Osama Al-Sanad (SAU)/Tariq Al-Rammah (SAU) Mercedes Unimog AWAITED