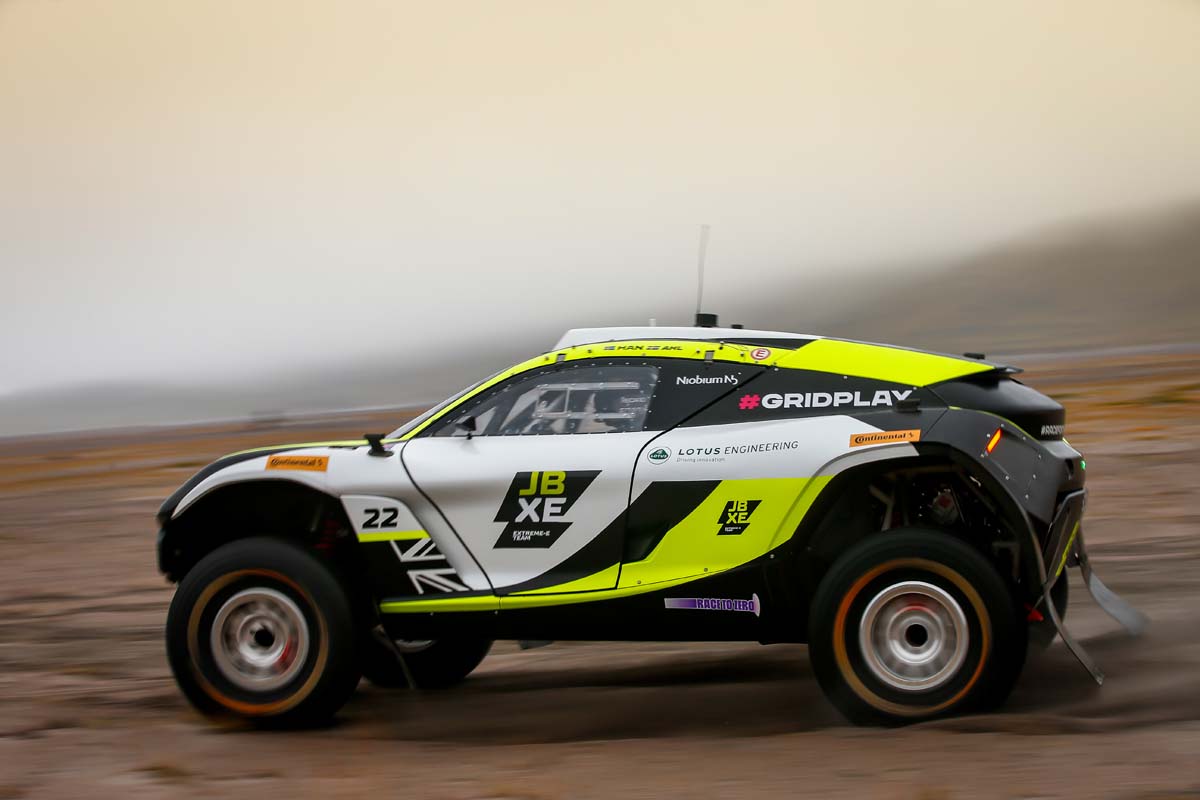 Proceedings got underway in Kangerlussuaq, Greenland today as 18 world-class drivers and nine Extreme E teams got their first taste of the 6.68-kilometre Arctic X Prix course, building anticipation for tomorrow's qualifying runs and Sunday's all-important finals.
23 August marked the beginning of a historic week for Greenland, a week in which the country is set to host its first-ever motorsport event – the Arctic X Prix. However, the poignant message behind Extreme E's five-race global voyage was brought to the fore less than two weeks ago when the country's ice cap witnessed its first rainfall on record – a stark reminder of the climate crisis and why the series exists.
Alejandro Agag, Founder and CEO of Extreme E, said: "I think being here makes you realise how unique Extreme E is. Of course, all the other locations were quite unique, but something had happened there before. The Dakar goes through Saudi Arabia including AlUla and the Dakar also was in Dakar, Senegal before, but nothing's ever happened in Greenland before of this kind. This is the first-ever car race here, in fact, the first race event of this kind here in Greenland.
"This was the first venue I saw when I was researching locations for Extreme E two years ago. I wanted to go to Greenland ever since I started Extreme E. I remember when I came here with the Formula E car, we wanted to do the iceberg run we actually did it on the ice cap near Tasiilaq in eastern Greenland. So, when I was looking for Extreme E, I needed somewhere where the ship could come close, not far from the ice cap with a bigger runway so I looked with Google Earth going through all of Greenland. I saw the runway so I zoomed in and saw there was a road, so I googled the town nearest which was Kangerlussuaq. I didn't want to race on the ice as I knew we'd have more reactions racing on the ice but this area was the right place as we are close to the ice cap but not on it.
"As far as the series is concerned, I am very pleased how it is going and we are growing up – we haven't fully grown yet but we are getting there. Saudi was all new, we knew very little and now we know a bit more from Senegal and of course, we are learning all the time. I think we have the right race format now, but we will have to see how it works this weekend!"
Friday saw a change of pace from Thursday's solar panel and go-kart focussed Legacy Programmes, as the competitors acclimatised themselves with the challenging course that runs alongside the Russell Glacier. A brief shakedown session was followed by free practice.
ABT CUPRA XE set the pace in practice with a total time of 13:58:499 to go over 20 seconds clear of their nearest rivals. Andretti United was next up enjoying a clean run en route to the second-fastest time.
Lewis Hamilton's X44 squad would continue their consistent form posting the third quickest lap while the XITE ENERGY RACING powered by myenergi car managed the fourth-best time.
Championship leaders Rosberg X Racing encountered an early setback to their quest for three in a row with mechanical issues hampering their progress. JBXE's Kevin Hansen endured a puncture during his run resulting in the sixth fastest overall time.
ACCIONA | Sainz XE Team, Segi TV Chip Ganassi Racing and Veloce Racing all encountered technical gremlins and were forced to stop on track in a tricky session for the three luckless squads.
Christine GZ, XITE ENERGY RACING powered by myenergi driver, said: "The track is really hard and super technical. There are areas with a lot of sand and areas with a lot of rocks and you have to switch really fast but I just loved it so much, it was really cool and hope tomorrow will be even better."
"I don't think the rock garden was that bad, some people seemed to struggle there but I thought it was ok!"
Kevin Hansen, JBXE driver, said: "I enjoyed it a lot but for sure, it was challenging but I wouldn't have it any other way!"
"I'm keeping that secret to myself as to where it was (where the puncture happened) so I know where it was and the others won't expect that!"
Molly Taylor, Rosberg X Racing driver, said: "Yeah you walk it (the course) and you don't really know what to expect and so it was nice just to have a run in the car.
"Look anything could happen in these events so you need to get the speed and all those one-percenters and sometimes you need a bit of luck as well. We're just going to do the best job that we can and take each session as it comes which will hopefully put us in a good place. But everything's feeling good."
Sara Price, Segi TV Chip Ganassi Racing driver, said: "The battery has overheated unfortunately. We're now figuring out what the next plan is for the team to execute a successful weekend so we are going to go back to the pits and work on our strategy."
Competitive running begins tomorrow (Saturday, 28 August), with Qualifying 1 and Qualifying 2 being aired at 09h30 and 14h00 (WGST) respectively. The Semi-Finals and Final will then take place on Sunday (29 August) as the Arctic X Prix reaches a crescendo with its first-ever winner being crowned.