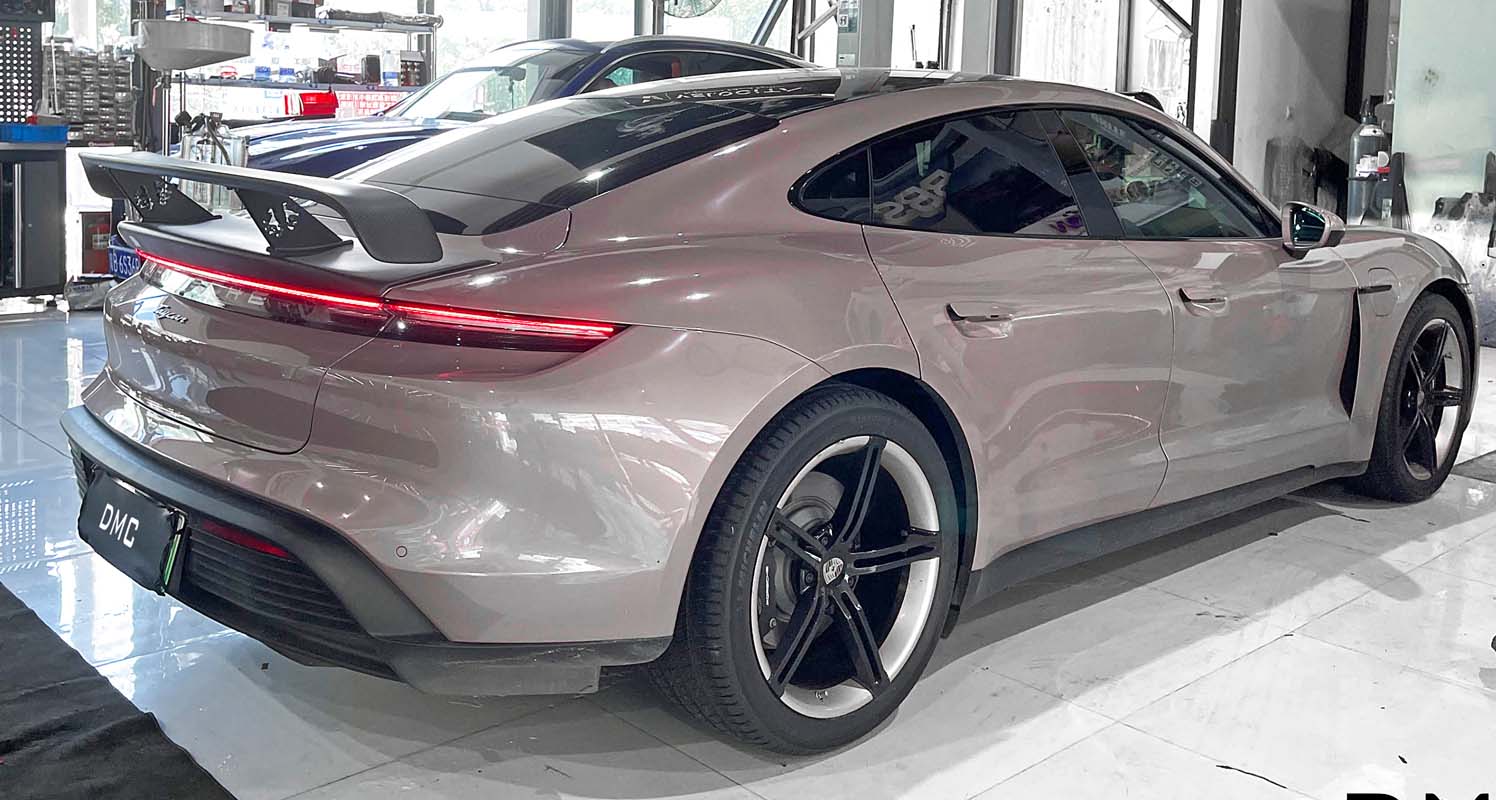 DMC enters the electric car modification market with its breath-taking aero kit for the brand new Porsche Taycan. As we are used to from the German Tuners, all parts are made of ultra-lightweight carbon fiber.
In order to add an aggressive and sporty look, DMC has developed an individual aero kit for the brand new Taycan Coupe. While the market is already filled with elegant soft designs, the tuners from Dusseldorf decided to place their bet on a package, defined by its GT3 style appearance.
First to market: GT Aero Kit by DMC made from Carbon Fiber
As we just heard, the team that is known for their Lamborghini creations, has decided to bring that very same DNA to their Taycan package. DMC has carefully developed an agressive aerodynamic solution for the electric Porsche, using 3D Technology and Wind Tunnel Analysis. The scanner hardware used in this project has an accuracy of 0.4 mm, and Wind Flow has been has been tunnel simulated with X-Flow. Furthermore, the tuners have also completed an array of chosen CFD calculations to analyze the wing behaviour and to fine-tune and improve the spoiler's performance.
Function before form was applied, but that didn't mean that the design of DMC's aero kit had to suffer. By contrast, all DMC parts' lines were drawn with the OEM body shape in mind, creating a kit that doesn't look aftermarket at all.
Let's have a look at what potential buyers would get when choosing to DMC their Taycan:
The new aerodynamic package consists of a front lip, which replaces the original part. It is continued with Side Skirts that fit under the Taycan's Side Panels, resulting in an improved road stability. The highlight however, is the brand new rear wing, which sits on a duck base spoiler that can also be used by itself.
Natually all components are made not from Visible Carbon, but from Prepeg Carbon Fiber. Insiders know that this Choice of material is on-par, if not even exceeding OEM quality specs.
It has been in DMC's DNA to maintain the car's original structure since day one of it's product history, and the new DMC Taycan is not different. In order not to drill holes, DMC has created a base spoiler, which can be used as a duck wing on its own. But if one decides to go further, that very same DMC Duck Spoiler can become a base for the bigger GT Wing Set-Up. The latter has its own Aerodynamic Environment, calculated by DMC's engineers. Hence the original Taycan spoiler will have to be turned off. This is achieved by nothing less than the original Porsche PIWIS software that clients have access to, through DMC.
One can argue that DMC's wing is polarizing, but that might very well be what the German tuners from Dusseldorf have had in mind. It's not for everybody, but for the special someone, that likes to stand out. And with the number of Taycans growing world-wide, this certainly might be a special way to go. To stand out of a crowd, with a Taycan that can now very likely can be mistaken for a Porsche GT3 or Panamera Turbo.
But DMC didn't stop here. The company's very own Edizione-GT department, which is allowed to develop parts without market-boundaries, came up with the first illuminated rear emblem for the Taycan. The customer can choose to have these letters as PORSCHE, or replaced with ANY name or decal he likes. Since DMC's Illumination Bar is run with its own set of LEDs, the nightly effect is one to watch out for. The sky is the limit, and DMC has certainly hit the nerve of time, in a world where each client seeks to create a totally unique custom car, which only exists once in the world.
Last but not least, there is an individualization programme available by DMC for the interior. The Steering wheel, Center Panels and other items are now available as custom Carbon Fiber trims by DMC. And if the client wants to go way further, the engineers can welcome your Taycan at their premises in Dusseldorf Germany and replace every single panel with a leather of your choice, let it be cattle, crocodile or other exotic sources.
The Aero-Package starts at USD 5990 and can be optioned to reach USD 24990 if you choose to add forged wheels as well as a full interior make-over.