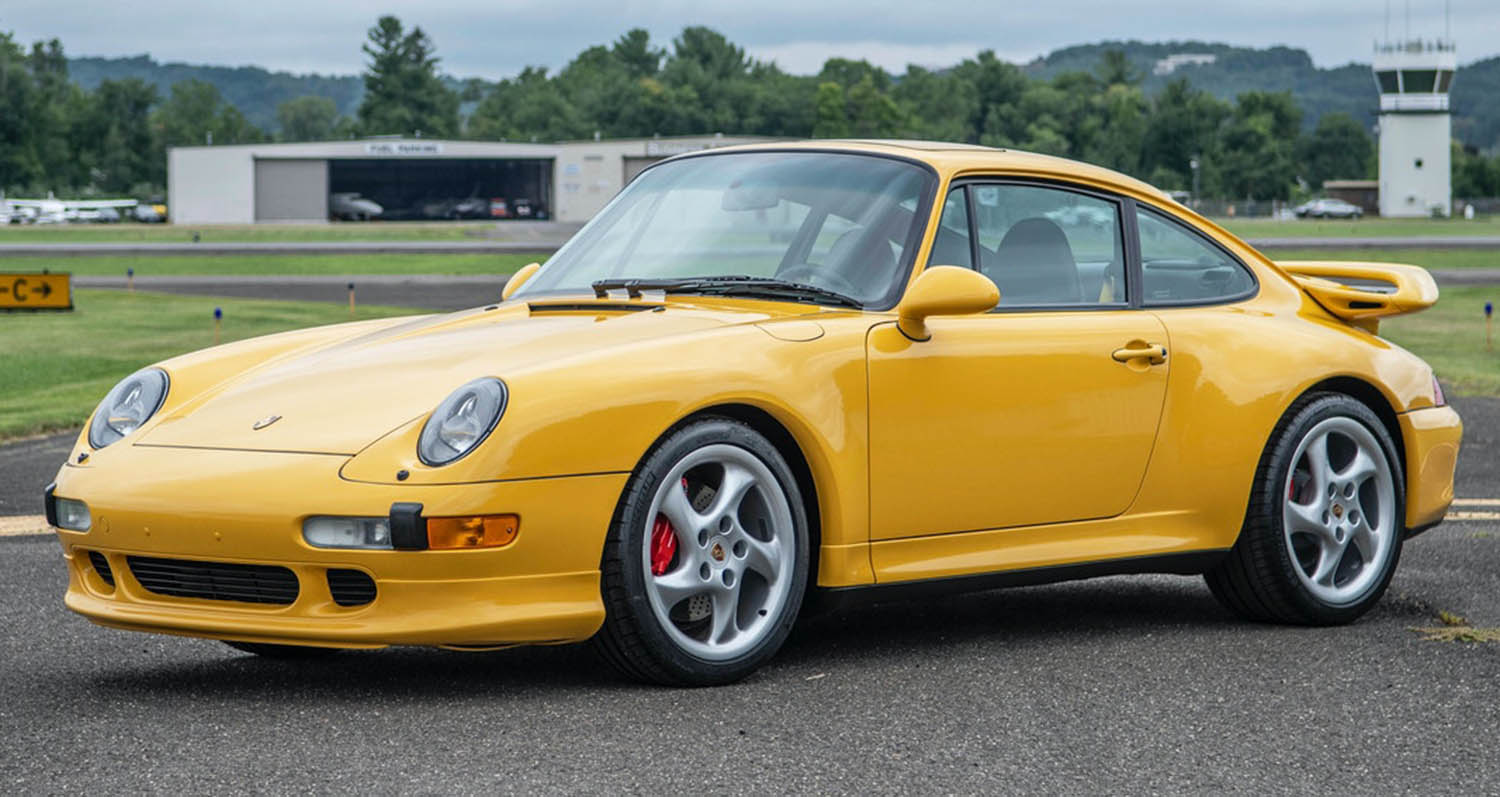 An outstanding example of Porsche's 911 (993) Carrera 4S has broken auction world records for the variant with a winning bid of $270,000.
The 1997 model remains in original condition and has been meticulously stored and maintained, showing just 1,126 miles from new.
Finished in striking Speed Yellow, the iconic air-cooled 911 is one of just 1,752 examples built for the US market and comes equipped with a myriad of sought-after options including Porsche's Aero Kit, sport seats, engine sound package, and a leather-trimmed dashboard and door panels.
The Carrera 4S has the wider body from the 911 Turbo of the era and is fitted with the Porsche VarioRam engine, offering 282bhp from the 3.6-litre naturally aspirated flat-six coupled to a six-speed manual gearbox and four-wheel drive system.
Both interior and exterior remain completely original and received a comprehensive clean from famed detailer Larry Kosilla of AMMO, an expert in preservation of factory finishes. Kosilla remarked on the exceptional originality and even documented the work on his popular YouTube channel.
In May 2021, the vehicle was treated to a full inspection and recommission service by a Porsche specialist in Connecticut. As well as the usual consumables, the service included a new fuel pump and pump relay, new lower valve covers and gaskets, front ABS sensors, front suspension struts and a fresh set of new Michelin Pilot Sport 2 tyres.
Sold through online auction platform Collecting Cars, the record sale highlights not only the power of competitive bidding but also Collecting Cars' position as the premier online marketplace for high-value Porsches. Furthermore, as the buyer's premium is capped at $5,000 in the US, the premium paid by the winning bidder worked out to just 1.85%.
Edward Lovett, founder of Collecting Cars, said:
"This 993 Carrera 4S is an incredible example of Porsche's modern classic sports car and will make a stunning addition to any assembly of the marque's most sought-after models. Practically untouched, a sale of a 993 this well preserved is almost unrepeatable."
The result represents the latest in a string of world record prices achieved by Collecting Cars, including the highest values for a Porsche 911 Reimagined by Singer (£800,000), Renault Clio V6 in both Phase 1 (£59,000) and Phase 2 (£52,750) guises, the Audi RS2 Avant (£77,000), and the Land Rover Defender Works V8 70th Anniversary (£146,000). It also holds the European auction record for the Porsche Carrera GT (£765,500).
To find out more information, visit Collecting Cars.
Compared to traditional car auctions, Collecting Cars offers significantly better value for sellers and buyers alike. For sellers, the detailed photographic presentation and professional descriptions mean their car is showcased in the best possible way, and it is marketed to a huge captive audience of passionate enthusiasts. Furthermore, there is no listing fee, and they receive 100% of the hammer price.
For buyers, the premium on auction lots is levied at just 5% (+ VAT for UK buyers) – substantially lower than tradition auction houses, which typically charge 12% or more – and is capped at £6,000. On hammer prices above £100,000 this means that the buyer's premium is even less than 6%