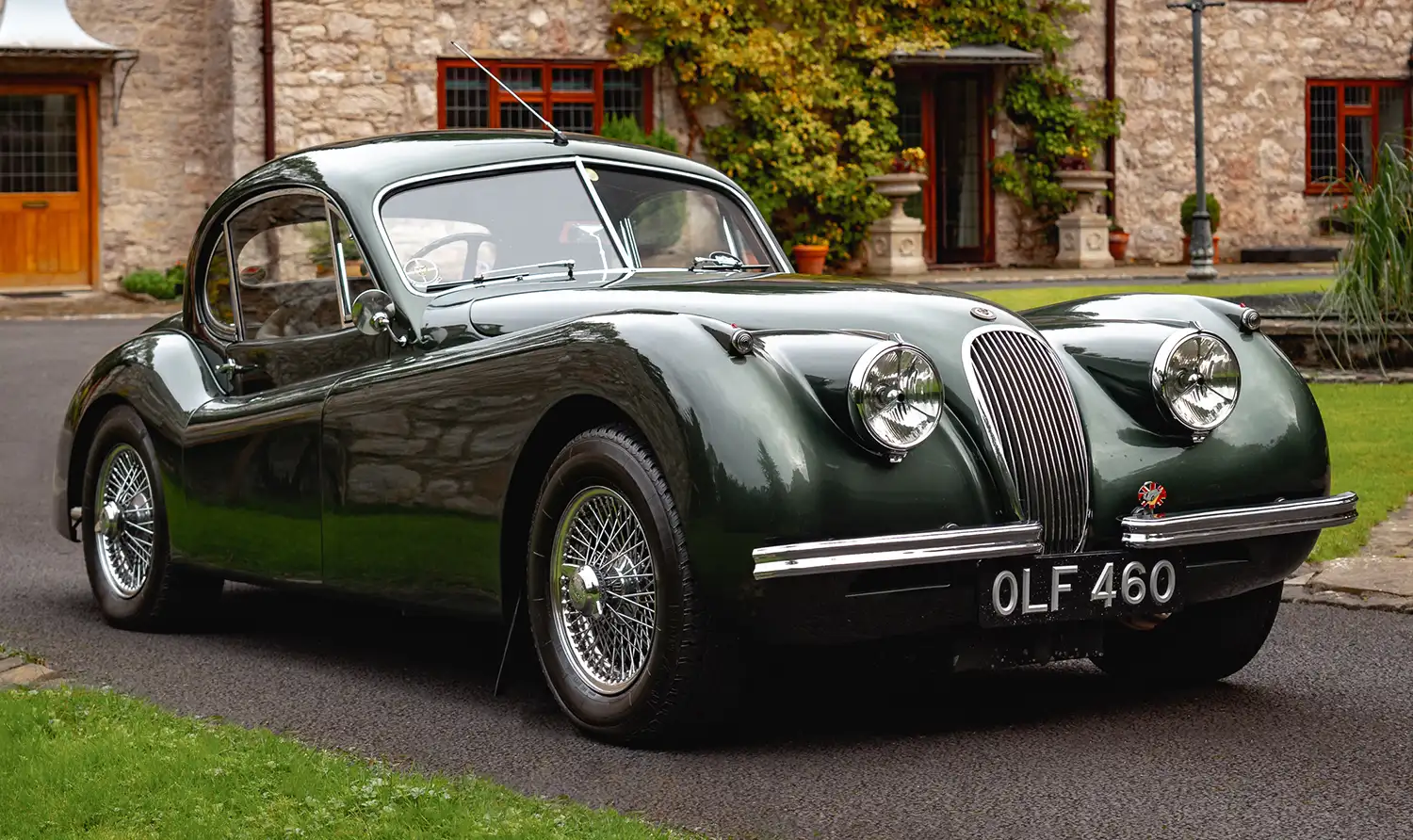 H&H Classics is set to offer a rare 1954 Jaguar XK120 Fixed Head Coupe, once the pride and joy of Britain's most accomplished lady racing driver, Patsy Burt. This legendary vehicle will be offered for sale on 29 November at The Pavilion Gardens, Buxton, estimated between £100,000 – £120,000.
Patsy Burt, a name synonymous with British racing excellence, was no stranger to the challenges faced by women in motorsport during her era. Despite remarks like "Look, a woman driving. Oh, what a waste of a beautiful motor car," made at Goodwood, Burt's indomitable spirit saw her switch from road cars to single-seaters in 1958. This XK120 was more than just a car to her; it was a statement and testament to her grit and resilience.
One of only 195 XK120s built to right-hand drive specification, 'OLF 460' was initially supplied via Henlys of London to Patsy Burt herself. Throughout its storied life, the Jaguar has been in esteemed company, from notable XK120 FHC owners to its participation in various sprints and hill climbs.
Damian Jones, senior motorcar specialist at H&H Classics, said: "The Jaguar XK120 holds a significant place in British motoring, especially with its ties to Patsy Burt's legacy in motorsport. It's a privilege to have this vehicle at our auction. Beyond its engineering, it's the history behind it, and its connection to Burt, that truly stands out."
With a significantly more potent 3.8 litre XK DOHC engine and numerous modern upgrades that seamlessly blend with its authentic charm, 'OLF 460' is a vivid reminder of a golden era in motorsport and the historical icons, like Burt, who left an indelible mark.
"To own 'OLF 460' is to own a significant piece of history," Jones added "Not only does it embody the breakthroughs and advancements of its time, but it also carries the spirit of Patsy Burt – a trailblazer who redefined what was possible for women in the world of motor racing."
The Jaguar XK120, cherished by Patsy Burt, has been meticulously maintained to capture the essence of the era and the heart of its legendary owner. It stands as an icon to a remarkable period in British motoring history, ready to ignite the passions of a new generation of enthusiasts and collectors.
Interested buyers and enthusiasts are invited to experience this iconic piece of automotive history, representing Patsy Burt's legacy, and explore a pivotal moment in motoring heritage. Bidding can be done online, via telephone, commission bid or in person at The Pavilion Gardens, Buxton. For those eager to preview the entire collection, the lots will be available for viewing on 28 November prior to all the cars going under the hammer on 29 November, visit www.handh.co.uk.