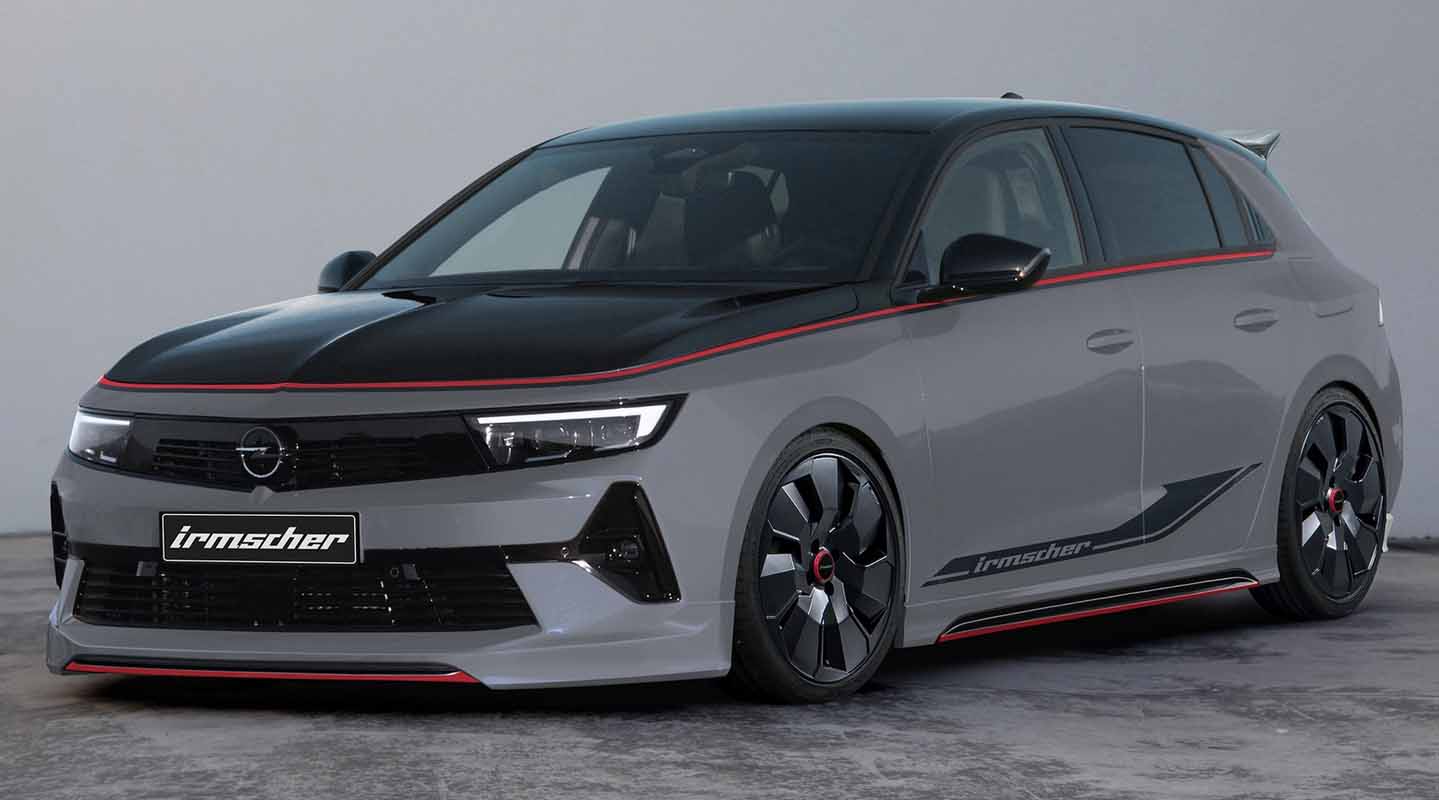 For the market launch of the new Opel Astra, Irmscher is already presenting a complete individualization program. In close cooperation with Opel Automobile GmbH, an extremely dynamic, fully integrated body kit was designed and implemented. This effectively underlines the design language of the overall impression.
The first glance at the front already reveals the clear differentiation – the deep-drawn front apron lip and the indicated air intake emphasize the individual appearance of this new vehicle. On the side, there are dynamically integrated side skirts which extend over the entire lower side area and generate a new impression of the side view. The lines of the side skirts merge seamlessly into the rear apron.  The striking diffuser underlines the sporty ambitions of the Opel Astra with this body kit. An expressive roof spoiler adorns the tailgate and extends you dynamically upwards. The sporty decals underline not only the design lines but also the ambitions of the road athlete. The individualization kit is available for all drive types.
The new designed Irmscher rim generation hears on the name "Cosmo Star" and is available in the exclusiv (surfaces diamond polished) and in black as 19 inch wheel.
This new innovative rim design underlines the dynamic design of the new Opel Astra with its modern two-dimensional shape. The complete wheels with tires in the dimension 225/45 19 inches contribute to the sporty driving behavior just like the lowering by approx. 30mm. Furthermore Irmscher offers as an option the Irmscher "High Star" wheel generation in 19 inch as well as the "Turbo Star" design variant in 18 inch. All designs are available in exclusive and black variants.
The interior also features extensive modifications such as stainless steel door sill trims, high-quality velour carpets and practical center consoles. From the Irmscher manufacture one can select most different noble leather in all colors and arrange itself so its individual complete leather equipment.
The Irmscher group of companies converted in your more than 50-year-old existence far over 500,000 vehicle in Irmscher modification places to special models. The new Bodykit and further individualization possibilities are with each Opel Irmscher partner as Aftersalesteile as well as complete special models in the stages of completion is1 / is2 and is3 to refer. It is also possible to purchase the parts directly from Irmscher at www.irmscher.de.