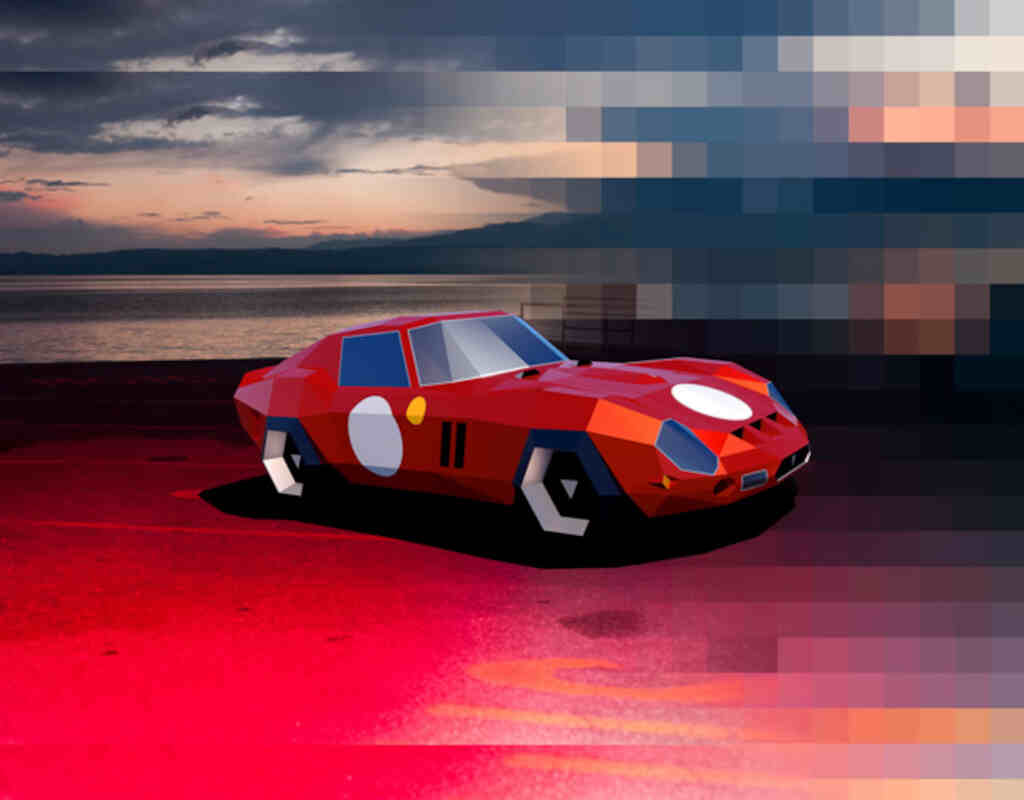 Classic cars are universally loved, with car aficionados going to great lengths to maintain and preserve their vehicles. But classic car enthusiasts don't stop there, spending fortunes collecting classic car memorabilia and even art.
To meet the exploding demand for Classic car art, artists are reimagining artworks for vintage vehicle enthusiasts, and one creative partnership is showcasing their car passion as NFT artwork.
In 2021 the demand for NFTs (Non-Fungible Tokens) burst into the public consciousness, as collectors and artists found new ways to acquire and share their artwork.
Tapping into this movement Mike Turner, 48, from Allestree, Derby, professional vehicle designer for over 25 years and low poly car artist, and his pal Jens Mueller Commercial Designer for state of the art virtual stage settings, got together to create an NFT collection of Crypto-Carz Low Poly Car Classics, which they will be auctioning to raise money for charity.
Although Mike is a vehicle designer in his day job, he still has a passion for cars when he relaxes, so he unwinds by creating "clunky-but-cute" low polygon versions of some of the most iconic road and race cars.
Mike said, "I was inspired by early video game graphics from my youth, and they continue to be my muse even now."
Mike's first NFT collection of his Low Poly Car Lab sold out within days and his second collection is on sale now .
For this third collection of Low Poly Car Classics, he collaborated with virtual stage designer Jens to produce a stunning set of exclusive high quality NFT's inspired by classic road and race cars in a bid to raise money for charity.
The artwork series was born from Mike and Jens' shared passion for cars, design, conceptual image making – and the pure fun of artistic experimentation and collaborative exploration.
The artwork collection will inevitably appeal to auto enthusiasts, designers, classic vehicle owners and art collectors.
The team worked together to capture a series of nine classic vehicle designs – celebrating a range of iconic masterpieces from the past 50 years. Including the General Motors Vandua Van driven by BA Baracus in the A-Team to homages of the Lamborghini Countach and a stunning red Ferrari 250 GTO beloved by celebrities and the uber wealthy. So If you can't afford the car, then here's a chance to own the NFT.
Mike used his professional CAD (Computer Aided Design) tools to create the Low poly vehicles. Jens combined these with his high quality virtual sets to transition from a high-resolution, "real world" photo into an abstract colour mosaic – creating a perfect symbiosis with the low-poly vehicle.
Their high quality, super high resolution images (over 11K pixels wide!) look stunning in any environment – the NFT can be reproduced physically or displayed digitally in all their intricate glory.
This auction of the digital originals in NFT format is not to be missed – and by supporting the project you will be helping others, as 100% of all profits will be donated to charities important to the Team.
CHARITIES THAT WILL BENEFIT:
https://www.crisis.org.uk is a UK charity for homeless people. Crisis help people directly out of homelessness and campaign for the changes needed to solve it altogether.
https://www.vivaconagua.org/en/ supports access to clean drinking water, sanitation and hygiene worldwide.
Photos: Crypto-Carz / Mike Turner