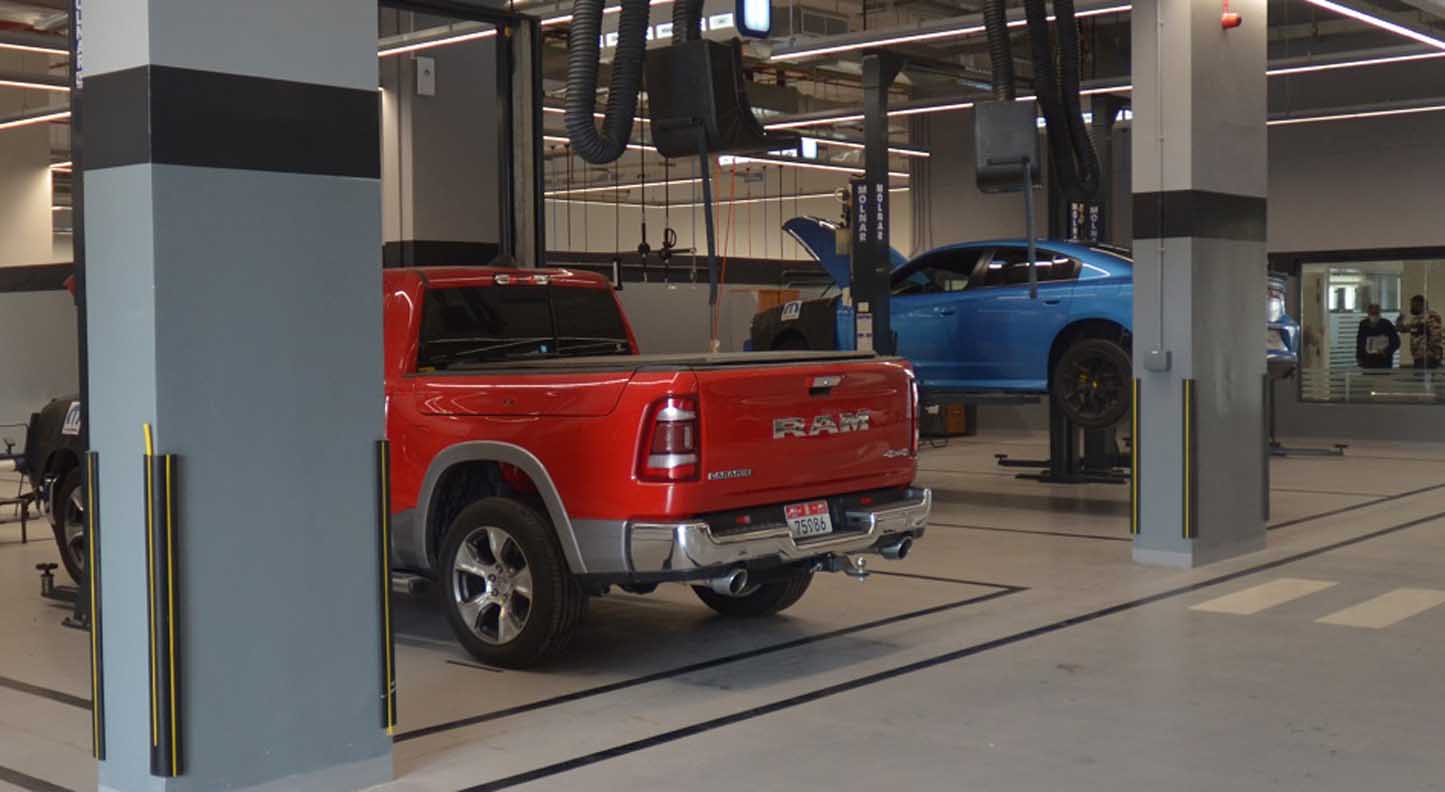 Al-Futtaim's Trading Enterprises – the exclusive distributor of Chrysler, Dodge, and RAM in the UAE, and Jeep in Dubai and Northern Emirates, has announced a relocation of its service operations in Abu Dhabi with the opening of the company's new Mopar aftersales centre in Mussafah. The new facility will cater to the increasing number of customers in the UAE capital, providing a time-efficient and convenient service experience all the way from the drop-off to the pickup of the vehicle.
Committed to providing a premium ownership experience, the new state-of-the-art facility delivers a new interactive service concept featuring drive-in air-conditioned vehicle handover areas with personal customer reception managed by service advisors. Offering a unique deskless space, each service area is equipped with a large display monitor and high seating lounge, exclusively designed for a convenient, transparent and barrier-free customer interaction. The service process ensures personalised, time-efficient customer experience, delivered in a completely safe environment, especially that each reception area is cleaned and sanitized after every customer meeting.
Commenting on the new facility opening, Oscar Rivoli, Managing Director at Al-Futtaim's Trading Enterprises, said: "The new service centre was designed with the customer in mind, offering a facility that gives our customers the chance to openly interact with our service advisors, hand over their vehicles conveniently in a climate controlled environment. Trading Enterprises' new Mopar service facility promises customers peace of mind and an ultimate combination of quality, transparency, timeliness, reassurance, professionalism and expertise at all times."
"The new facility is equipped with state-of-the-art features and services that are delivered by our highly qualified personnel, within a climate-controlled, safe workshop environment for optimum efficiency and excellence. Committing to our promise of exceptional customer satisfaction, we are extremely proud to inaugurate and welcome our customers to our service centre in Abu Dhabi," Rivoli added.
Located on the popular auto stretch in Abu Dhabi's Al Musaffah Industrial Area, the new service centre is Trading Enterprises' sixth service facility in the UAE. It is equipped to service up to 40 cars per day, along with a multi-story parking that can house up to 90 vehicles at a time, ensuring an efficient customers visiting journey to the centre. The service centre is conveniently located next to the Mopar body repair facility, consolidating all vehicle maintenance and body repairs in one easy-to-reach location. For those customers handing over their vehicles, a complimentary taxi services to transport them to their preferred destination within Abu Dhabi are available.
For the safety of customers and employees, the facility undergoes regular sanitization as do vehicles following a thorough Mopar 360-degree sanitation process to keep visitors and employees safe. Social distancing protocols are implemented, and all employees will wear disposable masks all the time to ensure the safety of both the team and visitors to the facility. Prior to handing over the vehicles to customers, all touchpoints inside the vehicle will also be wiped down and sanitized; these include door handles, armrest, gear shifter, ignition switch, parking brake release, dashboard, instrument cluster, window, and mirror controls.
The new centre operates from Saturdays to Wednesdays from 8:00 am to 6:30 pm and 8:00 am to 5:00 pm on Thursdays, and closed on Fridays and public holidays. Customers are reminded that the old Mopar Service Centre in Al Musaffah Industrial Area has now closed, and they are invited to visit the new facility. Customers can book an appointment by calling 800-4119 or visiting the website www.tradingenterprises.ae. They are also reminded to call 800-445566 for 24×7 vehicle roadside assistance.
Trading Enterprises is subsidiary of the Al-Futtaim Automotive Group, one of five divisions within the Al-Futtaim Group which provides quality products and services that enrich people's lives and aspirations each and every day.