2021 is a special year for Jeep® as the brand marks its 80th birthday with a celebration of eight decades of 4×4 leadership, open-air freedom and adventure.
The Jeep legend began in 1941 with the fabled Willys MB – the first ever mass-produced 4×4 vehicle – and grew over the decades with the constant launch of new products building an enduring reputation that has seen the brand become synonymous with off-road excellence.
But constant innovation have seen the legend evolve, with comfort, handling and connectivity now every bit as much of the Jeep DNA as its off-road prowess.
Now, as the Jeep brand celebrates its eighth decade, it is entering the next exciting phase in its history; embracing the future with the ambition to become a leader in sustainable mobility technologies. This is the mission of a brand strongly rooted in tradition, yet one with the ability to evolve constantly to meet new customer targets and the environmental issues of the imminent future.
This, of course, involves electrification and the brand entered a new era with the launch of its first plug-in hybrid models in the EMEA region – the new Renegade 4xe and Compass 4xe – in 2020.
As the first two vehicles to carry the 4xe badge, Renegade 4xe and Compass 4xe are Jeep's take on electrification and offer zero-emission mobility, when driving in full electric mode. This has been coupled with the all-terrain safety of the Jeep eAWD system that activates when needed to provide the best possible balance between efficiency, driving fun and attention to the environment. Since their launch in September, 4xe models have generated huge interest, with 10,500 orders placed. In fact, the new models have proved so successful that, in the last three months of 2020, one in every five Jeep vehicles purchased in Europe was a 4xe.
The 80th anniversary celebrations will play out across through the whole of 2021, with dedicated events created to bring customers and enthusiasts closer to the brand and its heritage. The first event took place today with a web conference, where Antonella Bruno, Head of Jeep Brand EMEA, unveiled the new '80th Anniversary' special-edition models. Not only do these models pay tribute to the brand's 80-year history, they also continue the long-established tradition, started in 1966, of producing special-edition models to mark special anniversaries or achievements.
New '80th Anniversary' special-edition models
The star of 2021 will be the '80th Anniversary' special series, the celebratory limited-edition models available on Renegade, Compass, Wrangler and Gladiator. Each '80th Anniversary' model is based on the best-selling variant, and offers standard safety and technology features alongside aesthetic flourishes that make them truly unique.
The first Jeep '80th Anniversary' model to debut is the Renegade, which is already available at Jeep dealerships across Europe. Compass, Wrangler and Gladiator '80th Anniversary' will arrive in spring.
Although there are many differences between these Jeep SUVs in terms of size and character, they all share an unmistakable look, courtesy of specific design cues, including '80th Anniversary' badging enriched by low-gloss Granite Crystal accents; diamond-pattern cloth seats with tungsten stitching and '80th Anniversary' logo; interior high-gloss black accents and logo tag on seats and mats. Dedicated alloy wheels complete the exterior look of the new commemorative models.
Powered by internal combustion engines and Jeep plug-in hybrid systems, they will also be packed full of advanced technology and safety features, as all of which enhances Jeep's unparalleled 4×4 capability.
New high-tech content includes 8.4- to 10.1-inch touchscreens, DAB radio and navigation with smartphone integration and UconnectTM services, full LED pack and new 'Since 1941' infotainment system screen.
The '80th Anniversary' special edition will also be the first version of New Compass to debut in the European market, ahead of the official launch of the new model with a dedicated event later this year.
In the last few days, production of the New Compass for the European market commenced at the FCA plant in Melfi (Italy), while orders will soon open in Italy and Germany – first markets to introduce the new model in the region.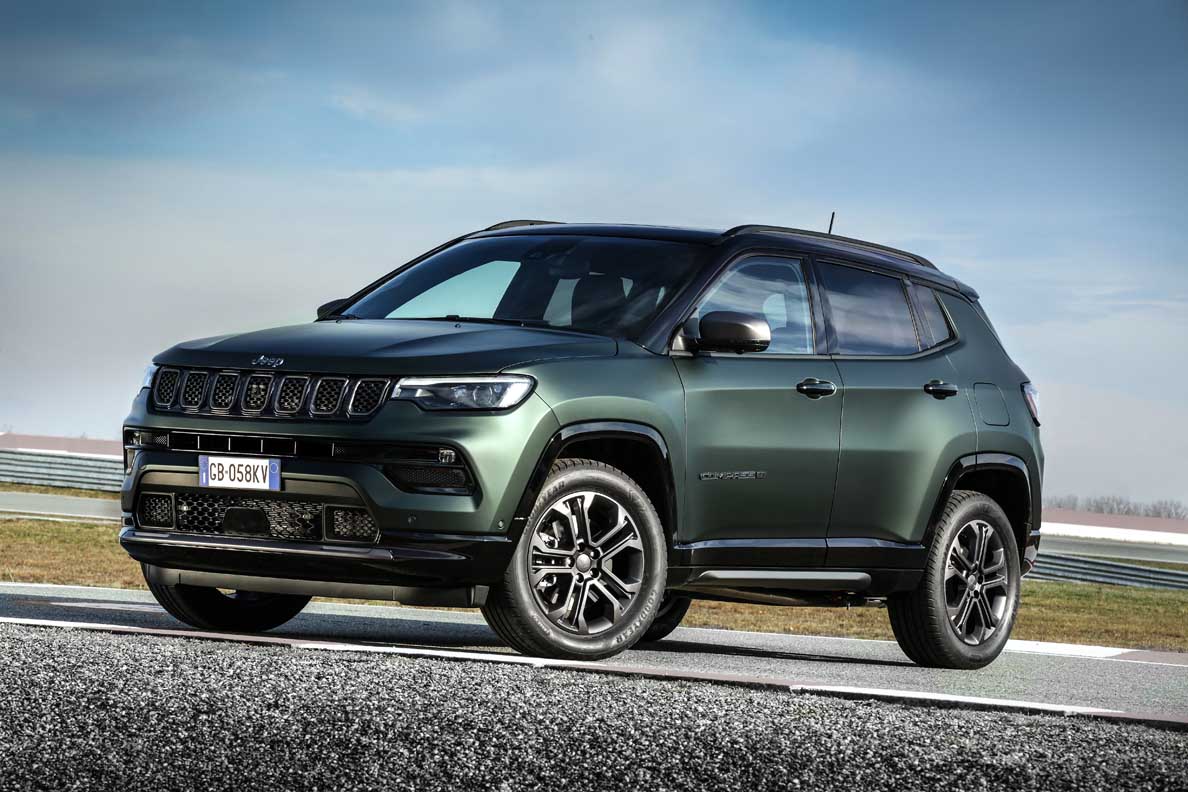 A year of exclusive events and services for all members of the Jeep family
This year's product news will be accompanied by special communications initiatives and dedicated events, to bring even more customers and enthusiasts closer to the Jeep tradition.
One such initiative is Jeep Wave, the new programme offering Jeep owners exclusive services and a special benefits to enhance their sense of belonging to the community at the heart of the Jeep experience around the world.
Jeep Wave will be offered from January on the '80th Anniversary' special series and all 2021-purchased or leased Jeep vehicles. It is marked out by a logo inspired by the traditional greeting of Jeep owners – a raised hand waving, or two or four fingers extended upward from the steering wheel. This gesture of friendship is part of Jeep history, and all 'Jeepers' are pleased to uphold this tradition.
The main benefits of Jeep Wave include: the first two scheduled vehicle services (within 24 months of the purchase), thanks to the 'EASY CARE' two-year maintenance programme, a 24/7 roadside assistance service, a Priority Customer Service provided by a dedicated, multi-lingual Jeep Call Center and privileged entry to brand events and partnerships. The new Jeep Wave program has already been launched in the main European markets and all the others will follow in the coming months.
80 years of innovations, now making the brand a leader in a more sustainable future
Of course, there have been many changes since 1941, but the way Jeep conceives its vehicles – and how most owners live them everyday – have been constants. This has created the global perception of Jeep as a symbol of freedom, adventure, authenticity and passion.
Just think back to the 1941 Willys MB, followed in 1949 by the four-wheel drive Willys Wagon, that kicked off the Sport Utility Vehicle (SUV) category, and the 'invention' of the 'Premium' SUV with the Wagoneer in 1963. In its eight decades of history, Jeep has always been a pioneer of new segments and new technologies. It is now ready to write a new page in its long history with the new Renegade 4xe and Compass 4xe models.
These pioneers will be soon joined by the Wrangler 4xe plug-in hybrid – the most technologically advanced and capable Wrangler ever – unveiled last September in Detroit (USA). Among other epic journeys, the new model has recently managed to complete – in full-electric mode – the Rubicon Trail on the Sierra Nevada mountain range, one of the world's most challenging off-road tails and the terrain Jeep has long used to test and improve the off-road capability of its SUVs.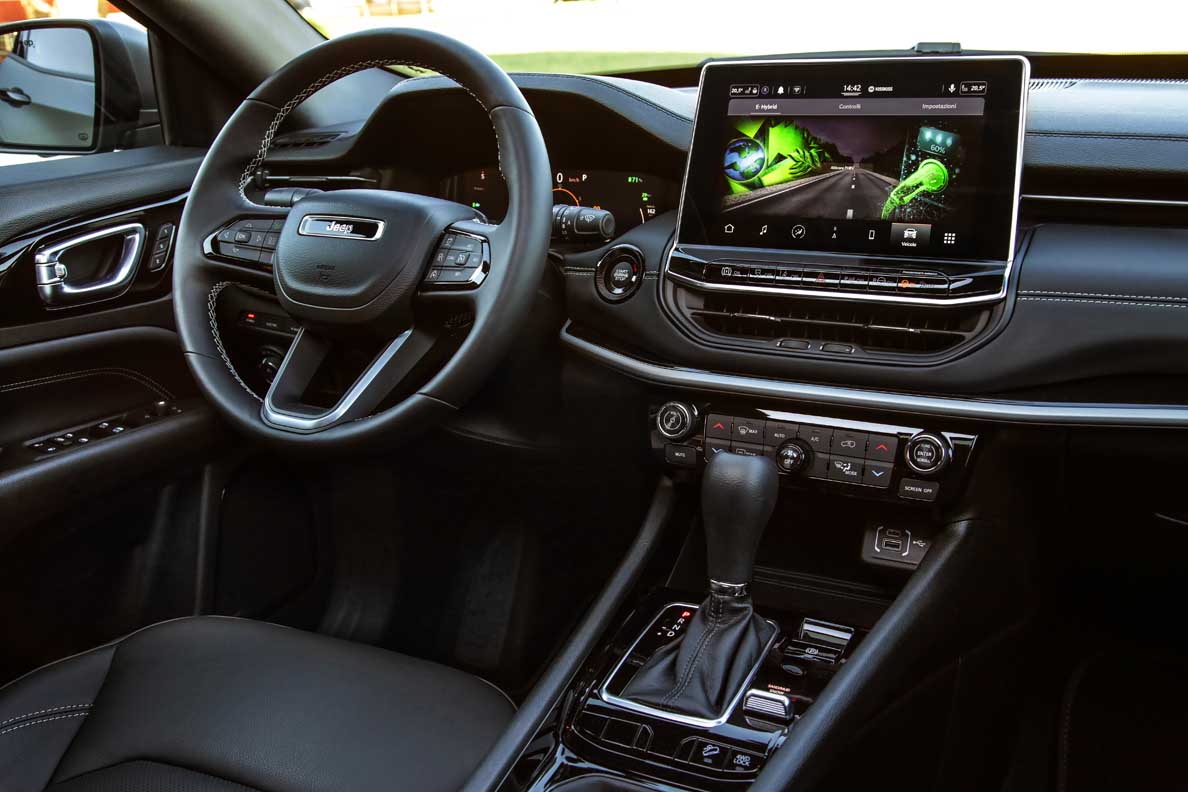 New Jeep Compass '80th Anniversary'
Soon available for orders in Italy and Germany, the New Compass features a refreshed high-tech profile, while maintaining its distinguished urban, modern and sophisticated spirit.
The new model boasts a refreshed exterior and completely new interior, as well as new advanced infotainment systems. It will be offering a choice of petrol, diesel and plug-in hybrid powertrains, and a suite of new technology content for a more comfortable and enhanced urban driving experience. New safety systems will also enhance Jeep's renowned 4×4 capabilities.
The first version of the New Compass to arrive in the European market will be the '80th Anniversary' special edition. Flagship of Jeep's "80th Anniversary" range, this commemorative model will be marked out by exclusive design cues, such as celebratory badges and exclusive 18-inch alloy wheels.
Outside it features LED head lamps, Neutral Grey finishes on the wheel rims, front grille, lower fascia, rearview mirror caps and roof rack. Gloss Black accents adorn the lower panels, fender flares, roof and fog lamp bezels.
New features include a 10.1-inch touchscreen, DAB radio, fifth-generation UconnectTM system with wireless smartphone integration, Apple CarPlay, Android Auto, interactive 3D Tom Tom navigation and UconnectTM services.
In the cabin, the special-edition model features a Black leather-wrapped dashboard and diamond-pattern leather-and-fabric seats with Diesel Grey stitching and '80th Anniversary' tag.