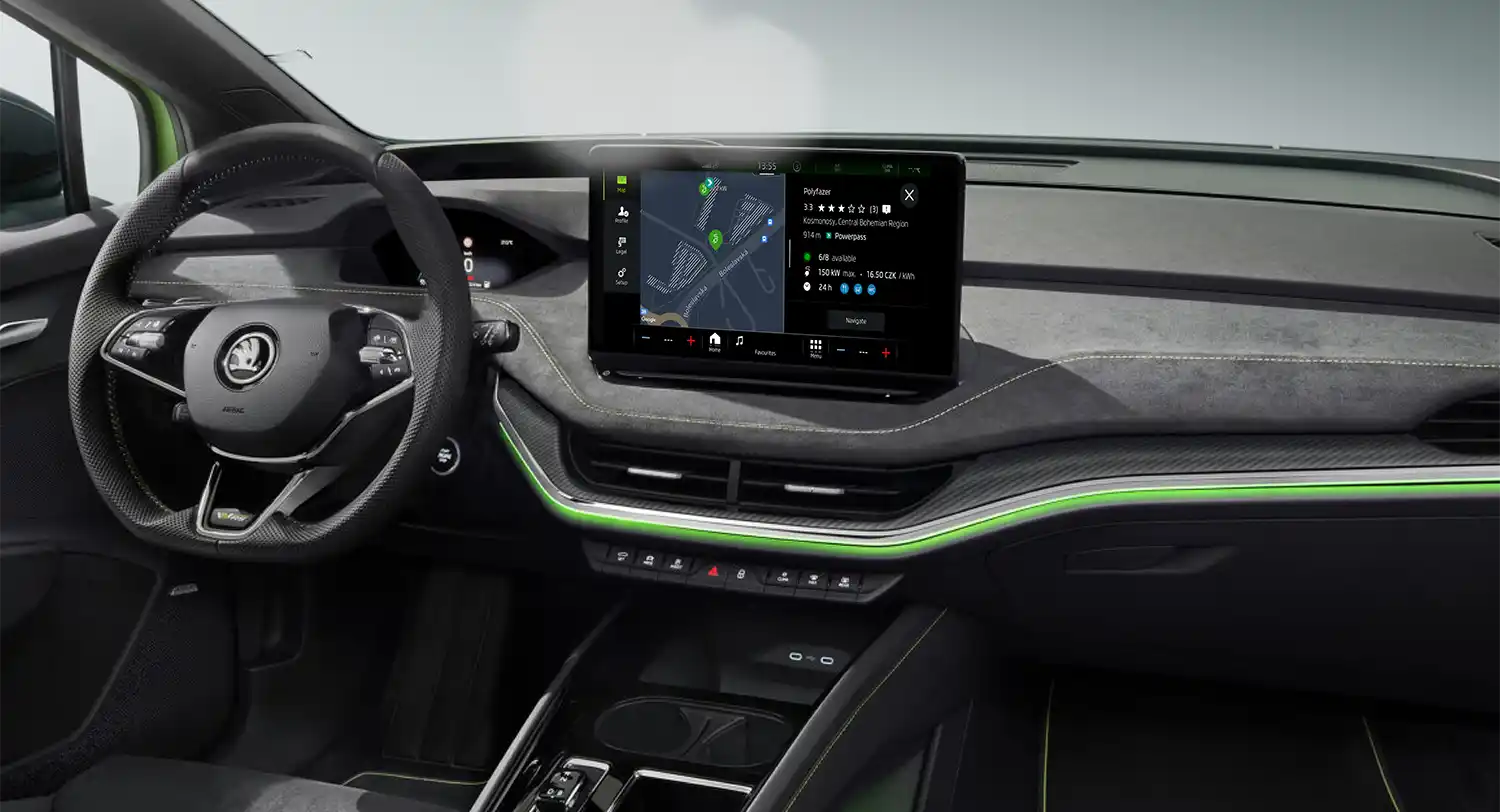 The new infotainment app 'Powerpass Map' enhances the Škoda iV ecosystem. Available for Enyaq iV family vehicles, the infotainment app shows public charging points along with detailed information about them on the central infotainment display. Users can also rate charging points and post comments, which are displayed as recent ratings and feedback. The Powerpass Map can now be downloaded free of charge from the In-car Shop in any Enyaq iV or Enyaq Coupé iV running the ME3.0 or newer vehicle software.
Charging points are shown on a map on the central display
The Powerpass Map allows Škoda Enyaq iV or Enyaq Coupé iV drivers to intuitively access comprehensive, up-to-date information on public charging points for electric cars such as operating hours, the number of charging points currently available, maximum charging power and prices. The map displays available charging points within and outside the Powerpass network, which includes over 500,000 charging points across Europe. Charging stations within the Powerpass network are easily identifiable thanks to a special symbol on the map. In addition, charging point searches can be filtered according to the driver's requirements. The in-car app is available to download free of charge from the In-car Shop, provided the vehicle is running the ME3.0 software. Additionally, users can search for and display charging points in the MyŠkoda or Powerpass mobile apps.
Infrastructure information and rating charging points
For the first time, the infotainment app also features a real-time rating and feedback function; users can rate charging points with one to five stars and leave comments for other users. In addition, drivers can see what facilities there are nearby, such as shops and restaurants. Future updates will bring even more features to the infotainment app, allowing users to manage their Powerpass account, select tariffs and review their charging history. They will also be able to use Powerpass Map start the charging process from there.