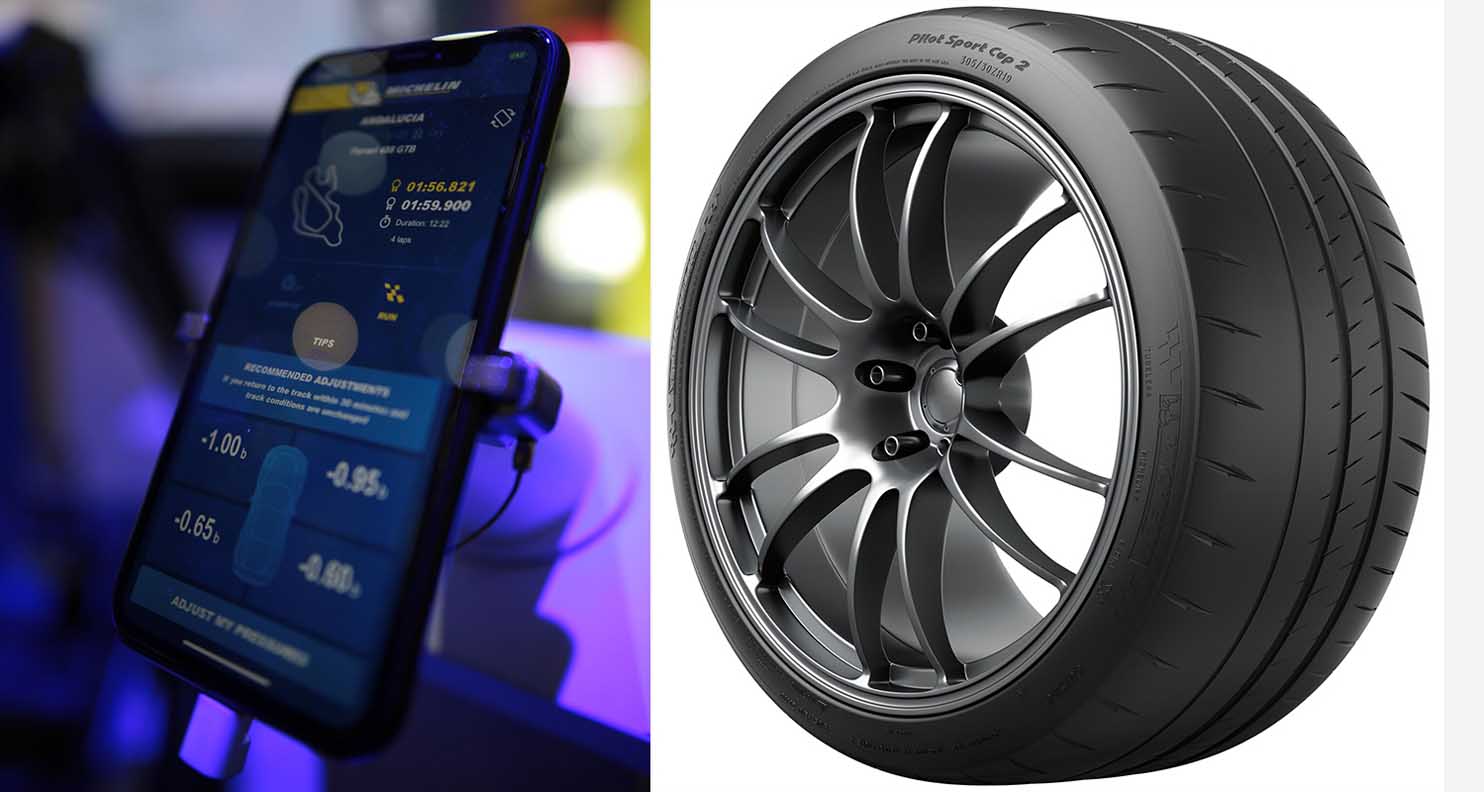 Michelin, the world's leading provider of advanced and high-performance driving solutions, will take motoring performance, information and enjoyment up a gear with the regional launch of its new smartphone app and next-generation range of MICHELIN Pilot Sport Cup 2 tyres.
The ultimate resource for motorists and sports drivers, the MICHELIN Track Connect app delivers unparalleled access to key information and essential data related to a car's handling, grip and the suitability of its tyres and highly specific advice for optimal tyre pressure, inflation, temperature and much more. It also provides information on driver's style, performance and skill for an all-round superior experience behind the wheel, whether on the racetrack or commuting around the city.
Paired with the new range of MICHELIN Pilot Sport Cup 2 tyres, the MICHELIN Track Connect app works as an onboard coach via sensors fitted inside each tyre and can make accurate suggestions for tyre pressure to reflect driving conditions such as dry, damp or wet both for the track or road.
Developed in close collaboration with dedicated motorsports fans and car clubs, Michelin's app and new tyre range represent the next generation of readable and adaptable data, which is presented in an intuitive and highly engaging way thanks to an easy-to-use interface that operates via iOs and Android phones.
Information is updated in real time while driving and stored to be accessed after a session or journey, with the app indicating any adjustments that need to be made before the next trip.
The MICHELIN Pilot Sport Cup 2 tyres represent the latest advancement in on-the-road mobility technology with superb construction, durability and sporty performance. A major upgrade on the current range of tyres currently on the market, MICHELIN Pilot Sport Cup 2 tyres deliver faster and more consistent lap times, excellent steering control plus improved handling. Drivers will also be impressed with the standout elevated style of the premium touch sidewall design.
Marc Pasquet, President – Michelin, Africa, India and Middle East region, said: "We are excited to introduce drivers and motorsports enthusiasts alike in the region to our high-performance range of MICHELIN Pilot Sport Cup 2 tyres and the MICHELIN Track Connect smartphone app. Offering cutting edge levels of data, information and personalization, when paired together these two features will give motorists unrivalled access to key statistics and analytics that will help to improve their performance on the track and better understand how their car handles, and how they drive, day to day."
"The MICHELIN Track Connect really does put motorists in the driving seat in terms of accessing key metrics that can have a huge impact on their time behind the wheel and adds another dimension of personalization and accessibility to their track experience, while the MICHELIN Pilot Sport Cup 2 tyres provide the highest possible standards of grip, performance, reliability and, above all, enjoyment on the road."
When driving, the new MICHELIN Pilot Sport Cup 2 tyres will offer drivers a faster experience, enhanced steering control and optimized footprint on the road for maximized steering precision.
MICHELIN Track Connect is available to download on IOS and Android and the MICHELIN Pilot Sport Cup 2 tyres will be available from June, across the Middle East in various sizes from 17" to 21" and with a new checkered-flag premium touch sidewall design.