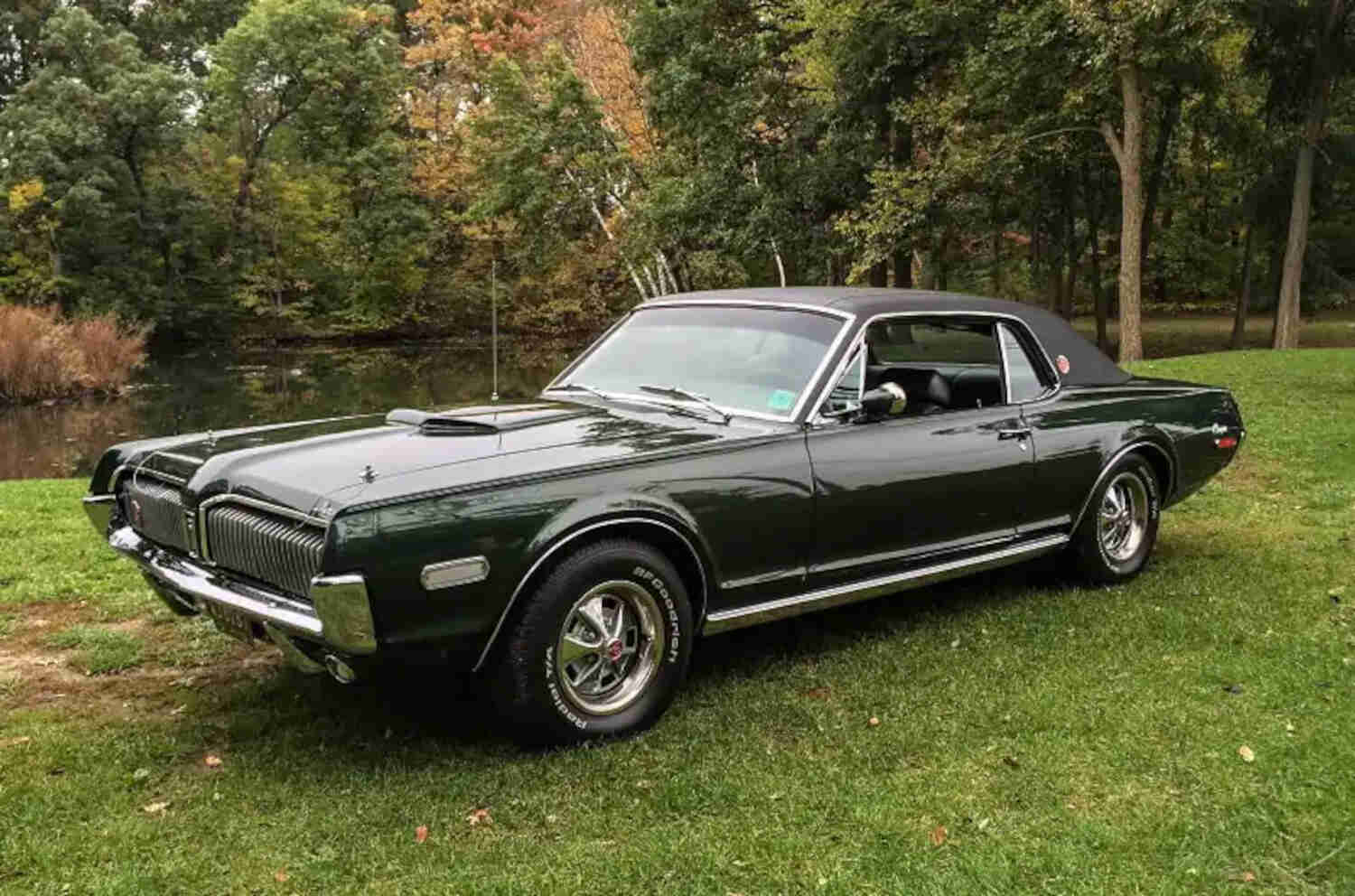 Lincoln-Mercury introduced the Mercury Cougar in the 1967 model year and entered into an exploding pony car market. By mid-1967, virtually every auto company competed to sell pony cars, so Lincoln-Mercury added several trick models for the Cougar, such as the GT, XR7 and Eliminator, which were among some of the specialty versions of the  Cougar offered from 1967-73. But among the rarest and was the XR7-G.
In 1967, the world-famous race car driver Dan Gurney signed with Lincoln-Mercury to race in the FIA Group II, SCCA Trans Am and A-Sedan Series Competition as team manager for the Cougar Racing Team. His name and image were used to promote the Cougar that first year with great success both on and off the track. Ford first used his name on a special promotional model called the Dan Gurney Special Cougar.
The Dan Gurney Special Cougar models were offered in both 1967 and 1968. These cars were standard base-model Cougars with very few options. To make a Dan Gurney Special in 1967, a dealer would order a base Cougar, install full-wheel hubcaps and a chrome engine dress-up package consisting of valve covers, air cleaner top and oil dip stick. Then the dealer would install a sticker on the right (passenger-side) rear quarter-window that read "Dan Gurney Special." There was also a later-1967 version of the sticker that read, "Dan Gurney Special / Motor Trend Car Of The Year."
In 1968 the engine dress-up package was not included as part of the Dan Gurney Special, as by then only the full wheel covers and the sticker were installed. The XR7-G however, is a unique model and a totally different offering than the Dan Gurney Special, although few enthusiasts other than well-versed Mercury and Cougar fans know much about it.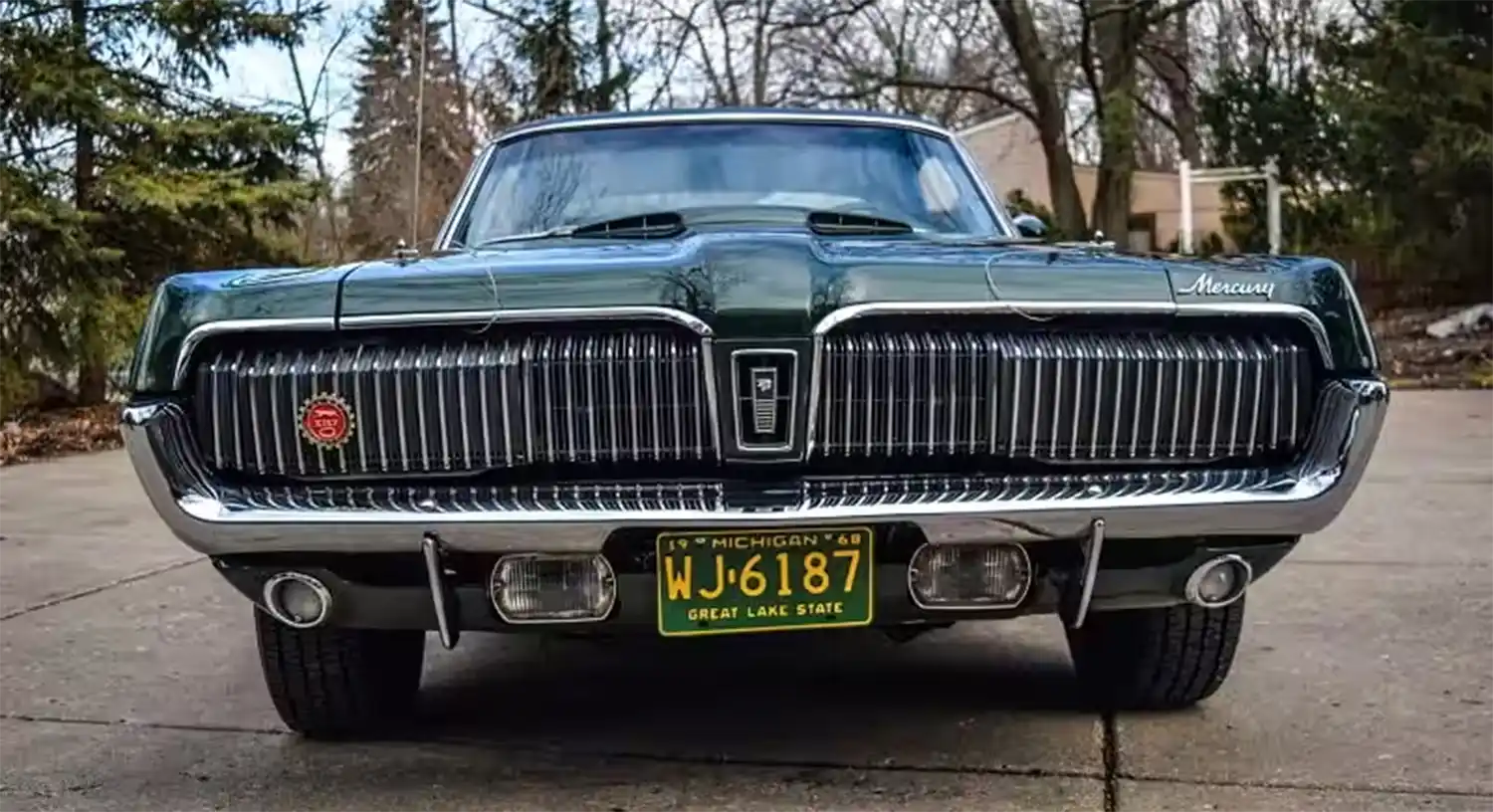 The Cougar XR7-G started life as the high-option XR-7 as produced in the Dearborn Assembly Plant in late 1967 through early 1968. The idea behind this model was to provide a "status" car similar to the Shelby Mustangs being sold and raced by Ford and to bring enthusiast traffic into the Mercury showrooms. Dan Gurney was much more concerned with building and driving race cars than in developing a special production car carrying his already overused name or initials, so the job to package the XR7-G fell to none other than Ford's old buddy, Carroll Shelby.
By 1968, Shelby had stopped modifying production Mustangs in his Los Angeles airport-based Shelby American factory because of the expansion to LAX. So Ford founded a new corporation based in Michigan named, "Shelby Automotive Incorporated" to continue Shelby Mustang production, and they made Carroll Shelby a board member of the new corporation, all while he had been and continued to be president of Shelby American Inc.
As confusing as that sounds, it gets worse – because Shelby Automotive Inc., had subcontracted the work on the Shelby Mustangs and the Cougar XR7-G's to another Michigan-based firm named A.O. Smith Incorporated. A.O. Smith had been a supplier to General Motors for the Corvette fiberglass bodies until they lost the contract in 1967. So while Carroll Shelby and Dan Gurney donated their names to the XR7-G project, and in Dan's case his initials to these cool street machines, neither man had much to do with the actual design, packaging or production of these cars.
But wait – even more suppliers were involved in producing this car. If an XR7-G were scheduled to receive a sunroof, and most did, it was installed by yet another Michigan company, the American Sunroof Corporation (ASC).
So to boil it all down, production went like this: Cougar XR-7's intended for XR7-G conversion were built on the Mustang line in Ford's Dearborn Assembly Plant and loaded onto rail cars for shipment to the A.O. Smith facility. All modification work was performed at A.O. Smith to transform the XR-7 into an XR7-G. If the XR7-G was to receive a sunroof, they were then loaded back onto rail cars and shipped to American Sunroof Corporation. ASC would install the sunroof, a new headliner and a vinyl top before the car would be returned and finally enter into Ford's distribution system for sale or lease (or, in some cases, for rental under contract with Hertz). Dan Gurney appeared in some XR7-G ads and got paid handsomely. Carroll Shelby attended a few meetings about the car and was paid even more handsomely.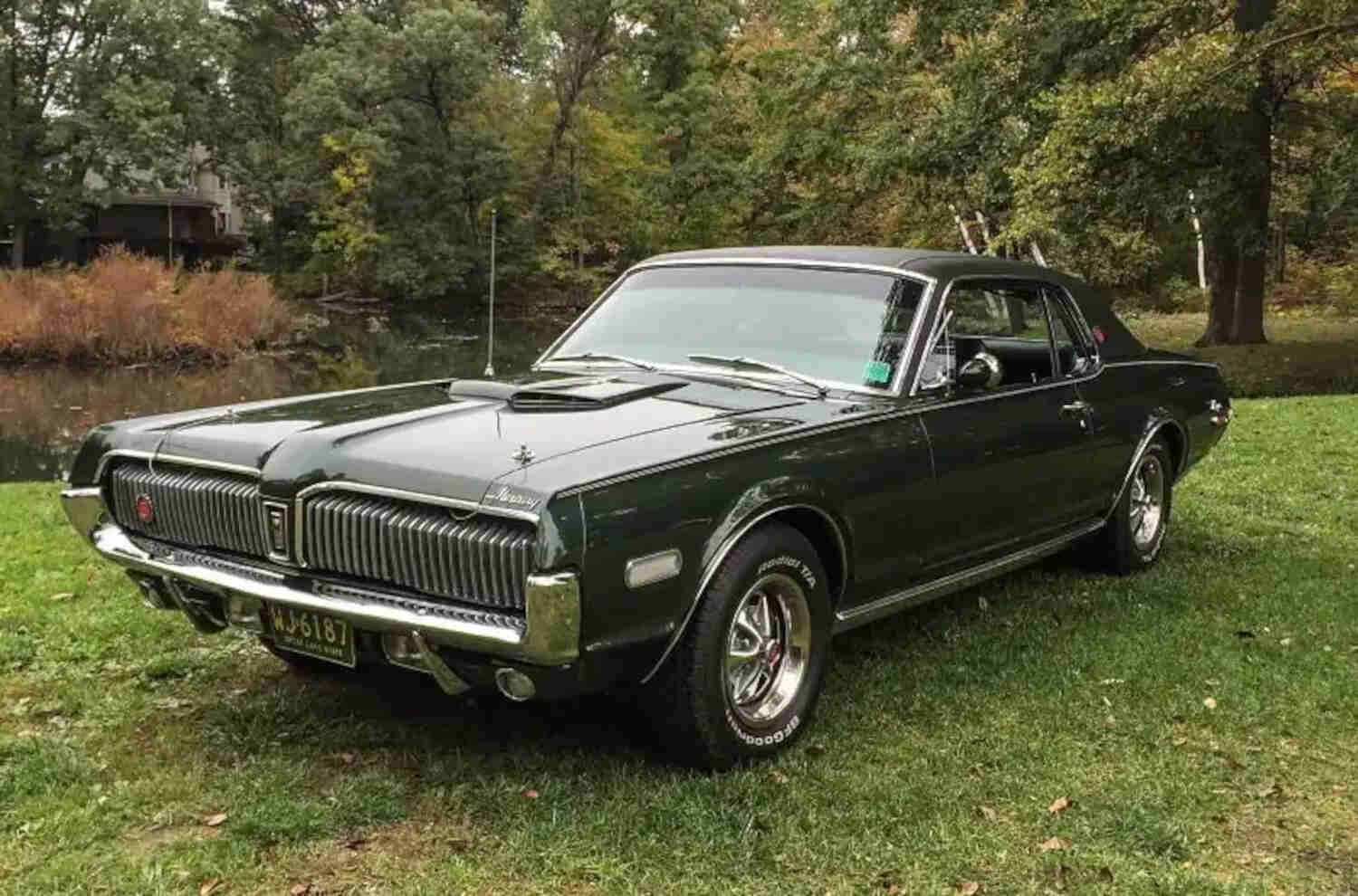 So what exactly made this special edition Cougar different? The XR7-G package included:
o    Special XR7-G badges on the right headlamp door, both roof pillars and the trunk latch cover
o    Lucas Fog Lamps mounted in a custom front valance
o    A unique fiberglass hood scoop
o    Racing-style hood pins with cables
o    A third, extra-loud horn
o    Bullet-shaped remote adjustable racing mirror
o    Specially wrapped steering wheel with a gold 'running cat' in the center button
o    Leather-covered console with switches marked 'Roof' and 'Fog.'  The console included a standard AM radio        and Rally Clock
o    Special shift knob made of real wood with an inlaid gold 'running cat'
o    Gold dash logo reading 'Cougar XR7-G'
o    Leather-covered door pulls on both door panels
o    Spoked wheels made by Rader Wheel Company. (These were recalled early in production and replaced by          styled steel wheels. Either wheel used a unique hubcap which included the XR7-G logo
o    Dual exhaust system with special 'pipe in a pipe' slash tips and chrome-trimmed rear valance cutout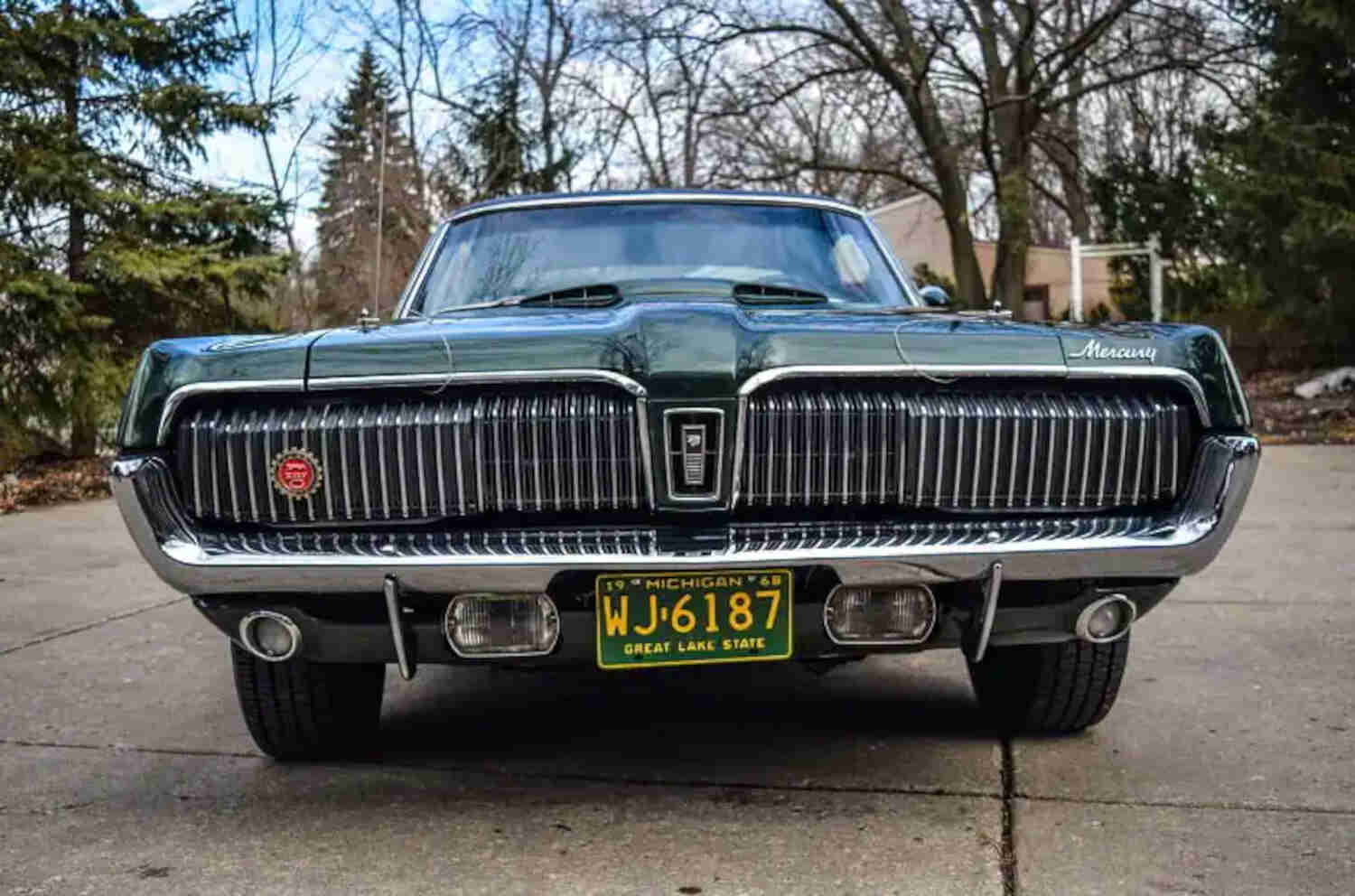 The Mercury Cougar XR7-G hit the showrooms in March of 1968. The only promotions were a full-page ad that appeared in the April 26, 1968, issue of Life magazine and a television commercial which was also part of a corporate announcement that a power-operated sunroof was now available on any 1968 Cougar.
While the trim and features of the XR7-G were put together as a package deal, buyers had a choice when it came to powertrains. There were six different levels of V-8 engine power available:
o    Code F 302-2V 210hp
o    Code J 302-4V 230hp
o    Code X 390-2V 280hp
o    Code S 390-4V GT 325hp
o    Code R 428-4V CJ 335hp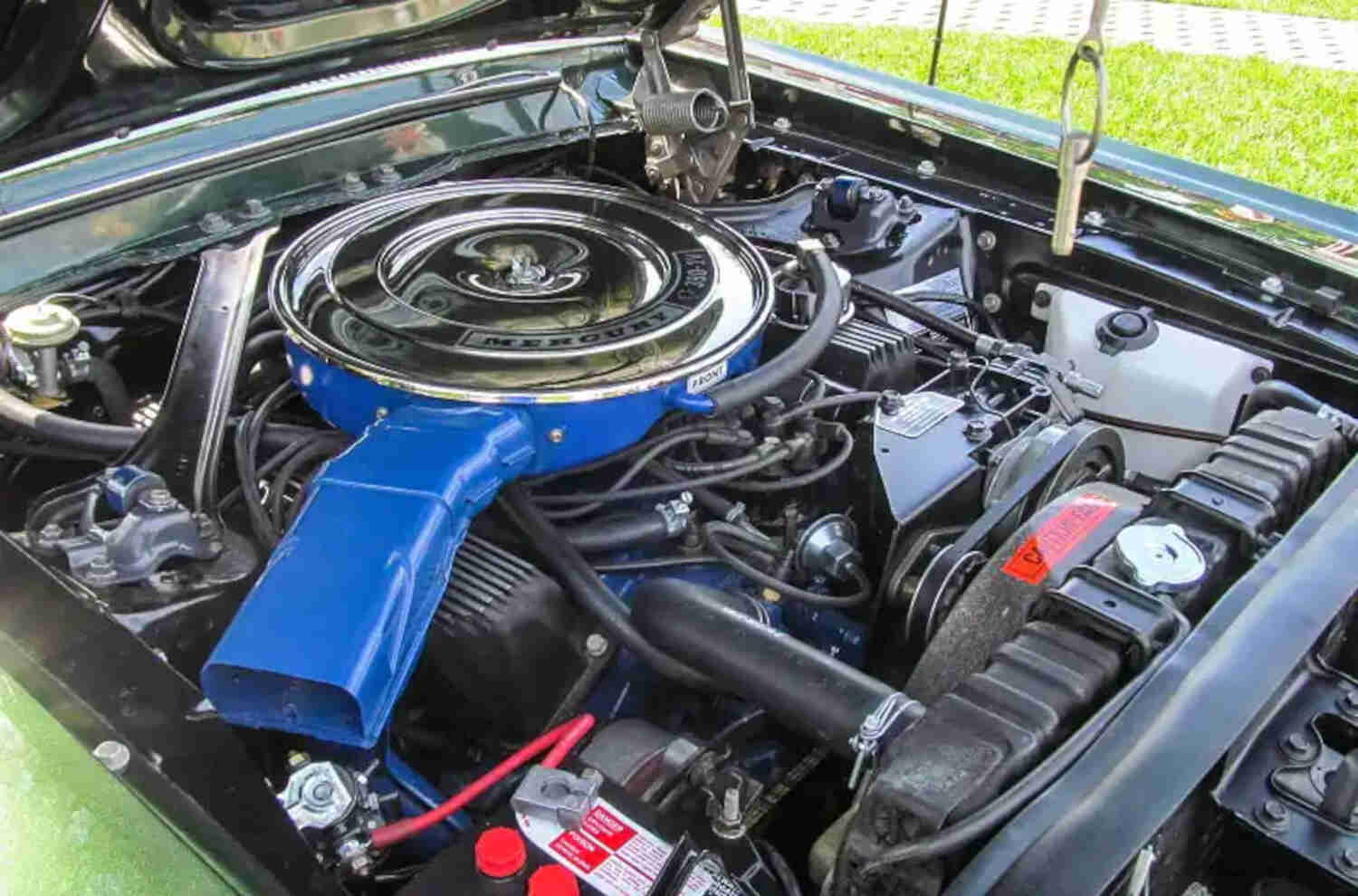 Transmission choices included the following, depending on the engine selection:
o    Code W Automatic C-4 (302-2V and 302-4V)
o    Code U Automatic C-6 (390-2V, 390-4V and 428-CJ)
o    Code 1 Three Speed Manual (302-2V only)
o    Code 5 Four Speed Manual (302-2V, 302-4V, 390-4V and 428-4V only)
Today, it's rare to see a Mercury Cougar XR7-G, as just a little more than 600 were built. (A full production breakdown by powertrain can be seen in the chart below). So the next time you hear somebody talking about a Dan Gurney Special Cougar, ask them if they know the inside scoop about the Shelby and Gurney-blessed XR7-G. It's likely even Shelby fans will be enlightened.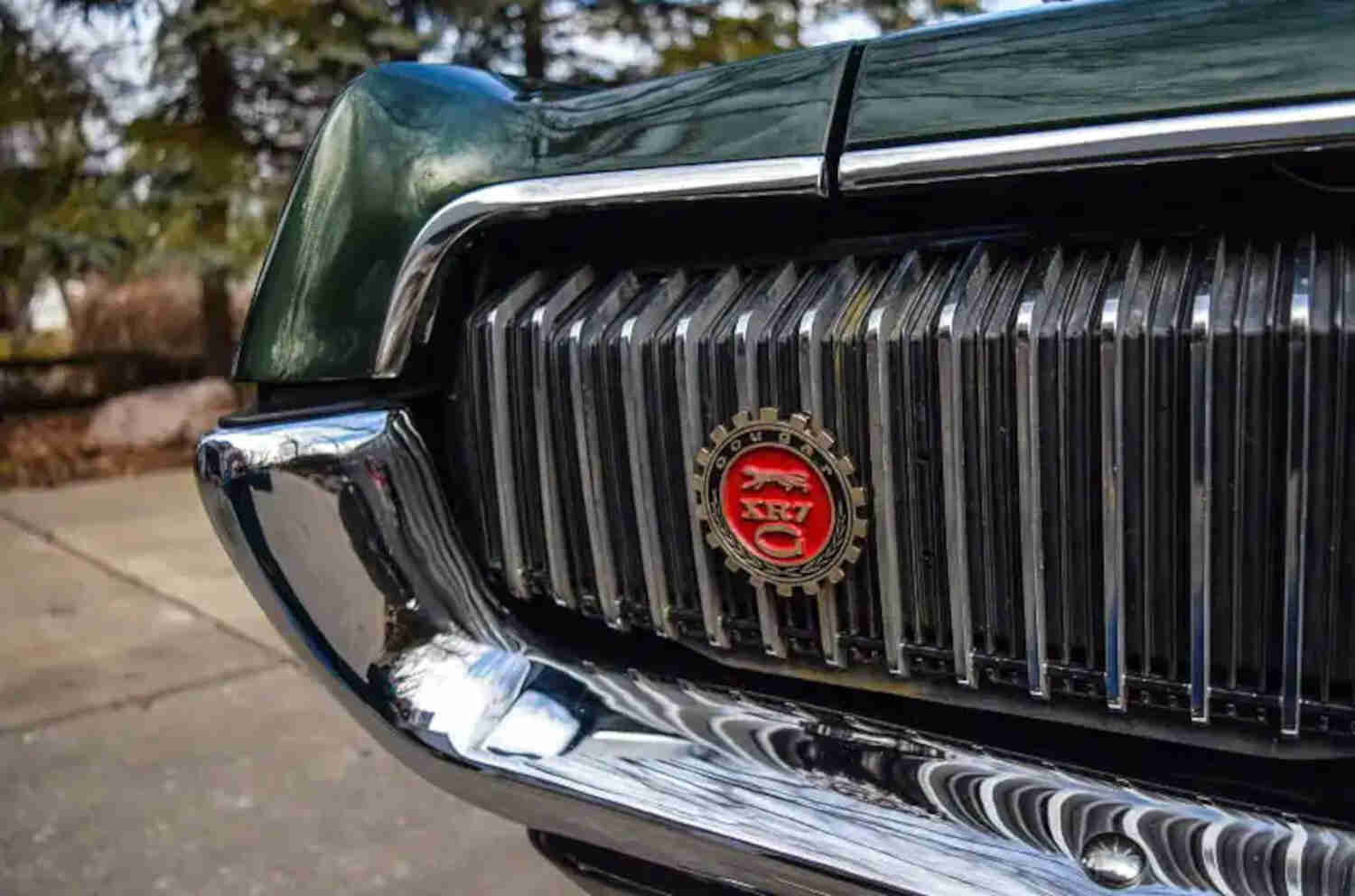 Powertrain Production Totals:    XR7-G Cougar and Transmission Production
302-2V
Auto
81
Engine F/Trans W
302-2V
4-Speed
3
Engine F/Trans 5
302-2V
3-speed
1
Engine F/Trans 1
302-4V
Auto
140
Engine J/Trans W
302-4V
4-Speed
6
Engine J/Trans 5
390-4V
Auto
296
Engine S/Trans U
390-4V
4-Speed
14
Engine S/Trans 5
390-2V
Auto
62
Engine X/Trans U
428-4V
Auto
11
Engine R/Trans U
428-4V
4-Speed
3
Engine R/Trans 5
302-2V (LC)
Auto
2
Engine 6/Trans W
 TOTAL
619